Wheelchair accessible tours in Japan
Ali Muskett from our supplier InsideJapan:
"It does require some flexibility, but Japan is more accessible than people first realise. In particular, people are always pleasantly surprised by the transport network and more and more barrier-free rooms are being introduced."
Japan may well be one of the world's most wheelchair friendly countries, a far cry from how it was 20 years ago. In cities such as Tokyo and Osaka, while the terrain can be hilly in places and pavements are always busy, getting around either alone or with a helper is generally very easy. In other popular destinations, such as Kyoto and Nara, and in the countryside, it is harder going and you may want to look at private tours.
Wheelchair accessible accommodation
For complete peace of mind when in Japan, detailed floor plans of bedrooms and bathrooms can be provided so you can be sure you'll have the space you need. In most instances wheelchair accessible rooms are located close to the hotel lobby, although that is not always on the ground floor. Any specific needs can be taken care of, such as bathroom hoists. Sadly though, the traditional ryokans which hold so much appeal for visitors are for the most part not adapted for wheelchairs.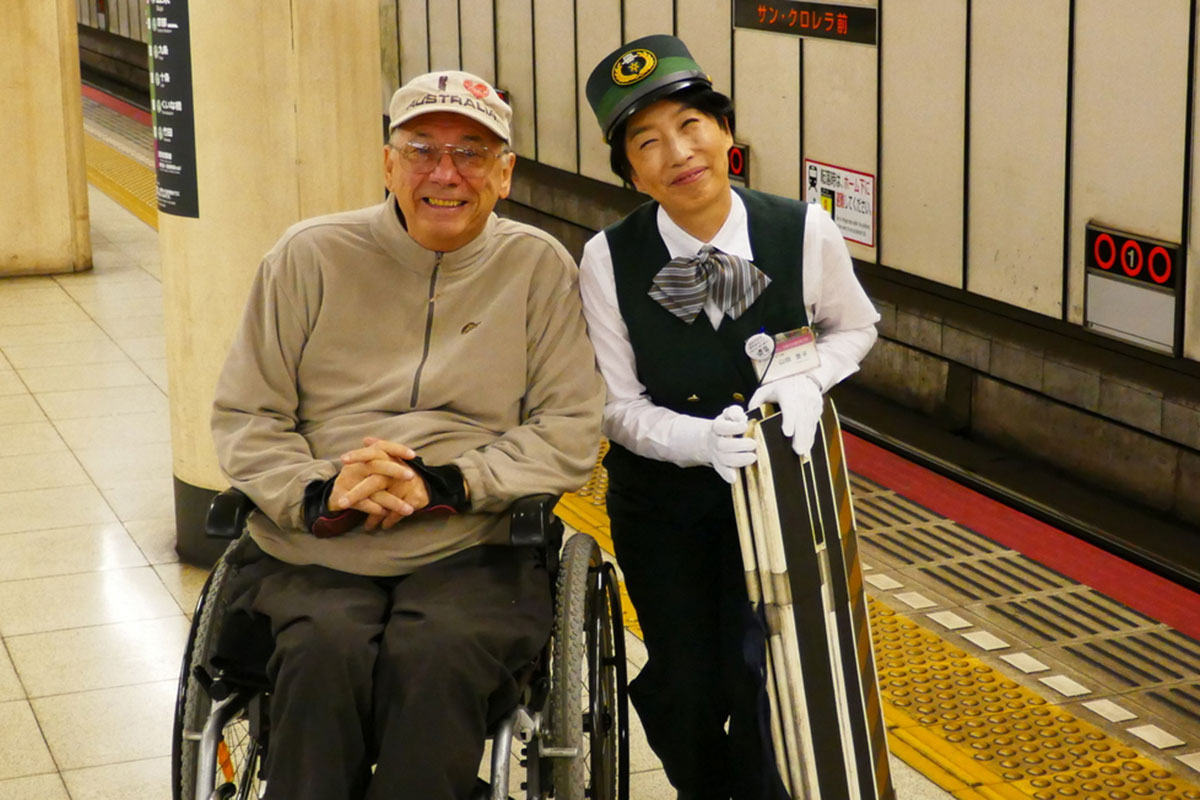 Wheelchairs & public transport in Japan
Getting around the big cities in Japan is easy enough, with cut pavements for the most part and a very respectful culture. The train and subway network is generally excellent for wheelchair users. Major stations have priority lifts and spacious accessible bathrooms. To get onto your train, just hail an assistant who will bring the ramp, and call ahead to your stop to ensure someone is waiting for you at that end. Shinkansen bullet trains have private 'multipurpose' rooms and toilets, and also defined seating in each cabin. Door-to-door private transfers can also be arranged, which are especially advisable for getting to and from the airport.
If you'd like to chat about Wheelchair accessible or need help finding a holiday to suit you we're very happy to help.

Attractions in Japan
Along with museums and more modern landmarks such as the Skytree, many of Japan's biggest and most well-known temples such as the Sensoji Temple and the Meiji Shrine are now fully wheelchair accessible with ramps and lifts. There is even a stretch of tori gates at the famous Fushimi Inari Taisha in Kyoto that can be explored. However some temples are trickier due to being positioned on steep slopes, or not yet adapted for wheelchair access. Public gardens usually have wide, flat paths ideal for wheelchairs, so if you want to see the cherry blossom you will have many options. Another popular visit is the iconic Mount Fuji, and tour vehicles can get as far as the 5th station, halfway up, to the point where most hikes begin.
Support for wheelchair users
Beyond detailed information packs covering everything from lift access in train stations to useful phrases, you can rely on bilingual customer support from local teams. Advice extends to finding and booking suitable restaurants, as many places have stairs or narrow aisles. You will frequently encounter lifts with lowered priority buttons, and large multipurpose bathrooms, especially in high traffic areas.
Tailor made holidays in Japan
By opting for a bespoke trip, every member of your group can enjoy the same activities through careful advance planning. This can also involve cultural experiences, which take place in private accessible rooms.
More Wheelchair accessible articles