Yunnan travel guide
---
2 MINUTE SUMMARY
Vibrant nature, snowbound peaks extending towards Tibet, bygone trading routes, towns unchanged for centuries; there is nothing Han Chinese about Yunnan: a standalone province with a standalone personality. As you climb ever higher along the snaking mountain roads, away from Lijiang's cobblestone streets and towards Shangri-La, you enter an area that was once part of Tibet – from the fluttering prayer flags, to simple whitewashed housing, Tibetan influence is clear and the spirituality, unmistakable.
An unparalleled province in which to stroll, hike or cycle, the vista changes with every twist and turn. One afternoon you can explore a valley bathed in golden light; the next an alpine forest bursting with technicolour flowers. Tiger Leaping Gorge is a wild, rushing canyon and a spectacular hiking trail, and then there are rural villages whose inhabitants abide by ancient ways of life. 21st century development has of course begun to rear its head, which may well bring benefits to isolated communities, but if you're thinking of visiting Yunnan, go now, while priceless isolation remains.
Find out how, with our Yunnan travel guide.
Yunnan map & highlights
---
MAKE THE MOST OF YOUR TIME
Yunnan is big – it's the third largest province in southwestern China, so travelling around can be time-consuming, especially given its topography: 94 per cent mountainous with high elevation in the northwest and low in the southeast. The main roads across Yunnan are in a much better condition than many would expect and, in typical Chinese form, development is never far away, so expressways are popping up regularly. The rail network is OK, but on an organised tour you'll get around by road in a private vehicle, the longest stint of which is likely to be Lijiang to Shangri-La (roughly six hours). Otherwise, you'll be walking, hiking, or cycling, so there's plenty of fresh air thrown in too.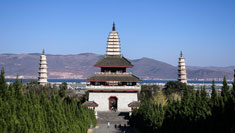 Dali
Interestingly, Dali is where the Chinese go to get away from it all. A curious blend of old China – as witnessed by the indigenous and rather bohemian Bai population who live peacefully beside Yi and Muslims – and western trappings in the form of commerce and beer gardens for backpackers, Dali's scenery of shimmering lakes, clouded mountains and emerald-green valleys is its greatest asset.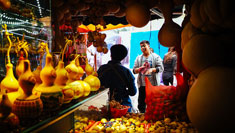 Kunming
The 'City of Eternal Spring', Kunming's climate is always mild, and, sat high above sea level in the Tibetan Plateau, such mildness extends to its laid back personality too. On the one hand, it's a natural wonderland of red hills blanketed by bright yellow in spring and rich gold in autumn, and on the other, its bustling streets attract spenders from far and wide keen to shop in its lively markets.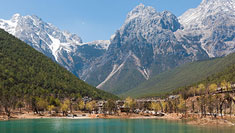 Lijiang
Just 200km from Tibet, Lijian is a sparsely populated city with an endless checklist of charming attributes – the Jade Dragon Snow Mountain; trickling streams flanked by green forest and pastoral stone bridges; snaking cobbled alleys – it has them all. This may come at a price as Lijiang's cultural value has begun to be measured by the tourist dollar, but pockets of traditional heritage do remain.
Nuodeng Village
Built on a steep slope above salt wells, Nuodeng Village dates back more than 1,000 years. Fulfilling every imagined picture of 'ancient China', it is a wonderful snapshot of a bygone age characterised by hand-stacked cobbled steps, incredibly preserved Buddhist and Taoist temples, centuries-old residential housing made of red rammed-earth, and treasured heritage among the locals.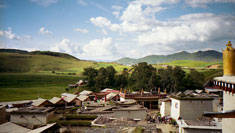 Shangri-La (formerly Zhongdian)
You can't really be called 'Shangri-La' and not be pretty darn special and this Shangri-La, which translates from Tibetan (Gyalthang) to 'land of sacredness and peace', is exactly that. Remote and simply stunning, it is a place of idyllic beauty: alpine lakes, dense forest, verdant grassland flecked with purple flowers, and spellbinding monasteries tucked high in the misty mountains.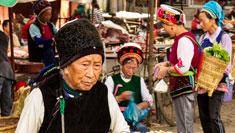 Shaxi
With barely any tourist presence whatsoever, everything in the historical market town of Shaxi is a glorious slice of old-world East: the temples, houses, wells, bridges and even trees here can all be correctly prefixed by the word 'ancient' – even the incredible old bazaar, which was once a busy trading caravansary, remains unchanged and is an atmospheric puzzle of alleyways and village-gates.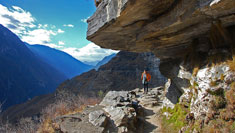 Tiger Leaping Gorge
One of China's most spectacular hiking trails, Tiger Leaping Gorge is a commanding 16km-long, 3,000m deep canyon that lies high above the ceaseless roar of the Yangtze River. One of the deepest gorges in the world, it is a UNESCO-protected hotspot of snow-capped peaks, rushing waterfalls and foliage in every shade of green, which (despite high altitude) offers pretty straightforward walking.
Yangtze River
The aquatic equivalent of China's Great Wall, the Yangtze is a twisting, turning hotbed of scenery and culture that stretches from remote mountain plains through canyon gorges and into fertile regions where other lakes connect. There are picturesque villages nestled into deep river bends, astounding views from the cliffs it runs beneath, and riverside roads to cycle or trek.
Hello.
If you'd like to chat about Yunnan or need help finding a holiday to suit you we're very happy to help.
Rosy & team

01273 823 700