Shot Marsh Harrier. Photo by Selmun
Every Spring and Autumn, thousands of birds migrate between Europe and their wintering grounds in Africa, with the Maltese Islands a crucial stopover for food and rest before or after facing the arduous task of crossing the Sahara Desert. And every Spring and Autumn, to tie in with the birds' arrivals Malta opens a hunting season targeting birds en-route to or from their breeding grounds. Among these birds are species rapidly disappearing in the UK, including the threatened Turtle Dove, as well as larger raptors and birds of prey such as the rare Montagu's Harrier and Marsh Harrier. While rare species are protected in the Maltese Islands, many are illegally shot each year during the hunting seasons.
We catch up with Nathaniel Attard, from NGO BirdLife Malta who are campaigning to end the Spring and Autumn hunting seasons, and to create a safe haven for birds migrating via Malta.
What's your role?
BirdLife Malta' role over the past 50 years is to conserve wild birds, their habitats as well as working with the local community to raise awareness for the protection of resident and migratory birds passing through the Maltese islands on their flyways from southern to northern countries and back. In a nutshell we protect through community engagement projects, we campaign for better wildlife protection, we research avian species, we monitor both illegal and legal bird killing practices across Malta and Gozo and we take care of injured birds through bird rehabilitation efforts.
What's the name of the campaign?
Monitoring of illegal killing of wild birds in Malta during spring migration and autumn
When did it launch?
BirdLife Malta has been campaigning for the better protection of wild birds since the organisation's inception in 1962. Over the years better legislation and awareness has ensured a steady yet slow move towards better protection and appreciation of wild birds. Since Malta joined the EU, the implementation of the Birds' Directive became a focal point for the organization, with added pressure from the EU helping pave the way for better protection.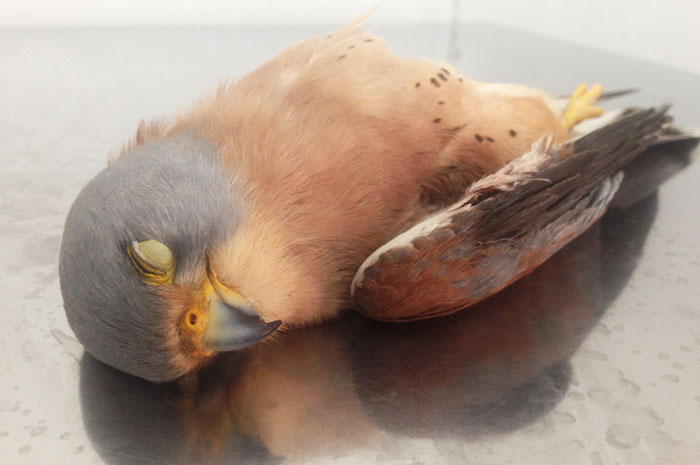 Shot Lesser kestrel. Photo by Filip Wieckowski
Tell us about your campaign in a nutshell?
BirdLife Malta runs annual spring watch and autumn watch ("Raptor") camps with help from national and international volunteers to support monitoring of illegal shooting of migratory birds. Our conservation team organizes all camp activities, with two monitoring shifts throughout the day. During each shift, between four and seven three-person teams are out in the countryside, covering migration and illegal killing hotspots. . When illegalities are observed, teams are trained to collect as much evidence as possible and inform the police, with evidence assisting prosecutions against wildlife crime. The organization also runs a voluntary injured bird recovery service, rescuing and rehabilitating injured wild birds to return them back into the wild. Since 2012, we have witnessed over 3,000 illegal hunting incidents during spring watch camp only, with a significant decline over the years. This is mainly due to BirdLife Malta's efforts to eliminate illegal hunting on the Maltese islands by monitoring the situation on the ground, raising awareness and lobbying government authorities.
What inspired this campaign?
After Malta's accession to the EU in 2004, the focus for BirdLife Malta became the issue of spring hunting, illegal in all EU countries except Malta. The current law only allows for the Quail species to be hunted, however, many other protected bird species migrate over Malta during the same period and become targets of illegal hunting activities. Malta is a crucial resting point along the flyway for migratory birds due to its geographical location in the middle of the Mediterranean Sea. We at BirdLife Malta see it as our responsibility to provide safe habitats for our flying visitors to be able to rest before they continue their journey.
Share with us a story about a person / place / animal that's currently getting a rough ride because of these issues?
Since 1988 the European turtle dove (
Streptopelia turtur
) has been assessed by the IUCN (International Union for Conservation of Nature) as Least Concern (LC). This category on the IUCN list reflects that the population had a fairly good conservation status and maintains stable regardless of many pressures the species is facing. The status, and thereby the number of breeding couples, has critically changed over the last years due to depleting numbers of the species. In view of these worrying trends, the IUCN has reclassified the Turtle Dove as 'vulnerable' in June 2015. This change has put the spring hunting of Turtle Dove in Malta in a new perspective, triggering the declaration of a moratorium on the species. In April 2017, Turtle Dove will for the first time in many years not be hunted in spring.
What change needs to happen to make things better?
There needs to be a change in the public's approach to illegal hunting and trapping in Malta and more awareness of how these activities threaten the environment. This can be reached by providing the opportunity to raise the profile for Malta as a bird-watching haven during spring and autumn migration season. This way, both hunters and trappers are enabled to view birds as something they can enjoy watching while being out in nature. Through sustainable tourism activities, including nature walks and birding tours during peak migratory periods as already being organized by BirdLife Malta, suitable alternatives are provided. A growing demand for sustainable practices from society and tourists increases the pressure on decision-making authorities to improve efforts to eliminate illegal hunting and trapping of wild birds in Malta. More educational work needs to be done so that people learn about birds in Malta and the positive effects of enjoying nature without doing harm are better known and widely understood.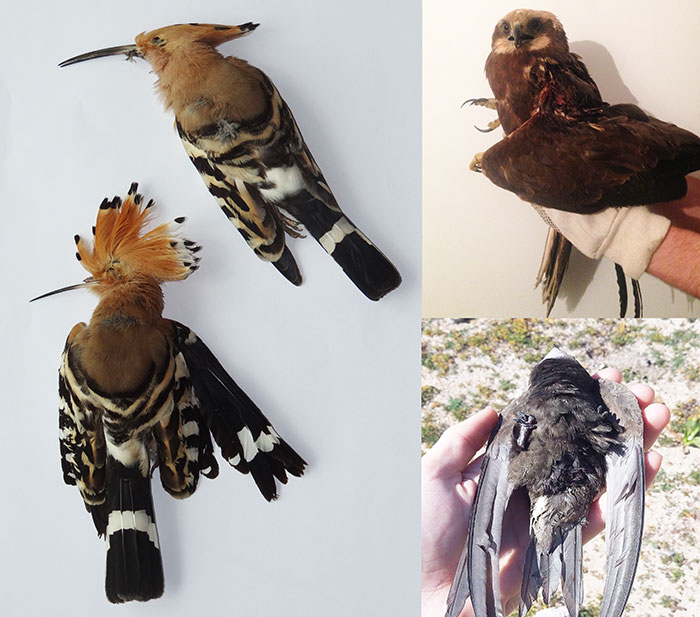 Four birds which succumbed to their injuries
How will the world be a better place if and when you succeed?
Promote the concept that bird migration is a spectacular phenomenon. Malta, located in the middle of the sea along the flyway of so many European species, offers the unique opportunity of seeing a multitude of species belonging to different European countries – something you cannot experience everywhere. This happens twice a year during spring and autumn. Also promote the idea that as a conscious tourist by visiting an island like Malta who has its issues with illegal bird killing, a visitor can actually help and engage in such work – assisting NGOs like BLM to raise awareness, educate and act against illegal killing.
If you had a mega-phone for 10 seconds on a rooftop to get your message out, what would you shout?
Visit the Maltese islands, talk to locals about the importance of protecting birds and their habitats and most importantly take action when you encounter illegalities.
If you had a 10 second slot on TV which image would you show to get your message out?
We would include a slideshow we would present the beautiful side of bird variety of all 398 species that can be watched on the Maltese islands during the migration period, as well as pictures of the major threats birds are facing. This illustrates the variety of bird species that occur on the islands as well as the negative side birds are facing in Malta. This way people can be aware of both, the magnificent bird species as well as what they could encounter in the county side while being on the islands.
Is there one person who figureheads this campaign? Tell us about them and their inspiration and aspirations.
BirdLife Malta is an engaging NGO (maybe a better word than engaging could do) – which bases its success on its dedicated staff, volunteers and supporters who have braved the organization over its history.
What three things can we all do to help?
(1) Enjoy nature and wildlife on the Maltese islands by visiting our nature reserves Simar, Ghadira and Salina,
(2) become part of BirdLife Malta through membership or donation to contribute to our conservation work
(3) Volunteer with us during your stay in Malta, by reporting any bird illegalities that you witness to the police and Birdlife Malta, volunteering in our spring watch and raptor camps in spring and autumn, and talking to people about the enjoyable natural environment and landscapes on the islands and the beautiful bird species that can be seen.
What's the campaign website?
We don't have a specific website for this campaign but all our communication content, reactions and press releases can be found here:
www.birdlifemalta.org
Do you have a target end date for this campaign?
No, this is an ongoing campaign.