Travelling through the menopause
Menopause symptoms can be detrimental to mood and health, and that can change what people want from a holiday. We've spoken to colleagues, customers and our holiday partners about what it's like for travellers experiencing peri-menopausal and menopausal symptoms. Read on for tips for travel during the menopause to help you go forth with confidence.
Travelling through the menopause
"I literally used to travel the world on my own. I didn't have a problem with anything. Then all of a sudden it became major thing just to go to the supermarket."
Julie Slade is founder and director of our partner The Ultimate Retreat Company. The menopause has made her rethink travel – both for herself and her guests.
"Can you imagine what it must be like – even if you want to travel, even if you desperately need a break from real life back home? You want to do it, but because of your anxiety levels everything in you is saying, 'Don't do it!'"
Julie is not alone. For those who love to travel, reflecting on their menopause experience can be sobering. One of the major – and, for a long time, under-discussed – symptoms is anxiety. It can have a destructive effect on your appetite to discover the world, even if you used to pack a rucksack without a second thought.
"When I was in a really bad place, I didn't want to do anything," says our finance manager Lyn Hill. "Nothing excited me, even the things I used to love. It wasn't that I couldn't do it – I didn't
want
to do it. I didn't have the confidence to do it."
"I booked trips for a large part of my life," agrees our account manager Alison Brookes Day. Before joining Responsible Travel, she worked for years as a tailor made holiday specialist, and before that for a major travel agent. "But then to feel like 'actually, I don't want to book a holiday' was really unusual for me."
Whilst we don't want the menopause to put the brakes on anyone's travel plans, it's important to recognise that it can have a profound effect, no matter how seasoned the traveller.
Recognising the menopause
Over half the world's population goes through it, but daily struggles with menopause symptoms have gone by unreported for years. We've since finally seen the menopause getting the press it deserves, thanks to celebrity endorsement from TV personalities
like Davina McCall
.
After all, an estimated
75 percent of women
, as well as trans and non-binary people, will experience symptoms such as hot flushes in their lifetime, usually between the ages of 45 and 55.
There are
19 common symptoms
– both physical (aches, tinnitus, migraines) and mental (anxiety, problems with memory). When those symptoms are severe, they can be debilitating.
We may be more aware of the menopause than ever, but how many of us think about how it affects our travel plans? It's a difficult subject to investigate. For one thing, going away – with all the faff that it entails – is often the last thing on someone's mind when they're not feeling themselves. For many, the menopause happens at a time of upheaval, making it hard to pinpoint when it's taking hold.
"People are going through lots of change in their life," says Dr Frances Rogers, who was a GP for 35 years before retiring in 2021. "Their children might be going away to university and they could be dealing with elderly parents. And then the menopause throws into that a catastrophic loss of hormones which makes you feel tired, hot, intolerant of heat and experiencing disturbed sleep and night flushes."
Ask someone what they think about going on holiday when all this is going on, and you're not likely to get much of a response.
"Practical ideas are great; emotional support is important too."
It's often only with a bit of distance that people recognise that the menopause might have affected them and their travel plans. Anxiety is one of the first symptoms of menopause, coming as part of the earlier peri-menopause – making it hard to identify for what it is.
"When we went to Canada this year, I was exceptionally anxious about being eaten by a bear!" says Lyn. "It's difficult to pinpoint a cause of that anxiety and to say that it was because of the menopause. But in my younger years, I don't think I was that anxious."
It's not something holiday operators consider often either. Of the partners we asked, many didn't have much to say – at least, not initially. But just because it's hard to write about, doesn't mean we shouldn't try.
How tour operators can help those travelling during the menopause
"The tourism sector needs to be more aware of specific needs," says Chantel Kyriakopoulou-Beuvink, founder of our wildlife tour specialists Natural Greece. "For example, are there enough toilet breaks (are there any toilets at all?) during the nature hike, the kayaking adventure, or whatever you are organising?"
For many, sleep becomes elusive during the menopause, and it only gets worse when they're not in their own bed.
"I get heart palpitations at night," says our managing editor Joanna Cooke. "Staying somewhere where you know it's going to be quiet and you won't be disturbed would be really helpful."
Practical ideas are great; emotional support is important too. After all, menopause symptoms include mood changes, anxiety and low confidence; many report experiencing a 'loss of self'.
"Tour leaders need to take the proper time to check in with their clients and care about their feelings," says Chantel – sound advice that applies to everyone, not just the menopausal.
Empathy is key. After Julie and her team at The Ultimate Retreat Company experienced menopausal symptoms for themselves, they were determined to help others: "For the past six years now we've been super mindful of guests travelling with us who might be going through it – and we now do lots of things to address it."
They have always tailored holidays to their travellers' needs with a health questionnaire – now they ask directly about menopause symptoms.
For Julie, a great thing tour operators can do is make sure their tour leaders are practical and extremely well-organised: "One of the biggest things for me if I'm going somewhere I don't know is who's going to pick me up at the other end and where."
Helping travellers slide seamlessly into the relaxing part of their trip after the stress of a flight can make all the difference – whether that means photographs or written instructions about reaching the meeting point.
"I live in a hot country and I live in a permanent puddle."
What holiday is right for you?
What kind of holidays suit someone going through the menopause? The answer is – all of them. Because, of course, people experience this time very differently. Not everyone can take time out for a menopause retreat, and not everyone is up for a long-haul flight. But below are some ideas based on common concerns.
Activity holidays
"A nature tour in the great outdoors will do you good!" says Chantel. "It's a boost for your vitamin D levels. Immersion in nature and exercise are likely going to improve your mood and diminish those feelings of anxiety."
People concerned about hot flushes might want to consider the time of year they go, or skip hotter destinations. "I live in a hot country and live in a permanent puddle," says Julie, when we talk about hot flushes. She recommends wearing bamboo clothing, to help keep you cool, and that you pick an activity level that will suit you.
Wellness holidays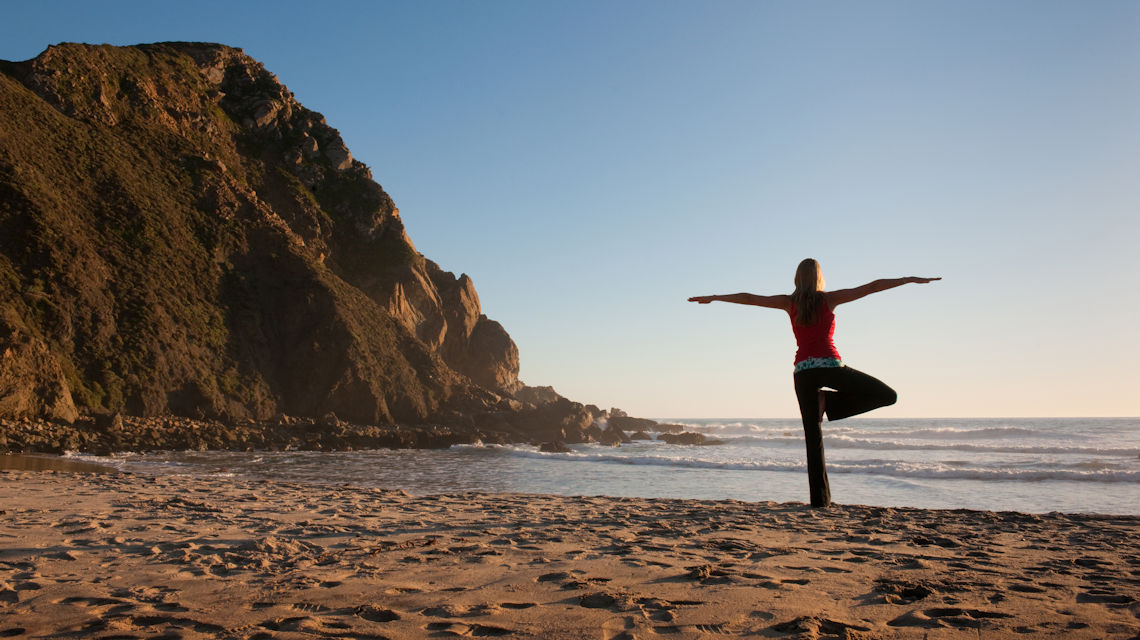 "I went on my first yoga retreat a month ago," says Alison. "My friend recommended it. She was through the menopause and she was championing HRT to me too. I was sceptical, but it was an amazing journey – I hate that word, but it was! I think that style of holiday is so valuable if you have the time."
Fitness holidays
"If you're going to choose a fitness holiday, choose the right kind of exercise and the right age group," says Julie. "Ask what the sessions are like, ask how old the demographic is. If a fitness business is geared to 25-year-olds, that's not suitable for someone going through the menopause. You need a team around you that understands you – and other guests of your age group."
On our
luxury fitness holiday in Spain
, which Julie organises, you'll be provided with a questionnaire at the start of your trip, so your programme can be tailored to your exact needs.
Well-planned family holidays
Not everyone can down tools and take themselves off on a solo retreat to relieve their stress.
"Young children add another dimension," says Joanna. "If you're in a family, you're effectively running everyone else's schedules as well – and making sure you remember everyone else's schedule is an additional stress."
Combine the peri-menopause with the throes of parenting and you might need a holiday, but you'll never get round to booking one unless it's blissfully easy. "It's just about making it simple," says Joanna. "People want family holidays where there are itineraries, where the food is taken care of, and where there's separate space for people to relax and do their own thing."
"One of my best holidays is from our partner in Lanzarote," says Alison. The range of eco-friendly accommodation on the Canary Islands includes our
family eco yurt holiday
. "It's amazing – you can throw in a hybrid car, and there are the lovely yurts outside and outside kitchens."
Flight free holidays
Anxious fliers might find the menopause has heightened their fears, and others might find that symptoms like bloating make flights an uncomfortable chore.
Luckily,
flight free holidays
have seen a huge increase in demand in recent years, and there are plenty of rail journeys from the UK to Europe that take less than 72 hours. It takes less than 24 hours to get from London to Stockholm by rail, and around 2 days to reach Portugal.
You might want to stay closer to home and not go on such adventurous trips. If so, a holiday in the UK could be the easy answer.
Unusual holidays
For some, embracing the change that the menopause brings can lead to them seeking a new direction in life.
"You might want some sort of break where you could re-find yourself, or find a new direction or interest in your life," says Dr Rogers. "Your children might have flown the nest. You might be at a loose end."
Rediscover your love of languages on a
Spanish course and walking holiday
in the Picos Mountains, or try
wildlife photography
. There is no rule book about what you can and cannot do.
"Not everyone makes it this far. It's a badge of honour – you're alive!"
Menopause travel tips
Pack any medication
"Always,
always
put your medication in your hand luggage," says Julie. "I've lost count of how many guests have arrived in a panic because they've left it in their hold luggage and it's been lost. We've had to get them an emergency appointment."
"Whereas many people in the UK take HRT, it is not seen as safe in other countries. It is certainly not offered over the counter in most countries," explains Chantel. "In countries like Greece, many doctors are reluctant to collaborate and provide HRT, so bring along those subscription or over-the-counter medications with you."
Get comfy
"Ensure that your host provides you with a recommended packing list," says Julie, "and then pack layers, layers, layers – you are going to be stripping them off and on. And I always travel with a travel pillow."
Many people have trouble sleeping, which can cause a whole raft of problems – so taking anything that helps you get a good kip is worth the suitcase space.
"You can become really sensitive to your environment in the menopause," adds Julie. "When you're at a really busy airport or on a flight, use noise-cancelling headphones and listen to a little meditation. No one knows you're doing it – you're sat in your seat. You can use your breathing to reduce your body heat and your anxiety."
There is still so much shame around menopause symptoms. Being able to take back control without attracting the attention of everyone in the vicinity can make you feel a lot better.
Print out documents
"Everything is digital these days, but I don't rely on it at all – I still print everything out," says Lyn.
She's not the only one – Julie does this too. It can help to have both your digital and printed copies of tickets and itineraries to hand when travelling – and don't let anyone tease you for doing everything in your power to reassure yourself that you have everything you need.
Ask for help
This year, Alison's husband took on the organisation of their trip: "That was really nice – I did feel overwhelmed with the task of booking." Perhaps that's the most important tip to remember as you travel through the menopause: you are not alone. And the more people who talk about it, the more we can see it for what it is.
"It's a good thing – it's part of life," says Alison. "Not everyone makes it this far. It's a badge of honour – you're alive!"
That's something we can all celebrate – whether we're shouting it from the top of a mountain, or just from the comfort of our sofa.