"A ten-day small group tour of Cuba's highlights, including English speaking guides and accommodation in friendly casa particulares. "
Highlights
Havana | Old Havana walking tour plus rooftop Mojito-making lesson | Classic convertible car tour | Cienfuegos plus a drink at the Palacio de Valle | Bay of Pigs swim or snorkel | Trinidad | Informal salsa lesson | Santa Clara | Che Guevara Memorial and museum | Viñales plus organic farm lunch | Tobacco farm tour | Cigar factory & Rum Museum tours
Description of 10 day Cuba tour, small group
A beguiling and captivating destination unlike any other in the Caribbean if not the world, Cuba has a great deal to offer the visitor. With its intriguing history – from the first landing of Columbus to the present day by way of the Cuban revolution, the population's joie de vivre, and the island's astonishing natural beauty, you'll soon discover for yourself why Cuba is such a highly-rated destination on our 10 day / 9 night Cuba Group Tour.

So our tour groups can get the very most out of their time on this amazing island nation, we include a variety of amenities as standard. Nine nights of accommodation takes away the stress of finding somewhere to stay for yourself in a foreign country. Our expert guides, who escort you throughout the tour schedule, speak excellent English providing a bridge between you and the locals whether or not you speak Spanish.

Our 10 day / 9 night Cuba Group Tour also includes private transportation between destinations so there is no battling the Cuban public transport system and guaranteed departures provided at least two of the maximum 15 slots on the tour are booked. We also charge a very small single supplement fee, so our single travellers can have the comforts of a private room without having to break the bank.

Highlights:
- Stay in Cuban B&B's (air-conditioned and ensuite facilities)
- Private air-conditioned transportation between destinations
- Guided orientation walks at each of our scheduled destinations
- Swim/snorkel at the Bay of Pigs after visiting the revolution museum
- Enjoy a drink at the elegant Palacio de Valle in Cienfuegos
- Che Guevara Memorial and museum in Santa Clara
- Informal salsa lesson
- Tobacco farm and drying house
- Organic farm lunch in Vinales
- Explore Old Havana on foot
- Tour Havana in a classic convertible
- Mojito making lesson
- Visit the rum museum and cigar factory in the capital
- Roof-top group dinner

Accommodation
What's hopefully clear from our tour schedule is that interaction with the real Cuba and Cubans is an integral part of our 10 Day / 9 Night Cuba Group Tour. As a result, we place our tour guests in Cuba's small privately run bed and breakfasts rather than the larger, state-run hotels.
A unique form of holiday accommodation to Cuba, casa particular as they are known, are family-run enterprises that provide foreign visitors with a place to stay, and have only recently evolved out of the Cuban government's relaxation on private businesses. Homelier than hotels, each casa is different in their set-up and size, however we always aim to book our guests in casas that have ensuite bathroom facilities and air-conditioning whenever this is possible.

Your Comfort on Tour
Although our 10 Day / 9 Night Group Tour is designed for those who want to experience the real Cuba, we still want our guests to be as comfortable as possible while on tour. For this reason we always include:
- Your airport transfer on arrival.
- Bottled water on scheduled journeys between destinations of more than 2 hours.
- Internet access cards (totalling 2 hours) so you can access the various Wifi Hotspots across the country and keep in contact with home.

Free time and optional activities
Our 10 Day Cuba Group Tour is planned in such a way to ensure you have some free time to explore Cuba at your own pace and to meet your own exact interests. This free time also allows our guests to undertake a range of optional activities to add to the experiences gained from the extensive list of scheduled activities and highlights, so that you can make the very most of your time in Cuba.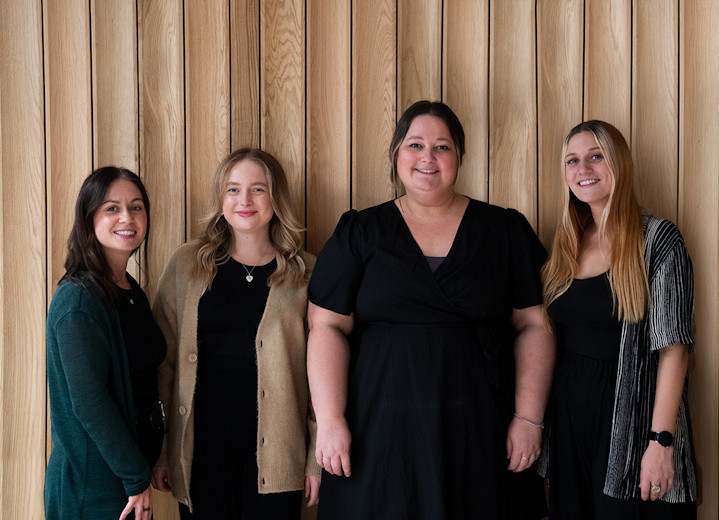 Check dates, prices & availability
Responsible tourism
10 day Cuba tour, small group
Carbon reduction
Your holiday will help support local people and conservation. We must also reduce CO2. Learn about the CO2 emissions of this holiday and how to reduce them.
Environment
This tour is committed to providing travellers with an authentic and unforgettable small group tour experience in Cuba allowing travellers to go inside the country in a deeper, more personal way. You will have unrivalled access to local people from all walks of life while you experience an island that has so much to offer that sometimes you won't even know where to begin (that's what your experienced local guide is for). Our aim is to take you inside this remarkable society in a fun, respectful and meaningful way.

As an organisation our commitment to Cuba's environment and culture is unwavering as we are very much aware of the impact travel and tourism can have on a destination. For this reason we cap the number of people on the trip, so a group is no larger than 15 people. This enables us to source more authentic accommodation options and local transportation that makes a smaller footprint on the environment. Furthermore all of our tour guides and dance instructors are not only native to Cuba, but are passionate about the country they live in as well. This is of most importance to us, because we believe in showcasing the very best of Cuba and this starts with knowledgable guides who know the country inside out, for better and for worse. Using local guides (alongside local organisations) helps us contribute to local economies and give back to the communities we work with. We encourage our guides to speak honestly of the Cuba they have grown up in and there impressions of the outside world as a comparison. It also allows us to provide local employment and engagement in the community.

Our organisation has implemented and enforces a 7 point checklist which we share with our employees and fellow travellers that acts as a set of guidelines to help protect Cuba's natural environment. We also provide a set of recommendations to our travellers as to how they can can contribute, protect and enhance Cuba's culture and environment including learning some of the local language, carrying a water bottle and always disposing of waste in a responsible manner.

We ensure that all activities and excursions we include and recommend have minimal impact on the environment and wildlife as well.
Community
Our ties to Cuba and its people are strong. We have built a network of people across Cuba who we affectionally call our 'Cuban family'. These include tour leaders, local guides, classic car drivers, Casa Particular (homestay owners), local restauranteurs, bar tenders and dance instructors all with there own stories to tell and experiences to share. We believe that giving something back to the community is essential, because it is this community that makes our tours such a success. We work with our fellow travellers, clients, employees, and local contacts to ensure the successes of our business go directly back into the community. This is not only good for the towns and cities we visit but it also gives our travellers more enriched adventures.

Our tours are committed to using local homestay accommodation, making your Cuban experience even more unique and memorable (not to mention fun!). Known as Casa Particulares, this type of accommodation is comfortable for guests and generally has very good facilities. They provide you with a great way to experience Cuban culture and interact with Cuban nationals.

Furthermore the activities we include and recommend in our tours, are ones that most benefit and are representative of the community.

All of our staff and local contacts are treated like family, enabling us to instil a sense of ownership amongst our stakeholders and deliver ongoing support to the Cuban people and economy. We know the country and its people inside out and our endeavour is to show the Cuba we love, live in and respect.
4 Reviews of 10 day Cuba tour, small group
---
Reviewed on 07 Mar 2019 by
Ela HOROSZKO
1. What was the most memorable or exciting part of your holiday?

I really liked Trinidad and the trips we did around there to one of the national parks and the lovely beach in Ancon.


2. What tips would you give other travellers booking this holiday?

Just enjoy it! It is nice not having to worry about booking accommodation
or transportation and just enjoying going around with a cool guide - ours was called Manolo Avila and we can highly recommend him!


3. Did you feel that your holiday benefited local people, reduced environmental impacts or supported conservation?

Yes, we stayed with the locals at casas particulares.


4. Finally, how would you rate your holiday overall?

Great trip and really fun guide!
---
Reviewed on 08 Mar 2018 by
Susan Babkes
1. What was the most memorable or exciting part of your holiday?

Lots of wonderful items here - snorkeling the Bay of Pigs, Fusterville, poking around Trinidad and Havana, biking Vinales, spotting the national bird (Cuban trogan) at Las Terrazas, and the Buena Vista Social Club! The Che memorial was very touching.


2. What tips would you give other travellers booking this holiday?

Trust the tour operator. They are awesome, honest and full of ideas. My guide (Pedro) was very well-informed. Bring a mosquito net if you are going to Vinales or traveling during the rainy season. Otherwise, the bugs were not bad in February. Make sure to make time to experience the immense amount of art, music and great architecture.


3. Did you feel that your holiday benefited local people, reduced environmental impacts or supported conservation?

Our trip definitely economically benefitted local people, as we stayed in their homes (converted to small pensiones or casas particulares) and ate in their palavars (small restaurants, often with live music). Because we lived with the locals, perhaps our impact was less than at a big hotel. And we went birdwatching and by doing so, supported the existence of habitat for the birds to live in. Las Terrazas is a testament to how the environment can be restored to decent semi-natural condition after clearcutting and by visiting it (and eating in the local vegetarian restaurant), we supported this fine and sustainable approach to re-inhabiting and revitalizing a human-ruined environment. But let's be clear - tourism almost always takes more from than it gives to a local environment. We burned fossil fuels, drank bottled water, ate their food and used their water for our showers. In that sense, we were "just tourists."


4. Finally, how would you rate your holiday overall?

Cuba has a rich art, music and architectural history that must be seen and heard to really appreciate. The country is a fascinating experiment in living differently from what global capitalism prescribes, with some definite benefits. Of course, because it is not a democracy, there are some downsides as well. Both these factors make Cuba a socially unique place to experience. With the onset of private business licenses, some of that uniqueness will surely dissipate. This and Cuba's ever-present history in all its tragic (slavery days) and revolutionary complexities made a visit to Cuba absolutely absorbing. Plus it has warm, friendly and diverse people and some stunning natural vistas and places (Vinales, most especially). I've travelled fairly extensively in my life so far (more than 50 countries) and yet Cuba struck me as a one-of-a-kind place. It was easy to travel in, too, so I could focus on what I was seeing, hearing and learning. I thoroughly enjoyed it and would return in a heartbeat.
---
Reviewed on 05 Jul 2017 by
Michelle Droy
1. What was the most memorable or exciting part of your holiday?

Swimming by the waterfall we hiked to.


2. What tips would you give other travellers booking this holiday?

Make sure to sip water all throughout the day and wear sunscreen. Also go to La Cuenca restaurant in Viñales.


3. Did you feel that your holiday benefited local people, reduced environmental impacts or supported conservation?

We definitely helped local people by bringing them business.


4. Finally, how would you rate your holiday overall?

It was wonderful and our guide, Lidier, was super caring.
---
Reviewed on 12 Jun 2017 by
Kristin Nocco
1. What was the most memorable or exciting part of your holiday?

Seeing the different cities unfold. Watching the people do "normal" things. The resources they have are very different than those in the US, so it was
interesting to see how they go about their lives.
It was nice having a guide and visiting the different cities, I would have read up on what to do in the cities before I left, that way when we got there, I could
work with our tour guide to do some different activities. I did have a tour book, but there are so many great ideas on the internet as well.


2. What tips would you give other travellers booking this holiday?

Bring snacks from your country. The stores don't sell snacks like you may be used to, and with the heat and humidity, it's nice to have some "salty snacks".
I brought a lot of snacks, (protein bars, trail mix, gummy bears,slim jims, peanut butter and jelly). I was able to share with my group and they were very
appreciative. Everyone commented that they needed more "salt".
Buy the 5 gallon water jugs when you see them and keep refilling your water bottle, you will be amazed at how much water you drink!
You don't have to have meals with the group, but it was nice because you knew the food was going to be "safe" and sometimes like when we were in Vinales
we had amazing views at a place that you wouldn't find on your own.


3. Did you feel that your holiday benefited local people, reduced environmental impacts or supported conservation?

Yes, we went to area's were we supported the local folks in their environment.


4. Finally, how would you rate your holiday overall?

It was a wonderful trip. Definitely print out the options, so when you get to a town, or you can work with your local guide on some of the options that are
available.
---
Popular similar holidays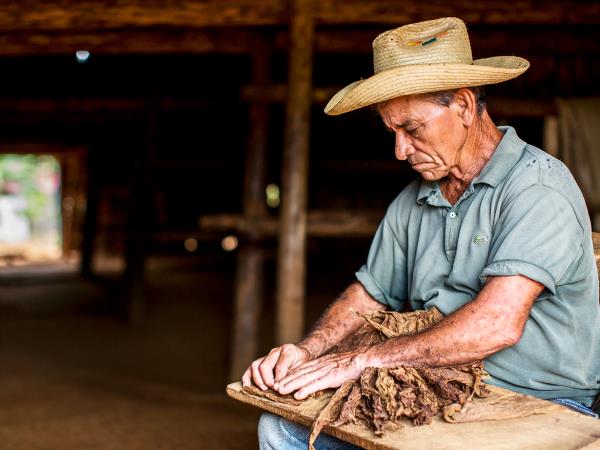 Immerse yourself in Cuban culture on this 8 day adventure
From US $690 8 days excluding flights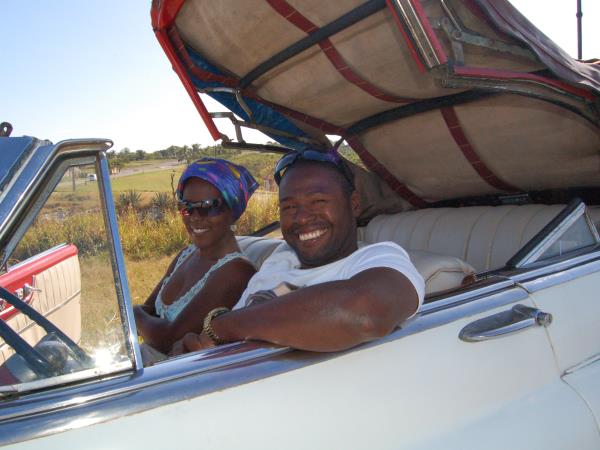 Tailormade holidays in the pearl of the Carribean
From €995 15 days excluding flights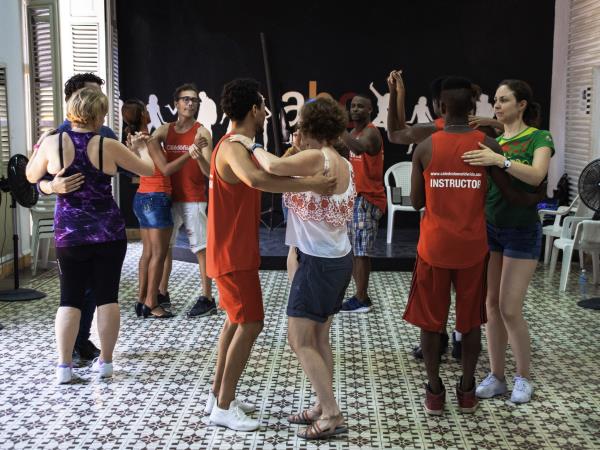 Learn to salsa with the pros in Santiago de Cuba, with tuition, day trips and nights out included
From £1560 15 days excluding flights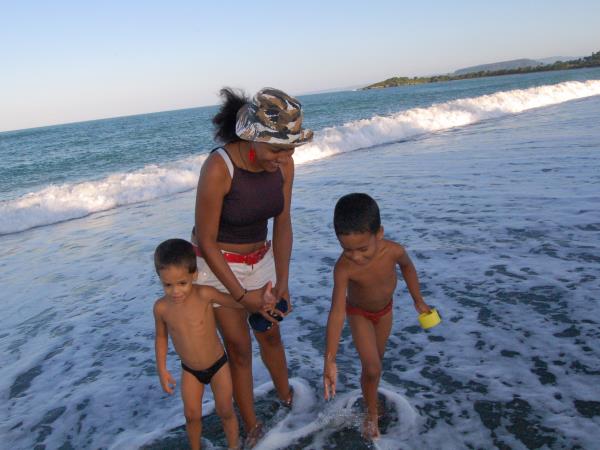 Family holiday Cuba for parents & children
From €1590 - €2990 15 days excluding flights