With temperatures hovering between 20-35°C, and the water bathtub warm year round, Cuba has a classically cosy Caribbean climate.

Spring is the best time to visit Cuba, with Mar-mid Apr the most pleasant: warm and sunny without summer's humidity or storms. Prices may be slightly lower in Jan-Feb, when nighttime temps drop, but the rain stays away and the sun shines. Eastern Cuba experiences the highest heat, humidity and hurricane threat – so keep an eye on weather warnings. Latin, African and Caribbean cultures combine to ensure festivals happen throughout the year; whenever you come you're sure to encounter music, dance or parades.
When to visit Cuba & when not to
December to April is the best time to visit Cuba to avoid the rains and occasional hurricanes. However, within these months there are a lot of variations depending on whether you want heat, good deals or local festivals. December, January and February are sunny but with cooler temperatures - great for sightseeing but some days may be rather fresh for beach lovers. December also sees prices peaking. March and April are warming up beautifully - though March (and Easter) is the busiest time for tourists in Cuba. Book as far ahead as possible; tours will fill up fast. The rains start tentatively in late April to May, with June to November bringing heavier downpours, storms and the odd hurricane. August, September and October are not the best time to visit Cuba, as this is when hurricanes are most likely to occur, especially along the coasts. Prices rise during the school holiday periods of Christmas, Easter and July to August; you'll find cheaper flights and accommodation options outside of this time. Be sure to book even further in advance if travelling during the school holidays. As well as being stormy, July and August are also unpleasantly hot across most of the island – particularly in the built-up cities of Santiago de Cuba and Havana. The southeast is generally hotter and sticker year-round. For those in search of a real Cuban festival, Carnival takes place in Santiago in July, while Havana's renowned Jazz Festival happens in December. But on this art-loving island, where culture has been bankrolled by the government for decades, there are literature, theatre, poetry, dance, music and visual art openings pretty much every week, particularly in Havana but also in the Casas de Cultura - or simply in the streets - across the country.
For decades, foreigners have been keen to see Cuba "before it changes". But Cuba has been changing continuously, and many changes have been beneficial to both tourists and Cubans. Casas particulares, for example (government regulated homestays), allow visitors to avoid often characterless, state run hotels and stay with local families for a far more authentic experience. Private restaurants, called paladares, are also springing up, serving delicious, home cooked food.

But following the reestablishment of diplomatic relations with the US as well as the death of Fidel Castro, the changes have been bigger and faster. While some of the more ostentations symbols leave a rather bad taste in the mouth (a giant cruise ship providing a backdrop to the 1950s cars on the Malecón, Chanel's Havana fashion show which regular Cubans were not permitted to attend), at Responsible Travel we also welcome the freedoms that are now available to Cuban people, and the opportunities for them to become have much more control over their lives – as well as earning more than the typical monthly salary of US $15-30.
However, we also recognise that Cuba is in a period of very rapid transition. Its minimal tourism infrastructure has yet to catch up with the swelling numbers of arrivals, including US citizens who are looking to visit legally for the first time since 1960, as well as tourists from Europe and Canada who are rushing to visit before the anticipated 'changes' kick in. Consequently, tours, hotels and casas are often booked up months in advance, and some visitors have been surprised at the number of other tourists they have encountered, particularly during high season. Cuba is still very much an alternative destination, however, with a crumbling infrastructure, high poverty levels, and lack of many essentials, from toiletries and medicines to clothes and furniture. While we still strongly encourage people to visit Cuba, and to do so responsibly, we also advise people to go with a very open mind. Casas are comfortable but they are not luxury hotels: they are family homes. What you want to eat may not always be on the menu, WiFi is in its infancy, and that 70-year-old Chevrolet will be noisy and the windows won't wind down. But this is Cuba "before it changes" – and it also offers wonderful hospitality, seductive live music on every street corner, passionate dancing and Caribbean beaches without the high rises. It's not a postcard perfect Caribbean beach holiday; it's a fully immersive and thoroughly unique life experience.
Our top Cuba Holiday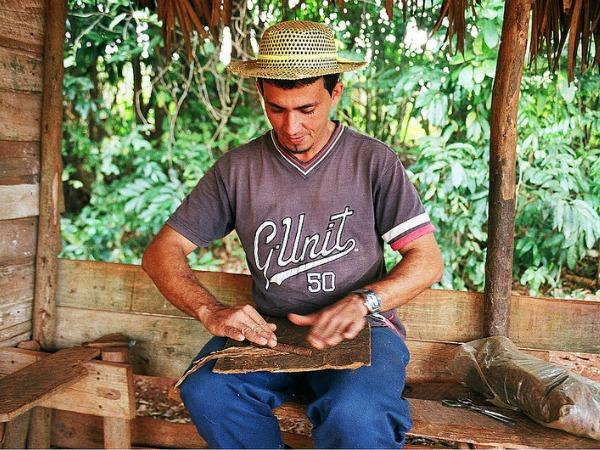 Get into the Cuban swing over just ten days.
From £1125 12 days ex flights
Tailor made:
Everything is tweak-able, giving you the freedom to build a unique and personal trip for your chosen date. Upgrade your accommodation for all - or just part - of your trip, slow down the pace with few extra nights here and there or add a few more active adventures along the way.
If you'd like to chat about Cuba or need help finding a holiday to suit you we're very happy to help.

Responsible Travel recommends
Clarita Derwent, from our supplier Cuban Adventures, shares her best time to visit Cuba:

"I really, really love April – mostly because the weather is so agreeable. Most of the year Cuba's just really hot; while that's great it does limit what you can do because you're exhausted all the time and you have to spend a lot of time resting.
April is still a bit hotter in the East but in Havana there's beautiful sunny days. The air is cool and it's just such a pleasant time. Other than that, Christmas is fantastic because it's the coolest time of year, but there's a lot of festivals and parties. Cubans get time off at the end of the year – not much, but enough to enjoy themselves."
Old Havana, City in Motion
Each April, dancers from across Cuba and the globe take to Havana's streets, plazas and colonial buildings to showcase modern and traditional dance. The standard, variety and creativity is phenomenal – if this doesn't inspire you to move your feet, nothing will.
Festivals & events in Cuba
Havana Biennial
Expressive Havana gets just that little bit artier every two years, as the Biennial takes over the city for the whole of March. There are exhibitions, documentary screenings, workshops and master classes, with works – from over 40 countries – utilising the urban spaces, not just galleries.
Weekly shows – countrywide
In a country where all citizens are encouraged to be artists, annual events are merely a bigger version of what takes place daily in Cuba's National Theatre, Casa de la Musica, Gran Teatro, Casa de la Amistad, UNEAC (National Union of Artists and Writers of Cuba)…
Stop by to pick up a schedule, and overdose on art premieres, screenings, poetry, jazz, salsa and dance.
The Habanos Cuban Cigar Festival
Of course, Cuba's most famous export had to have a whole festival dedicated to it. This commercial festival, held each February, includes cigar factory tours, cigar rolling workshops, seminars on cigar production and – yes – tastings.