What is the food like in Cuba?
"Don't expect much from Cuban food," says Julian Philpott, one of our travellers on a recent holiday to Cuba. It's a feeling echoed by our writer Eloise, who has been to Cuba twice in the last 10 years and describes the same dinner that was served everywhere she stayed: "Black beans and rice, and a choice of spiny lobster, chicken or sometimes beef." Even eating out didn't improve the experience. "Once, we treated ourselves to a fancy meal at a hotel in central Havana. The food was terrible. I remember the ceviche so well. It wasn't even an approximation of ceviche. It was oily and strange, like the work of aliens approximating human flavours."

People have a memory of Cuba past. Now Havana is more cosmopolitan, there are all types of exciting restaurants and a lot of good food.

Yet the majority of our travellers have a different story to tell. "The food was amazing everywhere!" says Joann Wellbrock, after an eight-day holiday in Cuba. "Ignore people telling you that the food is bad!" agrees Ariela Silberstei, who went on our Cuba culture tour. "It's wonderful."

So what's the deal? "It is funny about the food," says Clarita Derwent, manager of our travel specialists Cuban Adventures. "Many people have a memory of Cuba past, when it was hard to get fresh food and there was little outside influence. It was all black beans, rice and pork. But Cuba is a fast developing country. It's completely changed over the past 10 years, then the past five, and even the past two." Relaxation of the Cuba embargo under Obama and changes to domestic laws are largely responsible, leading to more imports and more small, private businesses, many of which have been restaurants, cafes and bars.

"Now Havana is more cosmopolitan. There are all types of exciting restaurants and a lot of good food," says Clarita. Still, some things may not be to everyone's taste. "There is a reason guava isn't widely commercially available and is best consigned to a carton of Um Bongo," says Eloise. "It's got a strange texture and isn't very nice." Outside the main cities, meals are still based on a more simple Cuban creole diet, while state-owned restaurants and roadside stops do a good trade in not very good food. But stick to casa cooking (in homestays) and paladares (private restaurants), rather than state-owned premises and hotel buffets, and you're more likely to be enjoying the same great food everyone else is talking about.

"Go to the increasing number of paladares and ask around for recommendations, and you will eat very well there whether you're a vegetarian, pescatarian or omnivore," says Naranee Ruthra-Rajan, another of our travellers to Cuba. "I'd heard a lot before I went about how bad Cuban food was," she says, "this proved to be a myth. Like anywhere in the world, including London, New York and Paris, it's possible to have rubbish meals if you go to a rubbish restaurant, but that doesn't mean it's not possible to eat well there."
Cuba's Special Period
When it comes to breakfast in Cuba, whatever's in the casa goes on the table – meaning there's often masses of food. Everything from eggs to fresh fruit, fresh juice, fresh coffee, fresh hot milk, sliced ham, sliced cheese, sliced tomatoes, sliced bread – delivered daily from the state bakery as part of the household's ration. Sometimes cakes, biscuits and sweets make an appearance, like some kind of morning high tea. "They really go all out on the breakfast," says Clarita with a laugh. "The minimum is a jug of juice, coffee, and hot milk, eggs done any way you want, fresh bread and butter and maybe some guava marmalade – that would be the very minimum!"

Being in people's homes and eating their food is how to experience Cuba and the people.

Staying in casas particulares (often called 'the original Airbnb') means having the same breakfast as your host family. "Being in people's homes and eating their food is how to experience Cuba and the people," says Tiffany Smith, who went on our 15-day Cuba tour. "The food at the house was amazing!"

It's not uncommon, Clarita says, for travellers to complain that their breakfasts are too big. "I say to them: look, during the blockade and after the fall of the Soviet Union, which caused the Special Period in Cuba, people starved. People were starving. It was horrible, horrible the things that happened in those years." Those years – Cuba's economic crisis, which only ended in the 2000s – radically transformed the country. Which is why, she explains, there's no need to worry about leftovers. "Nothing is ever wasted in Cuba. Never. You don't have to talk to them about food wastage." What isn't eaten at breakfast is often made into sandwiches for lunch, or eaten by your hosts, and scraps are fed to the chickens and pigs. "For them it's a psychological thing," she says. "Lots of food on the table shows that you're not going to go hungry today."
Ration cards
Some
cultural tours of Cuba
will include a visit to the bodega, where your tour leader will get out his or her ration card and show you how Cubans collect their weekly allocation. "Yes, there is still rationing in Cuba. Ration cards," emphasises Clarita. "Not rationing of food and things." She describes the system as a universal benefit designed to subsidise households, rather than as something to live off. "You get rice, sugar, coffee, eggs. If you're a child or an elderly person you get a quota of milk, and if you've got a specific health problem you get a quota of protein, so it might be that you get a certain amount of chicken or fish per week," says Clarita. "Everyone in Cuba has a ration card, no matter what you do, no matter what your work is."
That doesn't mean that there aren't sometimes shortages of food and other essentials, although this is unlikely to affect tourists as accommodations are usually well-stocked. "It's kind of a running joke that your ration card might say you should be getting fish every week but it might not be there," says Clarita. "So you look at the blackboard and see: ah they've only got rice and sugar today. I love that our guides all give it from their own perspective and their own personal experience of living with a ration card, and the pros and cons. That is still very much an important part of Cuban life."
Our top Cuba Holiday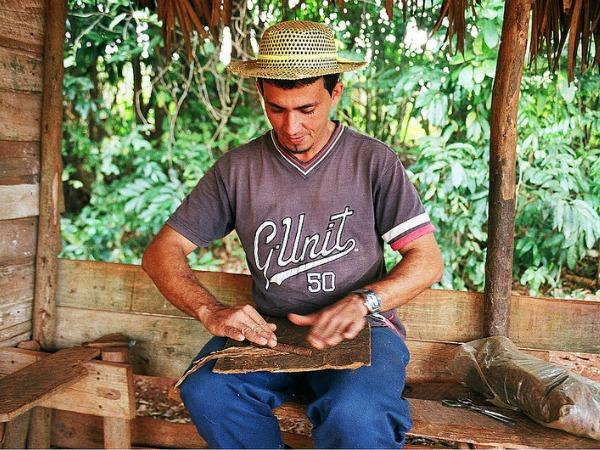 Get into the Cuban swing over just ten days.
From
£1545
12 days
ex flights
Tailor made:
Everything is tweak-able, giving you the freedom to build a unique and personal trip for your chosen date. Upgrade your accommodation for all - or just part - of your trip, slow down the pace with few extra nights here and there or add a few more active adventures along the way.
If you'd like to chat about Cuba or need help finding a holiday to suit you we're very happy to help.

Cocktails & celebrations
Every New Year's Eve, Havana's historic plaza is closed off and its cobbles are covered in long tables to make one massive open air dining room, filled with musicians, music, dancing and drinks. "It's a really fantastic event," says Clarita. Unlike the food, when it comes to cocktails, and Cuba's famous rum, the feedback is unanimous. "The cocktails are top class," says Fintan Fawsett, who travelled on one of our Cuba tours. "The bars served excellent daiquiris," adds Eloise. "Every single bar we went to had some sort of connection to Hemingway, that's no exaggeration. Okay, slight exaggeration."

We stayed places where the grandmother would painstakingly make Mojitos, pounding the sugar and mint laboriously for us.

If you're doing a
Christmas tour of Cuba
, you'll get to try some of the festive food and, as you might be expecting after breakfast, it's a massive feast. "The main dishes are lobster, prawn, crab and ham. On top of that there will be lots of vegetables and a thousand other things. They may also bring out chicken – but no turkey!" Clarita warns, adding, "it's a beautiful way to spend Christmas in the Caribbean."
A green revolution
Until the 1990s, Cuba relied almost entirely on sugar. Its one-crop economy, supported by its sugar cane trade with the Soviet Union, ate up most of its agricultural land and partially led to Castro cancelling Christmas, as efforts were focused into the fields for harvest. But as quickly as the Soviet Union fell, so too did Cuba's exports; many countries stopped buying their sugar. "Suddenly they were stuck with no business, nowhere to sell their sugar, and no food, because all their land had been planted out with sugarcane," says Clarita.

We ate a lot of wonderful, organic food and were surprised to learn that Cuba leads the world in organic farming.

Unable to support the population, and without access to pesticides due to the US blockade, Cuba was forced to go organic. "It wasn't Cuba's intention to develop organic commercial farming, because it's always been said that you can't farm on a commercial level without having pesticides. But they had no choice," says Clarita. During the Special Period that followed, the Cuban government campaigned to get everyone growing their own food, in gardens or huge communal areas that could be found in every town. "It's something that still exists today," says Clarita. "People go to Cuba from all over the world to study its organic farming system."
Travellers can visit these community farms, or
organoponicos
, where locals will walk you through the vegetable gardens and rows of fruit trees. Many of the gardens also contain medicinal plants used to make herbal tonics and alternatives to medicine that Cubans still can't access due to the blockade. "There's a special
organoponicos
just on the outskirts of Havana,
where we go
, and this woman, who's a specialist in organic farming, comes and talks to the group," says Clarita. Any visitors that want to get their hands dirty and learn on the job will be more than welcome. "It's really fascinating, completely unique to Cuba. It's really been their saving grace."