Cuba's charms are not all cultural - its natural wonders have been recognised by UNESCO, including the ethereal, karst-filled valley of Vinales.

One of the island's most scenic and charming regions, you can walk, drive, cycle or ride a horse through Western Cuba's hills and farmland, stopping off for an organic juice, and learning how to roll your own cigar. The sunsets over the sugarloaf mounds, with banana leaves peeking out beneath, are just gorgeous.
The Music
.
The Dance
. The heat. The old cars shuddering along the Malecón as the waves crash along the shore. The daiquiris, the mojitos, sipped in Hemingway's old haunts. The cigars and colourful dresses and crumbling architecture and constant sunshine. Old Havana – Habana Vieja – is a film set, a window into the past, a sensory overload of colour and rhythm and taste, and however long you spend here, it will never quite be enough.
Aside from its visual beauty, Havana is a whole city full of poets and musicians. Theatres, book stalls, jazz concerts, poetry readings, stalls selling maracas and claves, the Casa de la Música, the National Ballet, the Theatre, art openings on every street corner, open studios along the Malecón – the art, literature and performing arts here are overwhelming.
Our top Cuba Holiday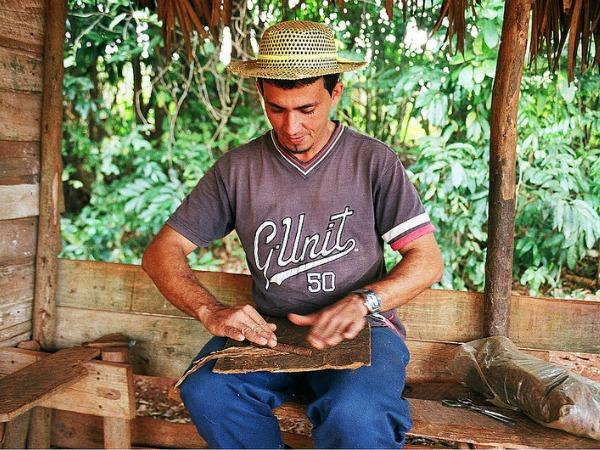 Get into the Cuban swing over just ten days.
From
£1545
12 days
ex flights
Tailor made:
Everything is tweak-able, giving you the freedom to build a unique and personal trip for your chosen date. Upgrade your accommodation for all - or just part - of your trip, slow down the pace with few extra nights here and there or add a few more active adventures along the way.
If you'd like to chat about Cuba or need help finding a holiday to suit you we're very happy to help.


My first dive in the waters of Cuba serves as a moment of truth...around me, large fish among flourishing coral, a reef more rich than any I have seen in years.

It may be over three decades since Jacques Cousteau set out, to explore Cuba's stunning underwater ecosystems, but one of the most impressive things about diving in Cuba is how little these incredible reefs have changed – in contrast with the rest of the Caribbean, where over development has had devastating effects. You can dive virtually the whole way around Cuba's 5,700km of coastline – find out more in our guide to
scuba diving in Cuba
.
Discover Santiago
de Cuba

Steamy Santiago has Cuba's hottest climate - and its hottest culture.

Edgy and urban, Santiago proudly divides opinion - some revel in its fiery Afro-Cuban culture and well-worn city centre, too far from Havana for the limited wealth to filter down. Others are shocked at the hardship and hawkers - but this is Cuba, untamed for tourists. The bullet-riddled Moncada Barracks are a legacy to the revolution that never happened here, while the well-preserved Santería religion, music and dance are a legacy of the slaves that were brought here by plantation owners fleeing Haiti in the early 1800s.
Don't come all this way and forget you're in the Caribbean!
Away from the sleek, characterless all-inclusive resorts of the north coast - most notably Varadero, there are fantastic tropical beaches and uninhabited islands, ringed by reefs, and with the odd beachside cafe for your fresh piña colada – or maybe just a local fisherman who'll catch and cook your lunch over an open fire. The water is balmy year-round, and some beaches have sheltered swimming spots which are
ideal for families
.
Many islands can actually be reached along causeways by bus or private vehicle, making them an easy daytrip. Others have bungalow-style accommodation for longer stays, but be careful - you might just be reluctant to return to the real world afterwards.