Travelling in Cuba with kids

As with most Latin countries, Cuba welcomes children with open arms. But it does so without malaria, altitude or crime - this is a fab family spot

Hotels are family-friendly, there are plenty of outdoor activities to excite both youngsters and their parents - and of course the tropical beaches are an idyllic spot for sandcastles and swimming in the warm waters. Kayaks, stand-up paddle boards and snorkel gear may also be available.
But Cuba's real attraction is its culture. Rather than specific holiday activities, children can join dance classes, play with local kids in the street, ride the cocotaxis, enjoy nightly activities in the plazas and discover Cuban life for themselves. It's very, very easy to be in
Cuba with kids
.
Activities for families in Cuba
Clarita Derwent, Cuban Adventures:
"Most weekends in whatever town you are in you can go to the main square in the evening and they'll have activities for children. Horse rides, carousels, people selling sweets… My kids just enjoyed playing along with the local kids. They play baseball – just with a bottle top and a stick – it's so gorgeous! They all stand in the street and play."
Marcel, Latin America Journeys
"There's plenty to do with children that isn't all about beach resorts. In Sierra Escambray you can visit an open cave. Children really like it, you can swim and climb and jump – or descend a river from a waterfall to a lagoon, adults love it too! You can stay outside Baracoa along a big river where you can build campfires and visit coconut plantations on a cay by boat."
Las Terrazas
Las Terrazas is a tranquil escape from the bustle and hassle of the bigger cities. All ages will adore the gorgeous natural pools – which are also a great opportunity to meet local families. Check out the nearby ziplining and canopy tour too, with a suspension bridge leading you through the treetops.
Our top trip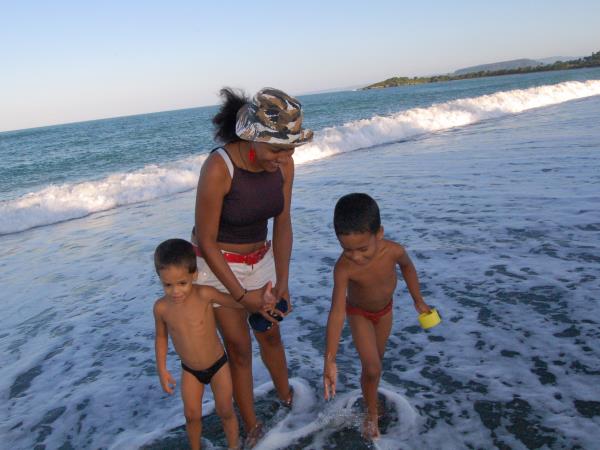 Family holiday Cuba for parents & children
From
€1450
15 days
ex flights
Tailor made:
This trip can be arranged at a time to suit you, and adapted to your requirements
If you'd like to chat about Cuba or need help finding a holiday to suit you we're very happy to help.

Responsible travel asks the experts
Georgina, from our supplier Chimu Adventures, shares her advice for travelling in Cuba with kids:
"Cubans – like all Latinos – love children and love families. Most of the big hotels will have kids' facilities. The most important thing is to take everything you need, like prescription medicines, basic medication, asthma inhalers, things like that, because it is quite difficult to hold of things when you are in Cuba. It's not like other places where you can just buy things – even sun cream, take it with you just in case, as you can't guarantee you can buy it out there."
Clarita Derwent, from our supplier Cuban Adventures, shares her tips for travelling in Cuba with kids:
"One of the biggest achievements of the revolution was how it changed attitudes towards children. The government ensures children get the best education and healthcare from the moment they're born. Cubans believe that the most important thing in life is to look after your children and your neighbours' children – and that extends to foreigners' children.
So when you go to Cuba as a family, Cubans just love it. It's almost like you're giving them a compliment, by saying 'I'm happy to come to Cuba with my children, I feel safe here with them.' It's like a personal compliment, you are safe, everyone wants to help you out with your kids, and everything is adapted to make it easier to be with children."