Cuba has a split personality. On one hand, it is a capital of culture, communism and chaotic cities. On the other; a tropical, Caribbean Island. It's worth getting to know both Cubas.

The Caribbean = white sand beaches, palm trees, rum cocktails and warm seas. For decades, Cuba has lured tourists to its shores with the promise of paradise, with Varadero leading the way in idyllic island resorts, and plenty more scattered along the 5,746km coastline. However, for many travellers, the trick is balancing the urban treats of Havana, Santiago and Trinidad with time spent beachside – rather than spending the entire holiday hidden away in an all inclusive resort.
Happily, the proliferation of
casas particulares
combined with fantastic self drive and tailor made holiday itineraries means that it is now easier than ever to mix and match, discovering the unique culture while still feeling like you've had a relaxing Caribbean break, making the most of Cuba's pristine sands, tiny cays and coral filled bays. We've shared some of our favourite beaches in Cuba below to help you plan your route around the island.
Bay of Pigs
The Bay of Pigs – Bahía de los Cochinos – is Cuba's most notorious strip of coast – and not one many would associate with a beach holiday. But this bay shelters some of the islands most idyllic beaches, not least Playa Girón, which was where the infamous 1961 invasion took place. The beach today does not resemble a battle zone in the slightest, rather it is a palm-dotted arc of white sand, although those curious about the history can visit the little museum. Just east of Playa Girón, Playa los Cocos is recommended for snorkelling. Tucked right inside the bay, Playa Larga offers yet more crystalline Caribbean waters, though its main appeal is its nature: scuba divers have a choice of superb sites here, which the surrounding UNESCO Biosphere Reserve the protects the island's most extensive wetlands.
The Bay of Pigs is a pleasant detour on the way to or from Cienfuegos – and there are a number of little hotels and casas particulares in the nearby villages if you think you'll need longer than a day in paradise.
Our top Cuba Holiday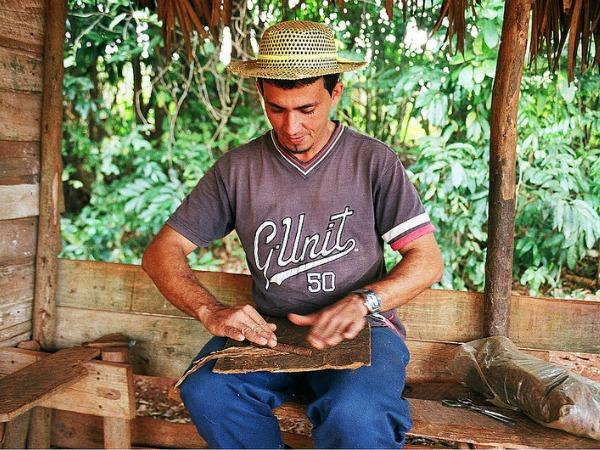 Get into the Cuban swing over just ten days.
From
£1545
12 days
ex flights
Tailor made:
Everything is tweak-able, giving you the freedom to build a unique and personal trip for your chosen date. Upgrade your accommodation for all - or just part - of your trip, slow down the pace with few extra nights here and there or add a few more active adventures along the way.
If you'd like to chat about Cuba or need help finding a holiday to suit you we're very happy to help.

Cayo Levisa & Cayo Jutías
Cayo Levisa
Both of these compact islands can be visited during daytrips from Viñales – either with your own car, or on organised bus trips, which include lunch at the island's restaurants. Cayo Levisa is the more "developed" of the two, and is a beautiful, 30-minute ferry ride from Palma Rubia. As well as a small hotel, there is a dive centre, letting you take advantage of the numerous dive site scattered around the cay – or you could just bring a mask and snorkel. The 3km-long, white sand beach is stunning, and it's worth paying a small amount for one of the little thatched shelters to keep you out of the relentless Caribbean sun. Wander along the sand to explore the skeletal remains of mangroves.
Cayo Jutías
Cayo Jutías is around 65km from Viñales, and is reached via a 6.7km-long causeway across the ocean. If you can tear yourself away from this castaway-style beach, you can rent a kayak or take a snorkelling tour. There is, blissfully, little else here – and no accommodation, though you may find the odd local fisherman to cook you up a lobster lunch on the sand.
Playa Ancón
Playa Ancón has a lot going for it – not least that it is just a 15-minute drive from the city of Trinidad, with the option of taking a bus, coco taxi or even cycling if you want to earn your time relaxing on the soft sand. The 4.5km beach never seems to get busy, the background of tropical vegetation gives it a wild feel, and there are plenty of opportunities for snorkelling or diving in the bathtub-like water. Inevitably There are a couple of all inclusives here, but you can also stay in a casa particular in the nearby village of La Boca if you don't want to return to the bustle of Trinidad. Do bring insect repellent if you're sticking around 'til dusk.
Cayo Blanco
Reached via catamaran from Trinidad, Cayo Blanco provides one of Cuba's most relaxing daytrips. With a fish or lobster lunch included, all you need to do is pack your sunscreen and snorkel; the nearby coral reef, with its sea fans, sponges and colourful tropical fish, is well worth exploring. The powder-soft, sandy beach is stunning – but do be aware that this is a tourist haven, not a deserted island, and you will be with other day trippers, sun beds and souvenir stands.
Cayo Largo del Sur
This skinny cay off Cuba's southern coast is home to the aptly named Playa Paraíso – Paradise Beach. Those who named it knew what they were talking about; this postcard-like landscape is Caribbean perfection, with an uninterrupted stretch of white sand gliding along the shallow, turquoise sea. Order your piña colada from the single beach bar, and gaze out into heaven. But Cayo Largo hides a wonderful secret: Playa Paraíso is not even the most paradisiacal beach on the island. Many consider that to be Playa Sirena, on Cayo Largo's western tip. There are 26km of beaches to explore around the island's circumference, including some nudist, as well as even tinier offshore cays, reached by yacht. You're best off staying here for a few days unless you want to be rushing in paradise, though the only accommodation options are resorts.
Santa Lucía
An offshore reef protects the turquoise waters off Santa Lucía, a 21km-long beach in Camagüey province. There are plenty of facilities scattered along the golden sands, and around 35 dive sites. There is some great snorkelling, but the reef itself is 2km out to sea – so will need to be accessed by boat. Head inland to observe flamingoes at the lake of El Real.
Bahía de Baracoa
Bored of all that powdery white sand? Head east, all the way, to Baracoa. This town was only accessible by boat until the 1960s, and it still feels rather isolated and unexplored. Baracoa sits on the wonderfully-named Bahía de Miel – the Bay of Honey – where lush rainforest and rivers tumble down steep mountain slopes to the dark sand beaches. There are plenty of palm-fringed options here; one of the most popular is Playa Maguana which is suitable for snorkelling and boats can be hired for daytrips, while Playa Nibujon, to the west of Baracoa, remains wild and beautiful. But "popular" is relative here; the remote southwestern coast never gets as busy as the more accessible north and west.