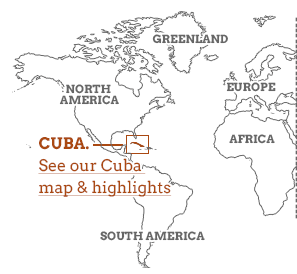 Whether you're tracing the history of the Revolution, cycling through the countryside or taking the family on an adventurous self drive holiday around this lively Caribbean island, we believe that what makes Cuba so special is the people who live here. That's why our small group and tailor made Cuba holidays ensure that you get a memorable introduction to the communities you visit that goes beyond skin-deep. From staying in characterful family-run homestays, to dancing the night away in salsa halls, to exploring with passionate local guides – expect an immersion in Cuban culture that stays away from the clichés.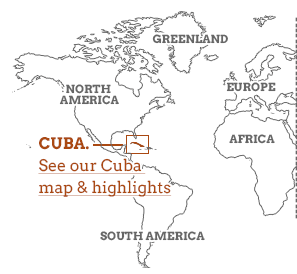 Our top Cuba holidays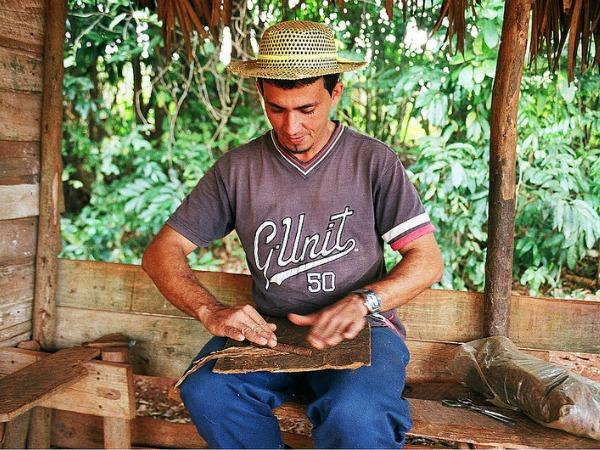 12 days
ex flights
Get into the Cuban swing over just ten days.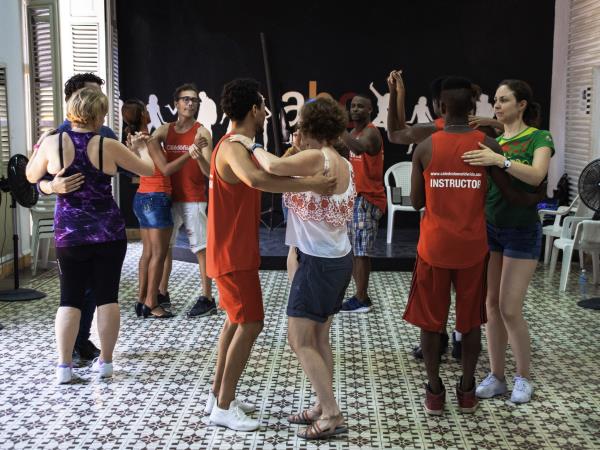 15 days
ex flights
Learn to salsa with the pros in Santiago de Cuba, tuition, day trips and nights out
Small group
2022: 6 Feb, 13 Mar, 10 Apr, 8 May, 26 Jun, 17 Jul, 16 Oct, 6 Nov, 27 Nov, 18 Dec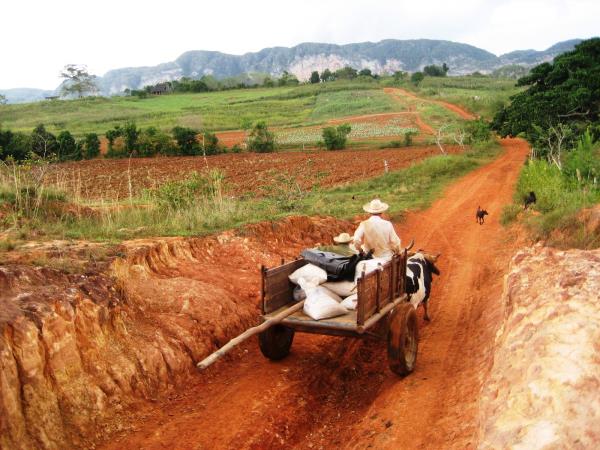 8 days
ex flights
Explore Havana, visit tobacco hills & doze on dreamy beaches
Best time to go on holiday to Cuba
Cuba has a classic Caribbean climate. Temperatures hover between 20-35°C, and the water is warm year-round. Spring is the best time to visit; March and April are warm and sunny, but don't suffer from summer's humidity, or its storms. Rainy season tends to start any time from April, and May and June can be quite wet. August, September and October are probably the worst times to go to Cuba due to potential hurricanes. Prices may be slightly lower in January and February than in spring; it's sunny, but the night temperatures are cooler.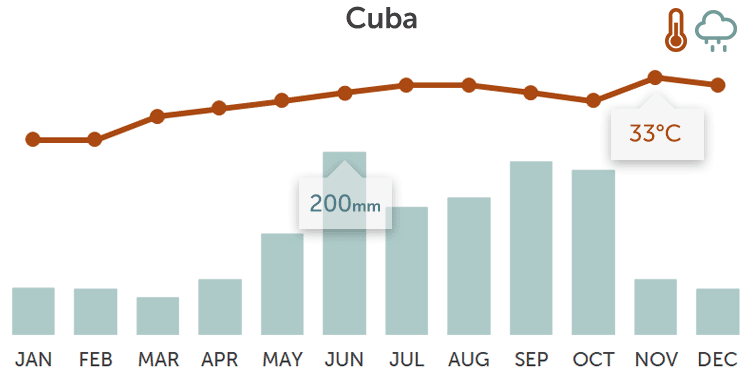 Map & highlights
Cuba is the largest island in the Caribbean and, thanks to its long, skinny coast, it's packed with excellent beaches. There's room, too, for several UNESCO-listed cities: Santiago de Cuba, your gateway to the southeast coast, and further west, Cienfuegos, recognised for its intact colonial architecture. You can't miss Havana, and the capital really is as atmospheric as everyone says, whilst Santa Clara is for history buffs and Che Guevara pilgrims. You better be ready to relax once you reach the colourful colonial town of Trinidad, whilst inland, Viñales is Cuba at its bucolic best – surrounded by scenic hills.
1. Cienfuegos
The "Pearl of the South" is set on a beautiful bay, and its colonial architecture - including pretty palaces - has earned it recognition as a UNESCO World Heritage Site. Hang out with the locals along the Malecón, discover Cienfuegos' French colonial history in the Museo Provincial, or relax with a boat trip across the bay or a visit to the botanical gardens.
2. Havana
The Caribbean's best-loved city, Havana's old quarter is a UNESCO site. This living movie set is as exquisitely atmospheric as they come; people pedal round cobbled streets, classic cars cruise the Malecón, musicians strum and sing on every street corner and sloppy Spanish echoes from every half-empty, crumbling home. Check out the cultural centres, artists' studios and well-preserved theatres.
3. Santa Clara
History buffs and Che Guevara fans tend to make a beeline for Santa Clara - the scene of the final battle of the revolution, and the final resting place of Guevara. The town is pleasant but otherwise unremarkable; the real draw here is the Che Guevara Memorial, the huge Che statue, the Che museum and the site of a train derailed by the guerrillas, with exhibits inside the actual carriages.
4. Santiago de Cuba
Steamy Santiago has Cuba's hottest climate - and its hottest culture. Edgy and urban, Santiago proudly divides opinion; some revel in its fiery Afro-Haitian culture and well worn city centre, too far from Havana for the limited wealth to filter down. Others are shocked at the hardship and hawkers. The bullet riddled Moncada Barracks are a legacy to the revolution that never happened here.
An unmissable atmosphere
Call it romance, call it a vibe: it's hard to put your finger on it, but Cuba fizzes with an ineffable essence. The island produces more than its fair share of brilliant ballet dancers and jazz musicians and it's hard to spend an evening without a Cuba Libre finding its way into your hand. Thanks to its extraordinary recent history, there is no ordinary in Cuba. The classic cars – kept running with a great deal of determination – mean that even something as commonplace as a car park is suddenly fascinating. Read our
Cuba culture
guide.
Casas familiares
In a system unique to Cuba, you're far more likely to stay in someone's house than you are to stay in a hotel. Private citizens have been allowed to make a small income by lodging tourists in their own homes since 1997. These
casas familiares
– 'private houses' in English – are often simple but fascinating places to stay. Havana's increasingly crumbly residential architecture looks very lived-in, to say the least. Once you step inside, you'll find antique furnishings in the rooms, home-made breakfasts of freshly prepared fruit, and perhaps even a cool mojito when you return after your day of adventures.
Travelling with children in Cuba
Cuba is a safe, friendly country for families, and
family holidays
bring you a good mix of beach, city and nature. Little kids can't fail to be entertained by the attention-grabbing colour of everything, the throaty engines of old cars, and days on the beach where snorkelling reveals some pretty pristine reefs. Older children will find Cuba particularly absorbing – after all, it's a great lesson in recent history. Once you've left Havana they can plunge into the jungle in the nature reserve at Las Terrazas, where swimming in shade-dappled natural pools beats getting splashed in crowded all-inclusive resorts any day.
Self drive holidays in Cuba
It sounds daunting when all the cars seem about as old as you are – but your rental for a
self drive holiday
in Cuba will be a newer vehicle. It's better to admire the chrome classics from a distance, rather than worry about getting up the next hill. The driving is pretty safe, and you won't find many traffic jams. You just need to keep an eye on your GPS – not every turn has a signpost. A popular option is to enjoy the western side of the island, starting by roaring down Havana's Malecón, and going on to the scenic countryside around Viñales.
Cycling holidays in Cuba
Empty roads and brilliant scenery – a
cycling holiday in Cuba
is a great way to see rural areas, as long as you don't mind a few hills. Once you get to the summit, freewheel through tobacco plantations, and stop to bathe in a turquoise river pool. At the end of each day, you can hang up your helmet at a welcoming
casa particular
. If you fancy a challenge, go chase Che in the Sierra Maestra Mountains, where Guevara, Castro, and the rebels had their hideout. Take to two wheels from December to January, when it isn't too humid.
Types of holidays & vacations in Cuba
Joining a
small group tour
is a convenient way to see Cuba's highlights, and you'll travel with a group of like-minded adventurers. Specialist holidays, like salsa dancing, are great in groups, and every dance lesson will feel like a party. The best
walking holidays
take place in the Sierra Maestra. Here, exploring the dark, jungle-clad slopes of Pico Turquino National Park, you can ascend Cuba's highest peak, which also gives the park its name.
Cycling holidays
are a great way to see further-flung communities among hilly plantations and get to see Cuban life beyond the cities.
If you'd like to chat about Cuba or need help finding a holiday to suit you we're very happy to help.