"A two week, tailor made tour travelling independently around southern Cuba's highlights. Staying in both casas and hotels, using buses or hire car, up to you! "
Highlights
Havana | Las Terrazas | Viñales | Cienfuegos | Trinidad | Santa Clara | Cayo Santa Maria | Stay in casas particulares
Description of Cuba highlights and beach holiday
A trip that captures all of Cuba's highlights with plenty of beach holiday moments thrown into the magical mix. As this is a tailor made holiday, we can tweak it to suit your interests, budget and time frame, but the carefully crafted itinerary below ensures that you have several days in all our recommended regions, so that you have time to enjoy the country's inimitable culture and bewitching natural beauty.

Starting in Havana, this is a city that needs little introduction, the old town living up to all expectations with its crumbling colonialism, fascinating backstreets, shady plazas and famous classic car filled Malecón, all contributing to the city's UNESCO World Heritage status.

In total contrast, your next few days are spent inland at La Terazzas, a fascinating eco-community that was set up during the 1960's as a communist project. In a stunning location, you will meet the community that sustains the farm and artisans' studios and enjoy time around its lake. The tobacco growing region around Viñales is next, where you can go horseriding through the valleys and mountains, bedecked with farms and plantations, limestone caves and lakes.

More cultural delights await in coastal Cienfuegos, otherwise known as the "Pearl of the South" and another Cuban UNESCO World Heritage site for its French colonial buildings and palaces. As with several other places along your way, you stay in a traditional casa particular, or homestay, where the now familiar great Cuban welcome is par for the course.

Coastal and Caribbean culture will take you all the way back to Havana, with a couple of days in both the colourful, historical town of Trinidad, considered the musical capital by many, and some serious chill out time on the island of Cayo Santa Maria.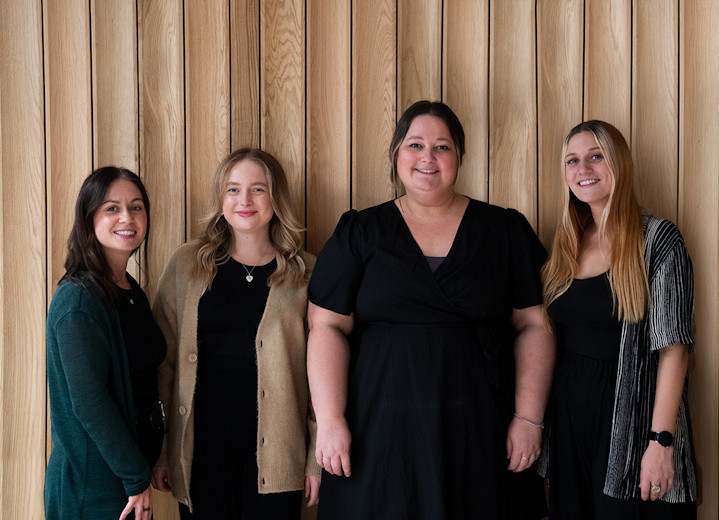 Departure information
Everything is tweak-able, giving you the freedom to build a unique and personal trip for your chosen date. Upgrade your accommodation for all - or just part - of your trip, slow down the pace with few extra nights here and there or add a few more active adventures along the way
Responsible tourism
Cuba highlights and beach holiday
Carbon reduction
Your holiday will help support local people and conservation. We must also reduce CO2. Learn about the CO2 emissions of this holiday and how to reduce them.
Environment
You'll find Cuba has some beautiful landscapes, from the unspoiled tranquil beaches of Maria la Gorda to the lush vegetation of the Humboldt National Park – and we want to keep it that way! This itinerary includes a trip to Las Terrazas, Cuba's pioneering eco-village, where you'll stay in an unusual eco-resort with an airy atrium built around a giant lime tree. The proceeds from tourism go back into preserving the area's unique biosphere, its ruins of 18th century coffee plantations and upkeep of the ecological research centre.

On the tour we will travel as lightly as possible, for example walking to hidden waterfalls, and exploring the landscape on horseback in Viñales.

Throughout our trips we prioritise small-scale, low impact accommodation, such as locally-owned Casa particilares and we visit local farmers and businesses who are balancing crop growing with protecting the landscape.

Meanwhile at our offices in Brighton, we're dedicated recyclers and work hard to reduce the amount of energy we consume. Our local partners do the same; keeping energy use to a minimum and using energy-saving light bulbs. We even advise our customers on keeping energy use down in their travel documentation.
Community
We firmly believe in the concept of meaningful travel; having experiences which benefit you and the destination you're visiting. We advise all our customers on local customs and cultures in their travel documentation.

You will be visiting local businesses, such as coffee growers and cigar makers and meeting the local guajiros in Viñales. We've included a few casa particulars in this itinerary – a private room in a local home. By staying with a family instead of in a hotel, you'll put money directly into the pockets of the local people and catch a glimpse of how Cubans really live.

We're really proud that our local partners care as much about meaningful travel as we do. They work together with several artists, dancers, and intellectuals in Cuba and stimulate cultural tourism by organizing workshops, tours and courses to promote the Cuban culture.

We also support a local project in Cuba; the Music Fund for Cuba. They support the education and development of music and performing arts in Cuba. The Music Fund for Cuba provides much needed support and equipment for children and young Cuban musicians, dancers and artists throughout the island.
4 Reviews of Cuba highlights and beach holiday
---
Reviewed on 05 Apr 2019 by
Bo Hamilton-cody
1. What was the most memorable or exciting part of your holiday?

Each destination was memorable in its own way: Havana - like stepping back in time, with the old cars on the streets, mixed with horse drawn vehicles. Crumbling buildings alonside somebeautiful architecture. The history, both recent and ancient. Cayo Levisa - paradise! Soo relaxing ! Forced to do absolutely nothing, which was very enjoyable. White sands, crystal clear water, no loud music, no traffic, no nothing just tranquility. Vinales - loved this place. The horse ride to the tobaco plantation is a must for anyone visiting the area; understanding the economics and history of what happens within the tobacco industry - trying our first cigar! And rum, and honey too. Great place to buy gifts. Trinidad - loved the Bici-tour, with our guide - very intersting and insight into how Cubans actually live. Trinidad - casa Del Musica of course.


2. What tips would you give other travellers booking this holiday?

Whilst the Cubans are grateful for monetary tips (indeed most of them could not survive without these extras). They loved the perfume and aftershave samples we also gave them. They loved the travel toothpastes we gave out, and we left soap bars everywhere we stayed (all these are expensive exras for most Cubans).
We ate lunch and dinner for around 35-40CUC a day, incl drinks and additional drinks throughout the day.


3. Did you feel that your holiday benefited local people, reduced environmental impacts or supported conservation?

It definitely benefited local people


4. Finally, how would you rate your holiday overall?

We loved our Cuba trip - it was so great to hand over the planning to Jules and team at the tour operator, as we knew nothing about Cuba. From our initial contact, to tweaking the trip to our needs (more down time at the beach, as it was our honeymoon), to organising our visas and the helpful information which was emailed through about each of the places we were visiting - it all made the whole trip run smoothly. I would definitely recommend this tour operator. Thanks for making it such a memorable trip. There were no hitches with any of the transfers or casas - all we great - the owners friendly & helpful, even if they had limited English and with our limited Spanish - we managed to understand each other. For us Las Terrassas was a let down - the hotel unwelcoming, with no hot water and lack of food choice in the evening was difficult. We would rather have spent the time either at an additional resort, or with extra days elsewhere.
Equally Boca de Camarioca was a little too far away from it all - again, as one of us is a veggie we knew food choices would be difficult in Cuba - even more so here, where there was really only 1 or 2 restaurants open in the evening. A taxi to Varedares was 20CUC each way, which made it expensive. The casa and owner were lovely, but we would rather have been nearer a larger resort.
Read the operator's response here:
Hi Bo,

Thank you for your feedback and kind words.

It's great to hear that you had such a wonderful time in Cuba! I am especially happy that you share you our style of travel and that you took the meaningful experiences from each location that we want all our customers to enjoy. It was a pleasure to put together this itinerary with you and make sure we included all the interesting contrasts Cuba has to offer. I will make sure to forward your feedback to our local partners and the guides that lead your hand picked excursions. The bici-taxi tour in Trinidad is my personal favourite, too!

I am sorry to hear that you did not enjoy your stay in Las Terrazas as much as staying in the privately owned casa particulares. As all hotels are government run, the service standard tends to be lower. I will make sure to include more tips for restaurant options in the area, such as the vegetarian restaurant Romeo. It's a shame that the casa owner in Boca de Camarioca did not direct you to the shuttle bus to Varadero (which is 1 CUC per person), we will highlight this more in the documents we send out.

I do agree, Bo, small presents for the locals are definitely appreciated. I usually go with the rule of thumb of taking something with you that you would gift a friend of your's, too. For example: some biscuits, a nice pack of tea, some small perfumes, a nice notepad with a pen etc.

Again, thank you very much for your feedback and I hope we can send you on your next adventure with us soon!

All the best,
Jules

Travel Specialist


---
Reviewed on 10 Jan 2019 by
Nicole Griffiths
1. What was the most memorable or exciting part of your holiday?

Our time in Trinidad


2. What tips would you give other travellers booking this holiday?

Allow more money than we were
advised


3. Did you feel that your holiday benefited local people, reduced environmental impacts or supported conservation?

It benefited the local economy as
everyone wants tips and taxis and
meals are not cheap! I would say it is
not reducing the environmental
impact, quite the opposite.


4. Finally, how would you rate your holiday overall?

The holiday was well organised and all
our transfers and accommodation were
good bar one at the beginning.
Read the operator's response here:
Hi Nicole,

Thank you for your feedback, we are happy to hear that you had a great time in Cuba – especially in Trinidad – and that all the services arranged by
us went smoothly.

Advising spending money is a bit tricky as due to different individuals spending habits when travelling. We generally advise around £35-45 spending
money per person per day.

As a communist country Cuba is in the process of learning how to cater to the western world and being tipped is one of the great advantages. We believe it's
good to help them learn that tips should be received for good service, rather than as a given. Whilst accommodation in the local bed and breakfasts is quite
economical, transfers and meals are more expensive as the maintenance of cars is harder and groceries more difficult to come by due to restricted supply.

It would be great to hear more detailed feedback regarding the environmental impact of your trip. Whilst your transport by private taxis is less
environmentally friendly than the alternative option to travel by public transport, we feel that by staying at local homes and at the Eco-Biosphere Las
Terrazas your trip benefited the environment, as opposed to staying in e.g. the government run all-inclusive hotels.

Once again, thank you for you review, Nicole, it's much appreciated!

Warm regards,
Jules
---
Reviewed on 09 May 2018 by
Julian Philpott
1. What was the most memorable or exciting part of your holiday?

The tours were excellent, much better than we expected.


2. What tips would you give other travellers booking this holiday?

Don't expect much from Cuban food, don't move around too quickly, be polite- say hola and smile, watch out for stomach problems and go prepared.


3. Did you feel that your holiday benefited local people, reduced environmental impacts or supported conservation?

Yes, very much so


4. Finally, how would you rate your holiday overall?

Excellent, it was a fantastic trip and we all had a great time
---
Reviewed on 24 Apr 2018 by
Judy Corbett
1. What was the most memorable or exciting part of your holiday?

For me, the highlight was riding through the tobacco lands with the red earth, hot sun and beautiful scenery, or perhaps it was the horse-drawn cart trip to the
waterfall and then swimming in the cool, clear water with the birds swooping in and out of their little cave nests.


2. What tips would you give other travellers booking this holiday?

If part of your trip involves time an all-inclusive resort, take a large refillable thermos mug (like you might use for take-away coffee). Not only do you get
more beer or cocktails every time you fill up, but more importantly it saves on little plastic cups!


3. Did you feel that your holiday benefited local people, reduced environmental impacts or supported conservation?

Staying in casa particulares definitely benefits the locals and the trips we took involved small local producers, farms and restaurants. The quality all round
was excellent.


4. Finally, how would you rate your holiday overall?

Exceptionally well organised, lovely knowledgeable local guides and hosts. Cuba was so interesting, plenty to be curious about and people happy to chat. A
wonderful experience topped off with a few days of indulgent sun, sea and sand!
---
Popular similar holidays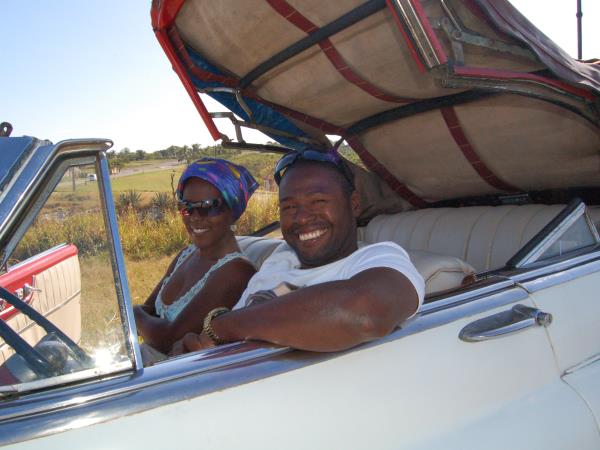 Tailormade holidays in the pearl of the Carribean
From €995 15 days excluding flights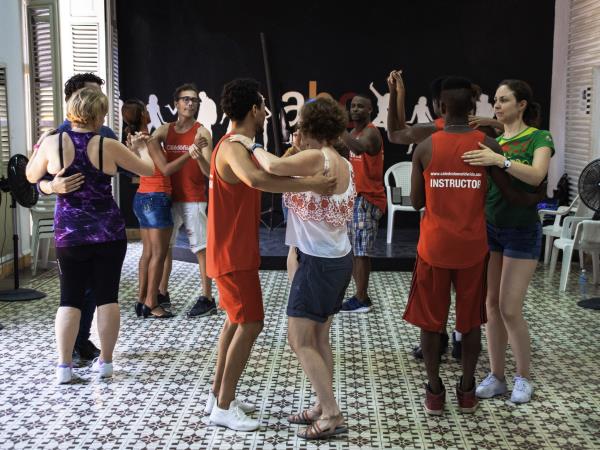 Learn to salsa with the pros in Santiago de Cuba, with tuition, day trips and nights out included
From £1560 15 days excluding flights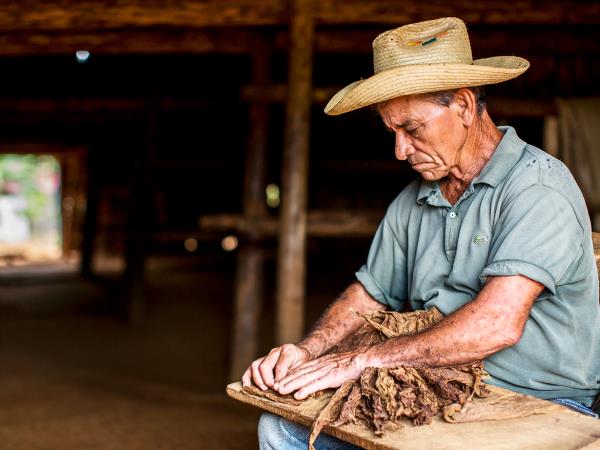 Immerse yourself in Cuban culture on this 8 day adventure
From US $690 8 days excluding flights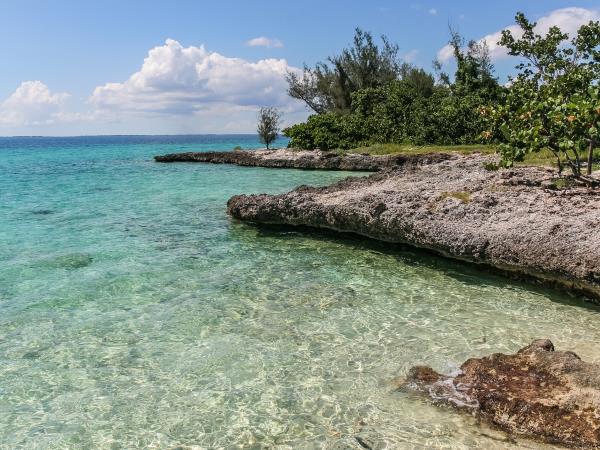 Explore the history and the nature of the Caribbean wonder
From US $2350 8 days excluding flights