Best time to visit the Caribbean
When it comes to weather, the Caribbean is renowned for having arguably the most desirable climate on the planet, with temperatures a gorgeous 24-29°C year round. It's never cold, never roasting, and rain falls to a fairly predictable rhythm – keeping these tropical islands lush and leafy. The best time to visit the Caribbean is generally considered to be December to April, when it's slightly cooler (particularly in the northern Caribbean), drier and less humid, and tourists flock to escape the northern winter. May to November can be soggy, with hurricanes possible from July to October – though these are rare in the far south, such as Trinidad and Tobago and the ABC Islands.
Within this, though, the best time to visit the Caribbean will vary depending on your interests, budget and island. Nesting turtles, migrating birds and submarine species all have their favoured seasons. Additionally, May to June and late November to mid December provide cheaper rates and fewer crowds – while still experiencing good weather for you to enjoy on a beach virtually empty of other tourists.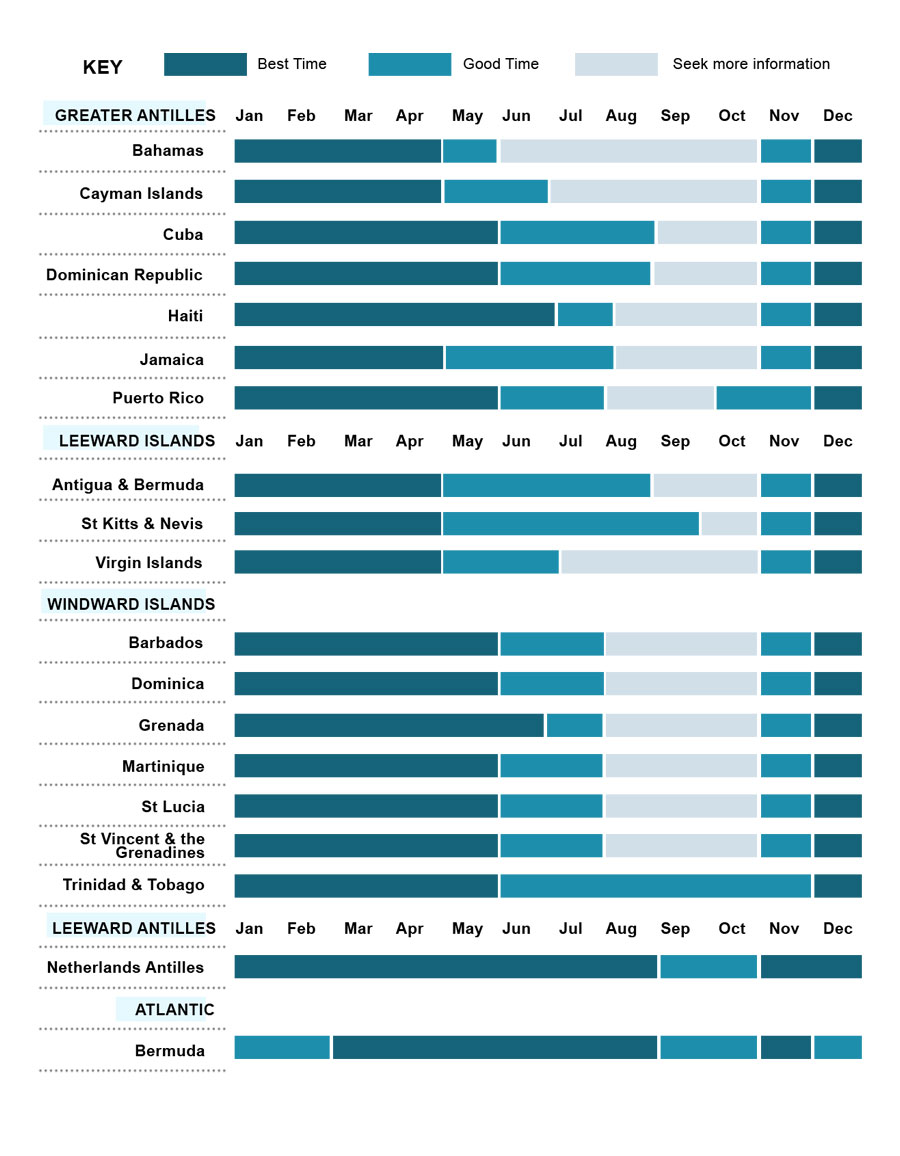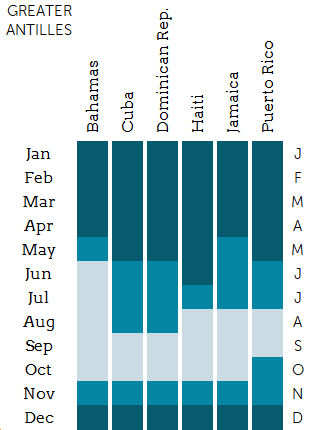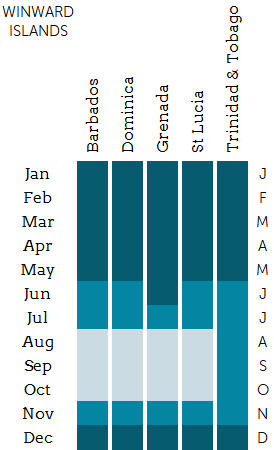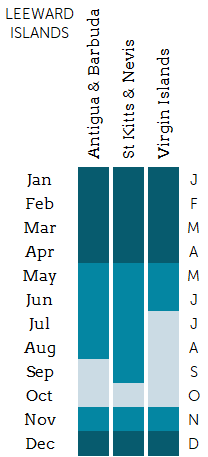 Where to visit in the Caribbean & when
Greater Antilles, inc. Jamaica, Dominican Republic
Hugely popular due to their proximity to the USA, cheap flights and accommodation to suit all tastes and budgets, the Caribbean's largest islands are bustling from Christmas to spring break, with another peak in the summer holidays for families. August to September is the main hurricane season, with big ones hitting roughly every decade, and rains lasting until November. Winters are pleasantly cooler, with a minimum of 20°C.

Cuba
As frosty relations with the US finally thaw, Cuba is poised for a change. If you want to witness the island of your imagination, the best time to visit Cuba is now. For the best weather, March to mid April are warm, sunny and mostly dry – before the rains begin in May. Hurricanes are a risk from August to October. January and February are cooler but generally cheaper than Christmas and Easter . The further east you go, the hotter, wetter and stormier it gets.
Leeward Islands, inc. Virgin Islands, Antigua, St Kitts
These islands enjoy balmy winters with an average temperature of 27°C; mid December to mid April are the peak months, with November and early December offering slightly cheaper rates but good weather. The Leeward Islands experience heavy rains from July to November, and lie squarely in the path of hurricanes. However, the trade winds keep temps more pleasant during the summer than elsewhere in the Caribbean, and prices are low.
Windward Islands, inc. Saint Lucia, Dominica, Grenada, Martinique
The Caribbean's littlest islands follow a typically Caribbean weather pattern, with December to April the peak months (drier, cooler, less humid) – and September to October the most prolific for hurricanes, with rains starting in June. More mountainous islands - including Saint Lucia and Dominica - experience higher rainfall than those at a lower elevation – though this does make them lusher and lovelier for birdlife and waterfalls.
ABC Islands
Aruba, Bonaire and Curaçao, formerly known as the Dutch Antilles, sit well inside the Caribbean, off Venezuela's north coast. Consequently, they are far south of the hurricane belt and enjoy a much drier climate. This is a brilliant spot for an off-peak Caribbean holiday as April through to August are warm but tempered by trade winds, with no storms, few visitors, no cruise ships and low prices. The winds are also fantastic for windsurfers.
If you'd like to chat about Caribbean or need help finding a holiday to suit you we're very happy to help.

What to do when in the Caribbean
Bird watching
Sitting between the cooler climes of North and South America, the Caribbean Islands attract birds from both continents. Though colourful species can be seen year round, South American migrants visit from May to September, while North American species are more likely to be seen from October to March – with Trinidad and Tobago, Dominica and Saint Lucia the region's birding hotspots.

Hiking
Muddy trails, high humidity and downright soggy weather mean that the storm season is not the best time to visit the Caribbean if you're planning to do hiking or nature walks – late autumn to early summer offer much more pleasant conditions. Unfortunately, the hillier regions that offer the best walking (St Lucia, Dominican Republic, eastern Cuba) also attract the most rain – but this "liquid sunshine" can be a relief from the heat – and replenishes the waterfalls and natural pools.
Diving
The Caribbean Sea is always deliciously warm, of course, but visibility is at its best from January-August, with May-July offering the best conditions throughout most of the region. Cuba's waters are calmer from December-April, thought whale sharks are most common in November. The dry and breezy ABC Islands have incredible diving but are sheltered from the worst of the weather – so diving takes place year-round.
Turtle watching
Each year from March-September, hawksbill, green and giant leatherback sea turtles haul their huge bodies onto sandy beaches up and down the Caribbean, with nesting peaking in April-June – and hatchlings emerging a couple of months later. Trinidad is a particular hotspot, though St Lucia, the Grenadines, St Kitts and Nevis and Dominica, among others, also offer turtle tours and conservation programmes.
February Carnival
A riot of colour and culture, carnival is a love it or hate it experience. Preparations start after Christmas, so one option is to come in January to enjoy the rehearsals – without the full blown spectacle. If you do visit one of the islands with the biggest celebrations – particularly Trinidad, but also Dominica and Martinique – then book well in advance and be prepared for steep prices. The region isn't shy of a good knees-up though, so you can catch other festivals throughout the year
Hurricane season in the caribbean
1st June to 30th November is the Caribbean's official hurricane season. On rare occasions, they can occur as early in May. July is often free of tropical storms as the water cools, while warmer water temperatures make October the month when the most hurricanes form, with June the second most likely. However, hurricanes are not guaranteed – and those that do occur vary greatly in intensity an impact. Some Caribbean regions are far more prone to being hit by hurricanes than others. The southern Caribbean lies outside the main hurricane belt, so severe storms here are infrequent – hitting once every 50 years or so. This region includes Trinidad and Tobago, the Dutch islands of Aruba, Bonaire and Curaçao (all close to the coast of Venezuela) and Panama. Hurricanes occur most frequently in the north eastern Caribbean, around Cuba, Florida and the Dominican Republic – and particularly the Bahamas.. Most Caribbean storms form over the Atlantic – some from as far away as the coast of West Africa. They are charged by warm water and moist air – something the Caribbean has plenty of in the soggy summer months. The tropical storms grow in intensity, and as the warm air rises, thunderstorms occur. The hurricanes are, in effect, a huge cluster of thunderstorms. The faster the warm air rises, the more it churns the surface – causing huge waves at sea and powerful winds. Both the winds and the subsequent waves and flooding pose a threat to coastal communities. Hurricanes are fuelled by warm water, which is why they ease off when travelling over land. It is also why these tiny islands, surrounded by the tepid Caribbean Sea, are particularly vulnerable to hurricanes.