Grenada is a green island. Whether first seen from the sea or from the air, the rainforest covering a mountainous interior and fringed with white-sand beaches makes a cracking first impression. There's a ton of outdoorsy fun to be had here – from the hiking trails, birdlife and easy-access waterfalls on land to the flourishing marine life, colourful corals and sunken shipwrecks underwater.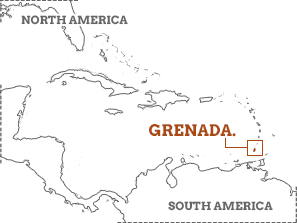 Grenada delivers everything you could want from the Caribbean: forests, beaches, incredible marine life and a rich culture brimming with fantastic food and music.

Grenada's history is ever-present as you explore the islands, too, from the colourful colonial houses that pepper the hillsides of the capital, St George's, to the plantation houses that serve as reminders of the country's dark past. But happily, Grenada, together with sister islands Carriacou and Petite Martinique, escapes the mega resorts and high rises that blight some other Caribbean nations. Read our Grenada travel guide to discover more.
Grenada is…
a natural wonderland both above and below the water.
Grenada isn't…
just about beaches and luxury resorts.
Located north of Trinidad and Tobago and south of St Vincent and the Grenadines, Grenada is a three-island independent nation, made up of Grenada Island, Carriacou and Petite Martinique. Grenada is the main island and the largest, at 313km². It's rugged and lush, scattered with valleys and streams and thick with rainforest. The island's highest point is Mount Saint Catherine (840m), while the coastline has deep bays and sweeping white sands. International flights arrive just outside the capital St George's on Grenada Island. You can catch a ferry or small plane 30km northeast to tiny Carriacou. It has beaches, forests and small towns, plus some spectacular offshore reefs to its credit, too. From here you can reach Petite Martinique via public boat or water taxi. It's 5km east of Carriacou, and blessed with similar terrain.
1. Belmont Estate
A 17th century plantation and working organic farm, Belmont Estate is a fantastic place to discover the country's history, both social and agricultural. Cocoa is Grenada's main crop and it's celebrated here, along with cinnamon, cloves and nutmeg. Take a guided tour and visit the on-site museum to learn more, before wandering the landscaped gardens to take in the spicy scent.
2. Carriacou
Reached by ferry or small plane from Grenada Island, tiny Carriacou is the Caribbean as it was 50 years ago. You won't find cruise ships, mega resorts or celebrity chefs – it's quiet, friendly and relaxed, with a handful of small restaurants and guesthouses, as well as the requisite jungly interior and sweeps of white sand. Offshore, the reefs and underwater life are as dazzling as they are pristine.
3. Grand Anse
Grand Anse is Grenada's most famous beach – a 3km sweep of brilliant white sand lapped by clear waters. No wonder, then, that it's home to several of the island's top resorts. Don't let this put you off, though. The resorts are low-rise and unobtrusive, and the beach is never too crowded. What's more, it's as popular with locals as tourists, meaning there's always a good mix in the beach bars and restaurants.
Grand Etang National Park
4. Grand Etang National Park
Up in the hills, Grand Etang National Park has a crater lake at its centre and contains four of Grenada's tallest peaks. If hiking's your bag, many trails kick off here, including an easy 1.5-hour loop trail around the lakeshore and a challenging hike to Mount Saint Catherine (840m) and historic Fedon's Camp, named after a mulatto planter who led the slave uprising of 1795.
5. Sandy Island
Sandy Island, a 15-minute boat ride off the west side of Carriacou's Hillsborough Bay, is a tiny piece of island perfection. A smear of white sand surrounded by turquoise waters and a wildlife rich reef, it's deservedly popular with snorkellers and sailors. It only takes about five minutes to walk around the island, but no matter – all the best action happens under the water, anyway.
6. St George's
Founded by the French in 1650, St George's is one of the most photogenic towns in the Caribbean: a jumble of colourful houses and stone churches rising up the hills from the pretty harbour below, with mountains and forest as a backdrop. The only downside is the cruise ship berth, from which regular hordes of visitors descend to swarm the city's shops and attractions.
Our top Grenada Holiday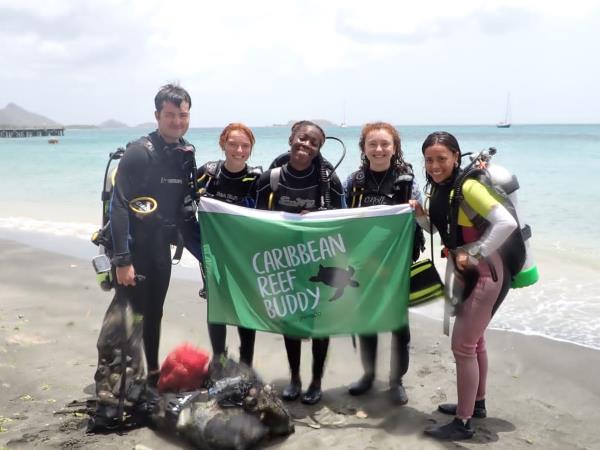 Eco-Divemaster course in Carriacou, Grenada.
From
US $6522.49
8 weeks
ex flights
Small group travel:
2023: 1 May, 1 Jun, 1 Jul, 1 Aug, 1 Sep
If you'd like to chat about Grenada or need help finding a holiday to suit you we're very happy to help.

More about Grenada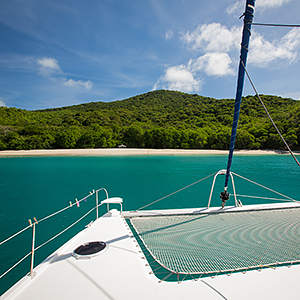 Grenada enjoys a hot, tropical climate throughout the year, with average highs of 25°C to 30°C. The only thing to be aware of is hurricane season, which brings with it heavy winds and rain, with many tourist facilities and hotels closed at its peak. Read on for more information on the best time to visit Grenada.