WALKING HOLIDAYS IN THE CARIBBEAN
You can come to the Caribbean to dive, swim and snorkel. You can sip rum punch and gaze at sunsets. You can soak up the history and culture of Cuba, explore off the beaten track in Haiti, birdwatch in Tobago and sail around the Bahamas. But did you know that you can also walk here?
The Caribbean doesn't wave its walking holiday credentials in everyone's face, but in fact, the region is home to some superb trails and outstanding scenery. In Dominica, the Waitukubuli National Trail is the only long distance walking trail in the Caribbean, and runs for 185km from the north to the south of the island. In Saint Lucia, the Soufriere region in the south of the island is crisscrossed with easy trails that bring you close to the island's birdlife, jungles, rainforest and volcanic landscapes. And in Cuba, you can spend many happy days hiking in lush mountains and national parks, often with an optional waterfall dip, too.
WHAT DO CARIBBEAN WALKING HOLIDAYS ENTAIL?
Walking holidays in the Caribbean aren't usually strenuous. Tough and challenging trekking doesn't really fit the Caribbean vibe, after all, but you can expect some longish hikes that work the calves, and you should factor in the heat and humidity, too, as this can be taxing, depending on what time of year you visit. December to April is the driest and least humid period in the Caribbean, and a great time for walking.
Walking in the Caribbean is usually run as a tailor made holiday, rather than a small group departure, in the company of a local guide who knows the region in depth and can point out interesting flora, fauna or landmarks, and keep you on track – literally. Itineraries vary hugely. Some walking breaks are super relaxed and simply include the option to enjoy a handful of guided walks within a week-long stay. You are free to decide which walks you do, what time you set off and how long you walk for. Walks can usually be tailored to suit your interests, too, from bird watching to seeing wild flowers.
Other tailor made walking holidays in the Caribbean include walks as part of a rounded itinerary that takes you from place to place, seeing historic towns, meeting local people and enjoying other activities, too, such as horse riding and swimming. You'll still have a say over how far you walk, with the option to extend or trim routes so that all ages and fitness levels can take part. You can also find point-to-point treks in the Caribbean, which lead you along an established trail. On this kind of holiday, you need to be sure you're happy with the distances and amount of days walking before you commit, since the itinerary is less flexible.
Dominica
Dominica cherishes and celebrates its natural landscapes, prolific birdlife, forests, volcanoes, rivers and waterfalls. Nicknamed the 'Nature Island', it's a dream destination for walkers and home to the
Waitukubuli National Trail
, or WNT, the Caribbean's only long distance walking trail. This 185km route was completed in 2011 and runs across the entire island, from Scotts Head in the south to Capuchin in the north, connecting remote communities and revealing the islands beautiful landscapes, coastal villages, rainforest and waterfalls at every step. The Trail is clearly divided into 14 segments with each designed to take about a day to walk, so you can cover it all on a two-week hiking holiday, although most walking holidays cherry pick sections, transferring you by car to the start and finish each day. There are plenty of other walking routes to enjoy, too. Walk in the Trois Pitons National Park in the centre of the island or in Cabrits National Park in the northwest.
There is walking to suit all levels in Dominica, from gentle walks through cloud forest leading to a lake or waterfall where you can swim, to walks that are graded moderate and might involve moss covered trails in steamy rainforest. For anyone after a more challenging hike, the Boiling Lake hike is regularly rated as one of the world's best demanding routes, with much of it along a razor-thin ridge and other parts involving scrambling over rocks. You can also climb Morne Diablotins, rising 1,440m above the island.
Most walking holidays in Dominica are tailor made, so you can choose how much walking you want to do, where and at what level. Most of the walks can be tackled independently, with your tour operator supplying descriptions and directions, but guided walking is also possible, and definitely advisable for demanding walks, such as the Boiling Lake. The expert knowledge of a registered local guide will keep you safe, but wherever you walk, a local guide is a real asset, bringing the route to life with their deep knowledge and interesting local stories. You can read more in our walking in Dominica
guide
.
Our top Caribbean Holiday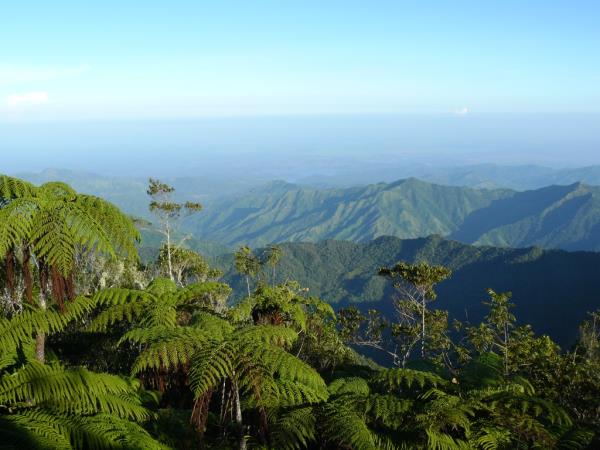 Hiking and exploring the unspoiled national parks of Cuba
From
£450
4 days
ex flights
Tailor made:
This trip can be tailor made throughout the year to suit your requirements
If you'd like to chat about Caribbean or need help finding a holiday to suit you we're very happy to help.

Walking post Hurricane Maria
Hurricane Maria ripped through Dominica in September 2017, devastating local communities but also flattening large tracts of forest and destroying walking route infrastructure. Bridges were destroyed, paths blocked by trees and routes rendered inaccessible. As of September 2018, the island-spanning Waitukubuli Trail still remains closed, although work to clear segments is ongoing and progressing well, often with the help of volunteer effort. For updates, check the
Waitukubuli Trail
website.
Cuba
In addition to its rich cultural life and lively history, Cuba has some superb
walking
. The largest island in the Caribbean has spectacular and pristine mountain trekking terrain and rich biodiversity. Hike in the Viñales Valley, exploring the tobacco fields, visiting farms and hiking around the limestone mogote cliffs. The Salto del Caburni Trail near Trinidad offers fairly strenuous walking, while the Santa Serafina Trail is a pleasant 6km route through forest to reach a viewpoint over Las Terrazas. The Topes de Collantes Reserve, which protects part of the Sierra de Escambray Mountains, is another lovely place to walk and has lots of waterfalls to cool off in. Trekking in the Sierra Maestra Mountains, a large part of which is protected by Pico Turquino National Park, is beautiful but challenging. Check out La Comandancia, Fidel's revolutionary base in the mountains, while here.
Walking holidays are generally guided and tailor made in Cuba, with some flexible enough to suit seasoned trekkers and families with children aged eight years and up. Some trips run as short break, point to point, guided treks, with a couple of nights in mountain refuges. These generally require a higher level of fitness and suit experienced walkers.