Jamaica travel guide
---
2 minute summary
Few countries are associated with a particular sound quite as much as Jamaica. The rumble of reggae evokes visions of a red, yellow and green tinted island, of laid back residents, beaches backed with clapboard huts, and a waft of charcoal smoke infused with throat-tickling jerk spices. For many visitors, Jamaica is something of a pilgrimage, a place to pay respects to artists and activists such as Jimmy Cliff, Grace Jones, Marcus Garvey and – of course – Bob Marley, whose Kingston homes are now cultural museums.
But the island boasts a bounty of natural treats, too, from the famous Blue Mountains that provide Kingston's bucolic backdrop, to waterfalls that crash straight into the Caribbean, bioluminescence filled lagoons and postcard perfect beaches. Fortunately, Jamaica's compact form means you don't have to pick and choose. As our Jamaica travel guide explains, you can easily traverse the island, with time to spare to hang out with a saltfish patty and a refreshing Red Stripe, or three…
Jamaica is...
so much more than resorts and paradise beaches
. There are thriving cities, glorious architecture, and contemporary art museums.
Jamaica isn't...
all Rastas, reggae and marijuana
. Just one percent of the population identifies as Rastafarian, so be sure to explore beyond the music and movie clichés.

Hello.
If you'd like to chat about Jamaica or need help finding a holiday to suit you we're very happy to help.
Rosy & team.
01273 823 700
Jamaica map & highlights
---
make the most of your time
Jamaica is the Caribbean's third largest island, which means there is plenty to explore, but it is still possible to circumnavigate it comfortably in less than two weeks. Most tours start and end in Montego Bay, the main tourism hub with its own international airport. As most itineraries tend to stay close to the coast, there will be the odd long travel day as you drive across the interior, but these are broken up with scenic stops for photographs, visits to local villages and a chance to stretch your legs as you walk to waterfalls or other natural attractions. This is a leafy, lovely island, and you're unlikely to get bored as you traverse it.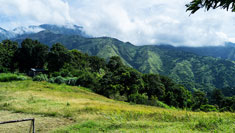 Blue Mountains
Home to the eponymous coffee, Jamaica's longest mountain range provides a bucolic backdrop to the chaos of Kingston. Follow a trail up to a cool 1,400m altitude, passing through Holywell National Park and primary and secondary forest. Enjoy sweeping views from the top, then stop in a coffee growing village for a reviving cup of one of the world's most expensive and exclusive coffees.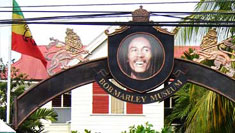 Kingston
Jamaica's capital is a complex, chaotic and deeply cultural city. The Bob Marley Museum is a must, located in Marley's former colonial home. For contrast, visit the restored Trench Town Cultural Yard, another former home-turned- museum, mentioned in No Woman No Cry. Get a wider perspective of the island's creativity at the National Gallery, which showcases art dating from 1000 BC up to the present day.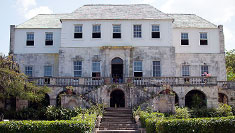 Montego Bay
Most tours start and end in 'MoBay', the island's tourism hub with its own airport. Veer away from the glossy resorts and souvenir shop-lined Hip Strip to discover the city's less polished side, and head up to former plantation house Richmond Hill Inn for sweeping bay views. Don't miss Rose Hall, a restored Georgian mansion allegedly haunted by 'White Witch' Annie Palmer, immortalised by Johnny Cash.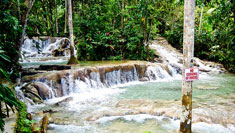 The North Coast
This quiet, agricultural region is a slice of real, rural Jamaica. A tour of Sun Valley Plantation reveals the dark legacy of slavery, with the opportunity to try tropical fruits and juices. A few kilometres inland, Brown's Town has a lively market packed with local produce. The 55m-high Dunn's River Falls spills into the Caribbean. Its terraces are a slippery yet rewarding climb, and were the site of the 1657 Battle of Las Chorreras.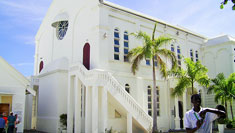 Spanish Town
Jamaica's former capital is one of the oldest continuously occupied settlements in the Americas, and was founded by the Spanish in 1534. Subsequent British rule led to a profusion of Georgian architecture, now sadly crumbling like much of the town. Head to Emancipation Square to see the best remaining examples, as well as to the Old Iron Bridge and Anglican Cathedral. Steer clear of the vast ghettos that ring the town.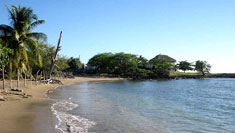 Treasure Beach & around
Treasure Beach is an idyllic, 6km stretch of golden sand, but the real riches begin along the road here from Montego Bay. Stop off at YS Falls, with its seven river pools for swimming, abundant hummingbirds and 15m-high zipline above the cascade. Drive through a natural tunnel formed of giant bamboo, and walk through Black River's protected wetlands, looking out for crocodiles and pelicans.