Jamaica is the Caribbean's third largest island but it's pretty compact and you can circumnavigate the country comfortably in less than two weeks. It may be small, but, there's more than enough excitement to be had, hardly any of which is in the country's main tourist hubs of Montego Bay, Ochos Rios and Negril.

Most tours start and end in Montego Bay, which has its own international airport, but veer off pretty quickly into more interesting territory. Instead of concrete, buffets and swim-up bars, you'll find cottages shrouded in bougainvillea, roadside shacks serving steaming stews and fishermen docking brightly coloured wooden boats on quiet sands.

As Carmel Hendry from our holiday company Explore, explains, "Just the fact that you're doing a circuit tour of the island, visiting Kingston, going into the Blue Mountains and Port Antonio on the Northeast side of the island, means you're seeing places that are rarely visited by tourists. Some do go to those places in the day, but on a tour you'll get to stay overnight – in cabins in the forest interior of the Blue Mountains, for example, where there's a lot of endemic wildlife and birds."
1. Blue Mountains
Home to the eponymous coffee, Jamaica's longest mountain range provides a bucolic backdrop to the chaos of Kingston. Follow a trail up to a cool 1,400m altitude, passing through Holywell National Park and primary and secondary forest. Enjoy sweeping views from the top, then stop in a coffee growing village for a reviving cup of one of the world's most expensive and exclusive coffees.
2. Boston Bay
So many places in Jamaica are defined by their musical legacy, but in Boston Bay, it's the smell that marks it out: this is the home of jerk, Jamaica's foremost culinary export. The road leading from the main highway to the beach is lined with stalls that produce smoked meats and fish of all descriptions – and the jerk tastes way better than any you'll have had at home.
3. Cockpit Country
A hilly, harsh terrain distinguished by almost lunar limestone formations, Cockpit Country was a stronghold of the once mighty Maroons, who waged guerilla warfare against the British in the 18th century. It's still home to small Maroon communities and sharing a meal with them or staying in local homes not only provides them with valuable income but gives you a unique experience not shared by many other tourists.
4. Kingston
Jamaica's capital is a complex, chaotic and deeply cultural city. The Bob Marley Museum is a must, located in Marley's former colonial home. For contrast, visit the restored Trench Town Cultural Yard, another former home-turned-museum, mentioned in 'No Woman No Cry'. Get a wider perspective of the island's creativity at the National Gallery, which showcases art dating from 1000 BC up to the present day.
5. Montego Bay
Most tours start and end in 'MoBay', the island's tourism hub with its own airport. Head away from the glossy resorts and souvenir shop-lined Hip Strip to discover the city's less polished side and go up to former plantation house Richmond Hill Inn for sweeping bay views. Don't miss Rose Hall, a restored Georgian mansion allegedly haunted by 'White Witch' Annie Palmer, who was immortalised by Johnny Cash.
6. The North Coast
This quiet, agricultural region is a slice of real, rural Jamaica. A tour of Sun Valley Plantation reveals the dark legacy of slavery, with the opportunity to try tropical fruits and juices. A few kilometres inland, Brown's Town has a lively market packed with local produce. The 55m-high Dunn's River Falls spills into the Caribbean. Its terraces are a slippery yet rewarding climb, and were the site of the 1657 Battle of Las Chorreras.
7. Spanish Town
Jamaica's former capital is one of the oldest continuously occupied settlements in the Americas, and was founded by the Spanish in 1534. Subsequent British rule led to a profusion of Georgian architecture, now sadly crumbling like much of the town. Head to Emancipation Square to see the best remaining examples, as well as to the Old Iron Bridge and Anglican Cathedral. Steer clear of the vast ghettos that ring the town.
8. Treasure Beach
Treasure Beach is an idyllic, 6km stretch of golden sand, but the real riches begin along the road here from Montego Bay. Stop off at YS Falls, with its seven river pools for swimming, abundant hummingbirds and 15m-high zipline above the cascade. Drive through a natural tunnel formed of giant bamboo, and walk through Black River's protected wetlands, looking out for crocodiles and pelicans.
Our Jamaica Holidays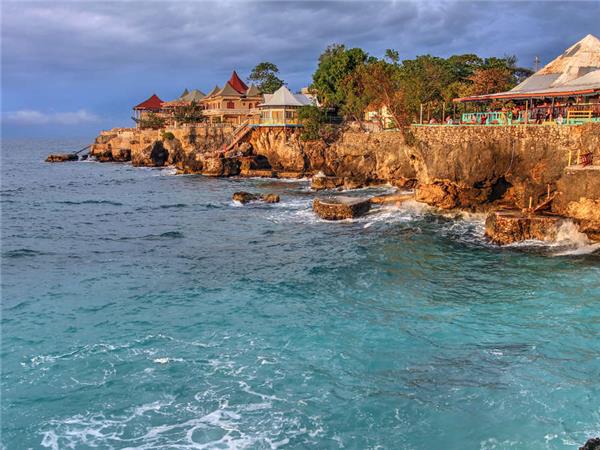 Jamaica highlights tour in 12 days
From
£2060

to

£2510
10 days
ex flights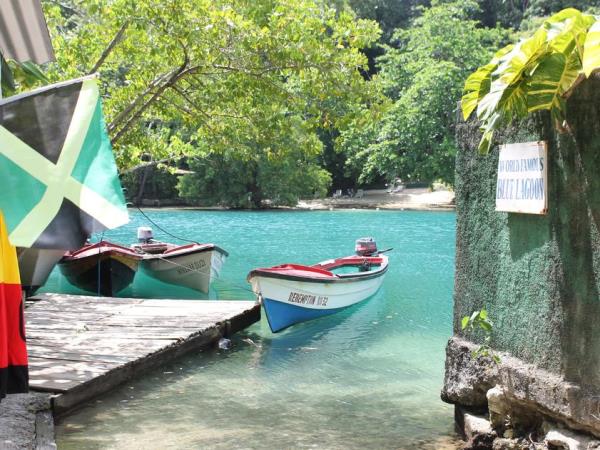 Venture beyond the tourist trail of Jamaica
From
£3645
12 days
ex flights
If you'd like to chat about Jamaica or need help finding a holiday to suit you we're very happy to help.

The following times give you a rough idea of the travel times by car between the main attractions in Jamaica.

Kingston – Montego Bay: 3 hours Kingston – Treasure Beach: 3 hours Montego Bay – Cockpit County: 1 hour Kingston – Blue Mountains: 2 hours Kingston – Spanish Town: 30 minutes