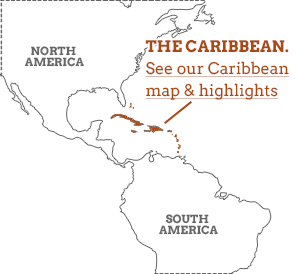 The poet Derek Walcott, who came from St Lucia, said that "The Caribbean is not an idyll, not to its natives. They draw their working strength from it organically, like trees, like the sea almond or the spice laurel of the heights." This region of blue seas peppered with islands is often lumped in the 'tropical paradise' bracket when it comes to travel, but we would all do well to heed Walcot's words and appreciate the islands on a deeper level. Come here to learn and explore, to dance to calypso, listen to creole, spot birds, soak up history and feast on fresh mango and fish. Enjoying the Caribbean, and really understanding it, too, is about rethinking the Caribbean.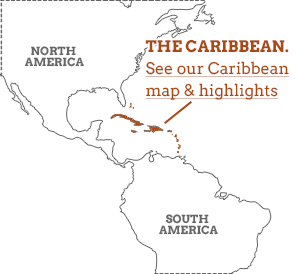 Stretching in an arc from the tip of Florida to the coast of Venezuela, the Caribbean Islands form a massive archipelago in the Caribbean Sea.

Of course, each island offers something different, but some constants exist. Life runs to Caribbean time pretty much everywhere and a warm welcome comes as standard, from the Bahamas right down to Trinidad and Tobago.
The Caribbean is…
Diverse, delightful, surprising and – in the case of some islands – desperately in need of support.
The Caribbean isn't…
just about beaches and rum punch.
WHAT WE RATE & WHAT WE DON'T
Active holidays
The Caribbean's reputation as a beach destination is firmly established; what's less well publicised is its alter ego as an activity break hotspot. There is every shade of watersport here – sailing, diving, snorkelling, kayaking, paddle boarding – and on larger, more mountainous islands such as Dominica, St Lucia and Cuba, there's hiking and mountain biking. You can also team learning Spanish with anything from kitesurfing to cooking and dance classes.
Dominica
A lush, volcanic gem, Dominica is the 'Nature Island' of the Caribbean, a place of rain and cloud forest, volcanic craters, boiling lakes, gorges and steamy slopes. It's home to the only long distance walking trail in the Caribbean, as well as 176 bird species. The island was devastated by Hurricane Maria in 2017, but is recovering, and visiting now is more vital and valuable than ever.
Haiti
Very much an undiscovered corner of the Caribbean, Haiti has a history of political unrest, earthquakes and hurricanes which has left it well off the tourist map. Shame. This fascinating country has beautiful colonial architecture, UNESCO landmarks, lush landscapes, and thriving artists' communities. It also has beaches to rival any other Caribbean destination. But so far, few tourists.
Trinidad & Tobago
This unique and joyful twin island nation is a double dose of beauty, wildlife and culture, with Trinidad bursting with birdlife and Tobago a vision of sandy beaches and pristine reefs. T&T is culturally rich, too – Trinidad is the home of Carnival and Calypso – and bursting with art, music and tasty food. Plus, you're below the hurricane belt here, so the islands are a year-round option.
Cuba
Hopping with music, dance and poetry, home to fabulous faded cities and unspoiled landscapes, the largest island in the Caribbean is also one of its most popular destinations. Cuba can complete the wishlist of almost every kind of traveller: history buffs, adventure sports nuts, culture vultures, divers, trekkers, cyclists, beach lovers and those hungry to graze on all its highlights in a single unforgettable visit.
Bird watching
The islands of the Caribbean are home to resident birds and those that migrate here from North and South America – in total, 565 species. Any visitor will love watching hummingbirds shimmering around feeders or pelican swooping over a bay, but for devoted birders, there are specialist tours that zero-in on all the avian action, with St Lucia, Dominica and Trinidad and Tobago all birding hotspots.
Water based activities
Islands, by definition, are surrounded by water, and when the water is as clear, warm and awash with fish and wildlife as in the Caribbean, it makes sense to enjoy it – and not just by swimming. Snorkelling, sea kayaking, kite surfing and diving are possible throughout the Caribbean. Join a yacht or small ship cruise around Cuba and the Bahamas, and enjoy whale watching off Dominica, too.
St Lucia
St Lucia is a gorgeous all-rounder. The north coast is most developed for tourists, but beyond lie UNESCO-listed landscapes, thriving Creole culture and tropical reefs. Enjoy its beautiful beaches, but think bigger, too. Hike, bike, mess about on the water, dive and snorkel, explore its plantation houses, seek out its diverse birdlife and visit the local rum shop to meet St Lucians and hear Patois being spoken.
If you'd like to chat about Caribbean or need help finding a holiday to suit you we're very happy to help.

Eating & drinking in the Caribbean
Avocados and mangos can grow to the size of a human head in the Caribbean so it's easy to get your five a day.

Bakes – fried or baked dough – are a feature of breakfast around the Caribbean. In St Lucia, they're often served with rich cocoa tea, while in Dominica, they come with saltfish.

In Trinidad and Tobago, thick corn soup made with chunky veg and meats is the pick-me-up street food after hours dancing at an outdoor party or fete.

Doubles is cheap, fast food, sold on the street in Trinidad and Tobago. It's two pieces of fried flatbread (hence the name) slathered in curried chickpea sauce.


People & language in the Caribbean
English is the first language of most Caribbean Islands, and widely spoken. Spanish is the official language of Cuba and the Dominican Republic, while French-tinged Haitian Creole is the lingua franca in Haiti. Hang out with local people and you'll discover there are dozens of creole and patois languages throughout the region, too, which blend French, English, Spanish and various West African languages and literally speak of this region's long history of slavery and colonisation.
Thank you is merci in St Lucian creole (sometimes called broken French) and mèsi in Haitian creole
Doh hot yuh head – Don't worry about it, in Trinidadian creole

I am only one-eighth the writer I might have been had I contained all the fragmented languages of Trinidad.

– Derek Walcott, St Lucian poet
Gifts & shopping
Pick up some spices while on Grenada, the Caribbean's 'Spice Island', and if you're in Haiti, look out for the rare Haitian Bleu variety of coffee.

Pick up some Angostura rum or bitters in Trinidad, where it's made.

In St Lucia, look out for the colourful totems made from old telegraph poles, made by local man Zaka, a shipwright-turned-artist.

Markets in St Lucia sell pretty little bird feeders made from coconut shells.

You will find elegantly dressed Muñecas Limé dolls throughout the Dominican Republic, easily recognisable because they have no facial features.


Columbus never reached 'America', as is often believed, but he was the first modern European to set foot in the Caribbean, exploring the Bahamas, Haiti and Cuba in 1492.

How much does it cost?
Bottle of Piton beer in St Lucia rum shop: about £1.20

Portion of doubles in Trinidad: about £1.20

Flight from Trinidad to Tobago: about £50

Week pass for renting watersports equipment in Marigot Bay, St Lucia: £60 per person