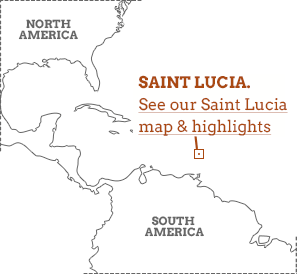 Saint Lucia packs everything you could want from the Caribbean into one tiny island, and families, honeymooners and active types will be equally happy here. Shrouded in rainforest, the island's economy revolves around banana plantations, not tourism. The country is largely rural and rustic with a vibrant Carib, African, French and English culture; a peaceful Creole haven visited by whales, dolphins, and migrant birds.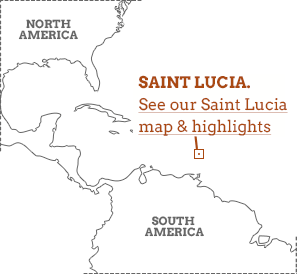 Shimmering emerald green and cobalt blue, with striking splashes of scarlet and gold, the endemic Saint Lucia parrot is a fitting symbol for the only island it calls home.

This being the Caribbean, it does have its fair share of bland all inclusive resorts, but these are mostly concentrated in the north. The south of the island is a gorgeously green region of old plantations and hidden bays, and is home to the incredibly photogenic twin mountains of the Pitons, which rise dramatically of the rainforest. All over the islands you'll find snorkelling and rich birdlife, epitomised by the once endangered but now thriving Saint Lucia parrot.
Peruse our Saint Lucia travel guide for more.
Saint Lucia is...
a little bit of everything you could want from the Caribbean: forests, beaches, Creole culture, birds and trekking
Saint Lucia isn't...
just a destination for honeymooners
What we rate & what we don't in St Lucia
Soufrière Volcano
Yes, Saint Lucia is awash with pretty beaches and thick forest, but what about a fully-fledged drive in volcano? You can park your car right up at the edge of the crater and take in all that steam and bubbling mud, as well as the pungent rotten-egg smell. It's also possible to slather yourself in healing minerals at the adjacent mud baths, which supposedly does wonders for the skin.
Food
From the fresh seafood that's hauled daily from the sea to the temping fruits and vegetables thrive throughout its lush interior, Saint Lucia is full of good things to eat. Particularly good is lambi – a large shellfish whose tasty flesh is made into fritters or served in spicy sauces. The regular Gros Islet Fish Fry is the place to go to sample freshly grilled ocean wares in a casual, open-air setting.
Pigeon Island
Linked by a man-made causeway to the rest of the country, Pigeon Island is a former pirate base. Today it's a national park and a brilliant place to explore some of the country's heritage, including the ruins of former military buildings, and take in some stellar views of the northwest coastline. When you're done, there's an enticing beach on which to chill.
Bird watching
This lush part of the world is home to some spectacular can't-see-them-back-home species, including tiny hummingbirds and the endemic Saint Lucia parrot, as well as huge numbers that migrate here from North and South America - some 170 species in total. Keen twitchers can sign up to devoted bird watching tours, taking in the country's feathered highlights over a week or more.
History tours
With a number of historic plantations, exquisite gardens and good museums, Saint Lucia has no shortage of places to visit should you want a change of scene from the ocean, whether you want to learn about cocoa and rum production; or delve into the country's dark past as an outpost of the sugar plantation slave trade.
Beach-hopping
This being a Caribbean island it goes without saying that it's home to some pretty sweet sands. And unlike some of its neighbours, there are no fenced-off, private beaches here. All are public, so Saint Lucians and tourists alike can enjoy their charms. Gems include Anse Chastanet, which has sublime snorkeling, Cas en Bas beach, which is perfect for kitesurfing and Anse des Pitons, which comes with a stunning mountainous backdrop.
Waterbound action
Let's face it. It's the brilliant blue of the ocean and all that lurks beneath that drew you to the Caribbean in the first place; and Saint Lucia provides a plethora of waterbound delights. Diving and snorkelling are both excellent, with lively corals and colourful sea life to discover, especially near the beach of Anse Chastenet. And then there's sailing, kitesurfing, kayaking and just plain old swimming in the island's warm, clear waters.
Island hiking
Crowned by the vertiginous volcanic peaks of the Pitons, it's no surprise that this little island has fantastic opportunities for hikers. Whether you're looking for verdant rainforest trails and national parks complete with sweeping ocean views, or a tough slog up the slopes of either Gros or Petit Piton, Saint Lucia provides plenty of fodder for walkers of all stripes.
All-inclusive resorts
If you hang out at
all-inclusive resorts
then you might miss out on what this country does best: genuine friendliness. What's more, most of the money raised through big resorts goes directly into the pockets of foreign investors. Staying at a locally owned hotel, using local guides and visiting communities away from the tourist drag helps to spread tourism revenue and maintain a sustainable future.
Massive cruise liners
Exhaust fumes, coral destruction and a general lack of transparency where environmental impact is concerned mean that massive cruise liners present a real problem. Disgorging thousands of tourists for just a few hours stresses local infrastructure and produces little financial gain for Saint Lucians. Take a responsible small ship cruise instead, or stick to a land based holiday.
Coral souvenirs
Large cruise ships, motorised water sports and general stomping around all help to destroy coral and damage the fragile ecosystems surrounding Caribbean islands. Collecting live coral is a terrible idea and although coral souvenirs may look tempting, buying this sort of product is just going to perpetuate the practice of picking it. Same goes for shells and turtle shell items, which may have come from endangered species.
Eating & drinking
Saint Lucian cuisine is all about combining sweet and savoury. A local speciality is pouille dudon – chicken with treacle and coconut. The national dish is green fig and saltfish; 'green figs' are actually unripe green bananas, starchy rather than sweet. Try it for breakfast!

Seafood is, of course a staple. Try the accra – flaked, salt cod fishcakes. Chewy conch (lambi) is a rather more acquired taste.

The locally brewed beer is, unsurprisingly, called Piton.

Saint Lucia has the highest ratio of Nobel laureates. Despite its small size, it has two: Sir Arthur Lewis for economics, and Derek Walcott for literature.

Our top Saint Lucia Holiday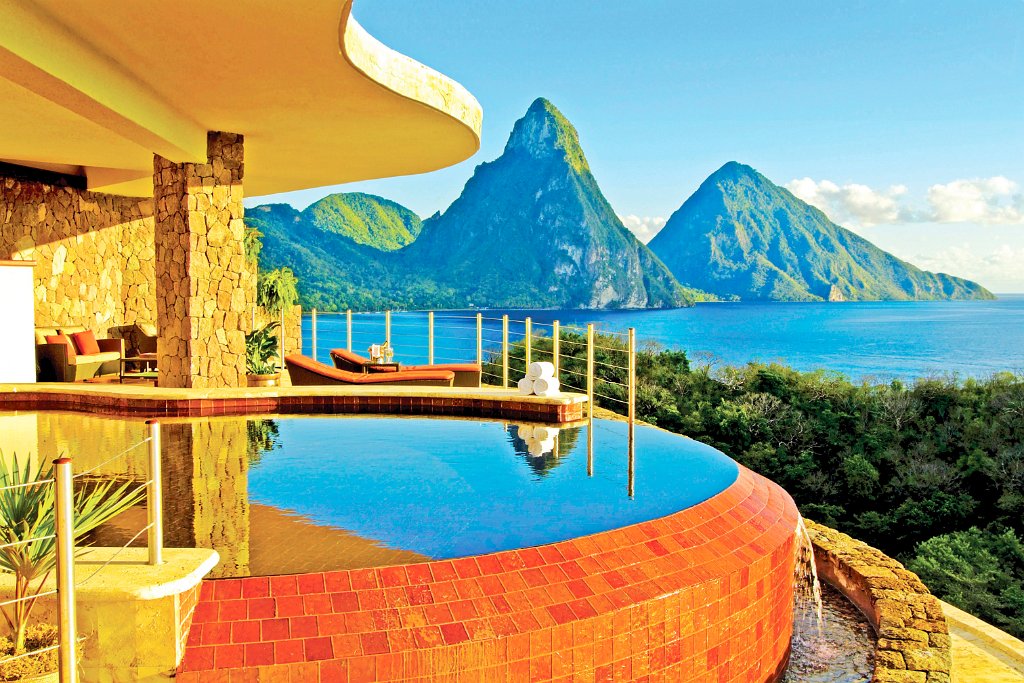 A cornucopia of organic architecture celebrating nature.
From
US $1050

to

US $3050
per accommodation per night
Accommodation
If you'd like to chat about Saint Lucia or need help finding a holiday to suit you we're very happy to help.

People & language
Ruled seven times by the French and seven by the British, it's no wonder this island has a case of confused identity. English has won out as the island's official language – but the local Creole (known as Patwa) is spoken by almost all Saint Lucians, a kind of French patois with West African grammar. If you know a smattering of French, you'll easily pick up some basic greetings:
"Bon jou" – good morning/day.
"I byen cho!" – It's very hot!
Gifts & shopping
Saint Lucia's African heritage is evident in its art and crafts. Colour and carving are two main themes – try gift shops in Soufrière for vivid wooden masks and decorative objects.

Castries' Sunday market has been held for over a century; as well as wood carving and woven baskets, you can find spices, cocoa and hot pepper sauce – ideal for souvenirs or gifts.

Artsibits in Castries showcases the island's many painters and their distinctive Caribbean style.

In Saint Lucia's "drive in volcano" you'll smell the sulphur long before you see the bubbling pools. This is good; if the smell disappears, an eruption is imminent!

How much does it cost?
Pigeon Island National Park adult entrance fee: £6.30
Lunch at local seafood restaurants: £8-£10
Tour and bath at Sulphur Springs: £10
Entrance fee to Gros Piton: £20
Bottle of local beer: 90p
A brief history of Saint Lucia
For such a seemingly tranquil, tropical setting, Saint Lucia has a battle-scarred past, with various tribal people and European nations laying claim to this tiny emerald of an island. The Caribbean's original inhabitants, the peaceful Arawak, left minimal archaeological evidence of their presence throughout the region. It's believed they migrated to this long-uninhabited island sometime between 1000-500 BC, before being conquered by their historical enemies, the aggressive Caribs, in around 800 AD.
Read more