Saint Lucia travel advice
Tips for trekking the Pitons and the coast
Paul Sawyer, from our supplier New Experience holidays, shares his Saint Lucia travel advice for walkers: "You can walk on a number of Caribbean islands, but they tend to be flatter, without as much remote jungle as you have in Saint Lucia. Although Saint Lucia does have typical Caribbean beach tourism, it's mostly in the north, and in the middle part where we go, although there are some good hotels there's a lot of jungle and other areas in which to walk.
Saint Lucia also has the added attraction of the Pitons. Every brochure – of not just Saint Lucia, but most of the Caribbean – has a picture of the Pitons. It is possible to walk to the top of one with a guide. You do need to be fairly fit; the walk itself – if you did it in the Lake District, most people could do it, but in Saint Lucia there's fairly high humidity and heat, so you do have to be fairly fit. People have to pay a little extra for that walk as well, as it's in a national park which has an entrance fee."
James Crockett, from our supplier Jus' Sail, advises on coastal walks:
"Take a walk on the wild east coast, either in the North at Cas En Bas where you can enjoy the kite surfers in action, or in the south near Savannes Bay. Both offer stunning Atlantic walking off the tourist trail. You will need a guide for the southern coast as trails are not marked or signed; contact the Vieux Fort branch of the National Trust and ask for guidance on who can help you – such as a local riding stables who offer horseback rides along that coast."
Culture tips
James Crockett, from our supplier Jus'Sail, has lived on the island for several years. He offers advice on getting up close to Saint Lucian culture and food: "Go enjoy some drinks in a local rum shop and listen to local Patois being used to discuss the various news events of day. Take a taxi to the community of Marc on a Thursday night to enjoy some freshly made Boudain – black pudding – this is a real culinary treat. Not for the faint hearted, but a must for serious gourmands. If you are lucky some Cowhead Souse – a soup made with the skin of the cows head – will be available - consistency much like calamari!"
Hiring a local guide
Paul Sawyer, from our supplier and walking specialist New Experience Holidays, shares his Saint Lucia advice for naturalists and trekkers: "We encourage people to take guided walks on Saint Lucia as they learn so much more from talking to the guide. The animals, birds and plants… if you're in Spain, for example, you'd generally know what things are – but people don't know that they are here, so the guide really adds value. Plus, our own guide Murray's a lovely chap, everyone really likes him, and we are proud to help locals directly He will be your personal guide - you won't be in a group."
Health & safety in Saint Lucia
HEALTH
Visit your GP or travel clinic 6-8 weeks before travelling to Saint Lucia to ensure you are up to date with all necessary vaccinations.
Malaria is not present, although there are a number of less serious but still unpleasant mosquito borne diseases in Saint Lucia, such as dengue. Bring a good insect repellent and wear long sleeves and trousers when possible.
The island's main hospital is well equipped but more serious injuries or illnesses will need to be treated elsewhere, so be sure you have comprehensive travel insurance which covers emergency evacuation and repatriation. Medical care can also be expensive – and you may have to pay upfront, even if you have insurance – particularly at private clinics.
For emergency medical assistance, call 911.
SAFETY
The hurricane season officially runs from June until November. Although the risk or a severe hurricane is low (with roughly one reaching the island every ten years, and few of those were severe), it's still possible. Keep an eye on weather warnings and pay attention to advice in your accommodation about what to do if a storm occurs. Fortunately, most buildings here have been constructed with storms in mind – though mudslides can occur, with electricity, transport and freshwater supplies severely affected. Crime levels are low in Saint Lucia. However, you can minimise your chances of being affected by not carrying valuables or large amounts of cash – particularly during crowded festivals and events; avoiding walking after dark in isolated areas; and only taking licensed taxis. It is illegal to wear camouflage clothing in Saint Lucia; this applies to adults and children. Male homosexuality is taboo with some acts criminalised, and there have been high profile attacks on homosexuals in the recent past. Same sex couples are advised to act discretely. Rural roads are often narrow with blind corners – and potholes. Keep an eye out for pedestrians, who often walk in the road where there are no pavements.
Our top trip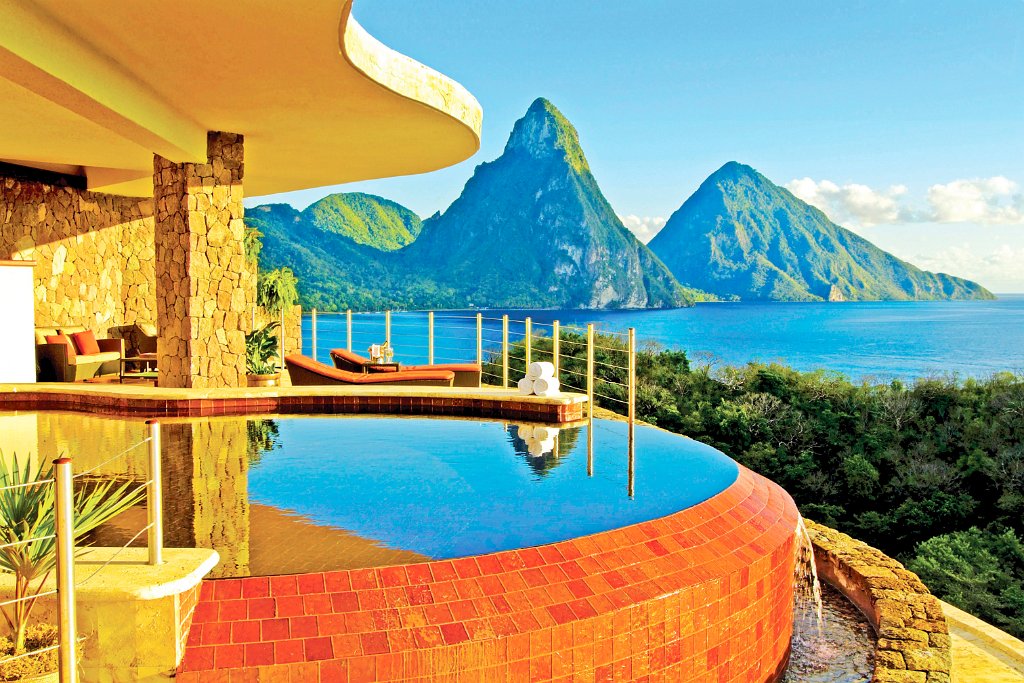 A cornucopia of organic architecture celebrating nature
From
US $1050

to

US $3050
per accommodation per night
Accommodation
If you'd like to chat about Saint Lucia or need help finding a holiday to suit you we're very happy to help.

Saint Lucia tips from our travellers
At Responsible Travel, we think the best people to advise our travellers are often... other travellers. They always return from our tours with packing tips, weather reports, ideas about what to do - and opinions about what not to.

We have selected some of the most useful Saint Lucia travel advice that our guests have provided over the years to help you make the very most of your holiday - and the space inside your suitcase.

Probably need to hire a car. We were told local "mini" buses have no timetable and get cramped.

"Mosquito spray! Torch. Expect relaxation in a rustic style away from most of the tourists- stay down south of the island!!" - Lee Hoyland

"I would definitely recommend hiring a car for this holiday. We hired the most basic available, another time I think we would spend a little more on a 4x4. The main roads are well-surfaced but incredibly steep on the West Coast and flatter but very pot-holed on the East. Most tourist attractions are a few miles away from the main highway and secondary roads are both pot-holed and steep - we had quite a few hair-raising moments! Beware the lack of sign-posts! It took us several attempts to get through Soufriere in one go… Over our 9 days we covered most of the island. Saint Lucia has the most spectacular and amazing scenery and is very green and lush". - Mrs Carol Silvey

"Take $US not $EC. You end up carrying a wadge of notes otherwise." - Ewa Cobham
More Saint Lucia articles