Advice on eating in Cuba
Clarita Derwent, from our supplier Cuban Adventures, shares her Cuba travel advice:
"I'm always being told that people feel so guilty when they don't eat all their food – but Cubans are very, very generous and welcoming, so they'll always give you way more than you can possibly eat. But the thing is they never, ever throw food away; Cubans are very resourceful. If you've touched the food they'll give it to the pigs or to the chickens. If you haven't touched it, it will go back into the kitchen and feed someone else. That's a really important thing to know, because if it can really affect your time in Cuba as you're worrying all the time!"
Georgina Johnson, from our supplier Chimu Adventures, shares her Cuba Travel advice for foodies:
"I wouldn't send someone to Cuba if they wanted cordon bleu cuisine. I found that the worst meals I had were in hotel restaurants, and the best meal were always paladares [privately owned restaurants]. The best-known one is phenomenal. It's called La Guarida, and every time I've eaten there it's delicious. I love the setting, you get there and walk up dark stairs, thinking "where the hell am I going?" – that's all part of the excitement."
Tips on staying in a casa
Marcel, a guide with our supplier Latin America Journeys, shares his Cuba travel advice:
"People say they absolutely don't want to stay in a casa. They think that they have to socialise and are obligated to do things. But really you have your own room, and if you don't want to have any conversation with the owners it's no problem - but they are of course open - and the more you put into in the more you'll get out."
Packing tips
Georgina Johnson, from our supplier Chimu Adventures, shares her Cuba travel advice:
"Take medicines and feminine hygiene products. You cannot find things like that anywhere in Cuba, other than the departure lounge in the airport, when it's too late! You can get aspirin and things like that, but you really have to hunt around. On one occasion my luggage got lost and I had to wait six days for it to turn up. I now always take a change of clothes in my hand luggage because buying clothes out there was an interesting experience. Everyone dresses in very short, tight clothes, which don't suit all of us! It's no more likely to happen to you in Cuba than it is elsewhere – but if it does, then it's a bit of a nightmare because you can't just go out and buy what you need."
Communication tips
Adam Roberts, from our supplier Exodus, shares his Cuba travel advice:
"Learning some Spanish certainly goes a long way - especially if you are planning on staying in casas. Your hosts may not speak a word of English, so if you can tell them what time you'd like breakfast and how you'd like your eggs, not only does it make your life easier but it puts your hosts at ease. People are so friendly in Cuba, so if you do go that extra mile you'll find it really rewarding. Maybe you just sit next to someone on the street and you'll end up having a conversation. They'll make time for you and they're always interested as to why you're there and what you think of the country."
Internet access
To get online in Cuba, the easiest way is to take advantage of the WiFi hotspots, which were launched in 2015. These are available throughout Cuba's cities, particularly in the plazas. You'll find them by looking for the clusters of people chatting, emailing and surfing the Internet on their phones. There will also be groups of people using the internet outside hotels that offer WiFi.
To use these hotspots, you'll need internet cards which each give you one hour of access. These can be purchased at the hotels with WiFi, at ETECSA's hops and telecom offices (you'll need to bring your passport as ID) and the owners of your casa particular may also e able to help you obtain cards. We recommend stocking up when you buy the cards as they are not always available. And do remember to log out when you've finished otherwise you'll use up all of your credit.
Our top trip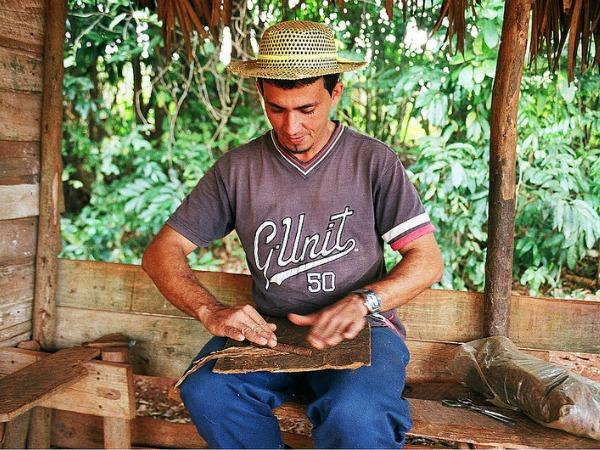 Get into the Cuban swing over just ten days.
From
£1545
12 days
ex flights
Tailor made:
Everything is tweak-able, giving you the freedom to build a unique and personal trip for your chosen date. Upgrade your accommodation for all - or just part - of your trip, slow down the pace with few extra nights here and there or add a few more active adventures along the way.
If you'd like to chat about Cuba or need help finding a holiday to suit you we're very happy to help.

HEALTH
Visit your GP at least 6-8 weeks before travel to ensure you have any necessary vaccinations.
There is no malaria in Cuba, but dengue is present so be sure to wear long-sleeved shirts and long trousers on forest treks, and use insect repellent. The chances of getting bitten are much higher in the hot, humid eastern region.
Cuba has a famously fabulous, state-run health service, with more doctors per head than almost anywhere else in the world. However, medical supplies are limited - so although the quality of care is high, you may not be able to get even basic medicines. Carry a basic medical kit, as well as any prescription medicines you may need (along with your prescription). And avoid any non-essential trips to the doctor - you are taking a valuable resource away from people who really need it.
Medical evacuation is costly - be sure your travel insurance covers this as well as any adventure activities such as rafting or diving that you may be taking part in.
Cuba is very hot and humid, particularly during the summer months - spanning the school holidays. It also tends to be a more active destination than many other Caribbean islands, with sunbathing replaced with city tours and trekking. So drink plenty of water, and keep an eye on children.
Tap water is not suitable for drinking, and food can be of varying quality. Stomach upsets are not uncommon, so bring medication and rehydration sachets just in case.
SAFETY
June to November is the hurricane season in Cuba. While hurricanes are not commonplace, if they do occur they can be extremely disruptive, with power cuts, flash floods and interrupted water supplies. Local and international flight may be delayed or cancelled. If travelling during this period, check weather updates regularly and avoid being out and about on the days when there are hurricane warnings in place. The eastern side of the island, around Santiago, is more heavily affected. Crime is low in Cuba, especially in the provinces. Opportunistic theft is more likely to occur in Havana - especially around Old Havana - so keep valuables hidden, use a money belt and carry copies of your passport. Cuba is great for self-drive holidays, especially due to the few vehicles on the roads outside of major cities. However, driving standards are poor, potholes are common, bicycles and sometimes even cars may not have headlights, and you will likely be sharing the road with oxen and donkey carts. So drive with caution - and avoid travelling at night. Thefts from luggage are often reported at the airport, so carry all valuables in your hand luggage if possible, including electronic devices, cameras and cash. Shrink wrap or padlock suitcases if possible. Havana's "Coco taxis" are a fun, quirky way to explore the city, but these little fibreglass pods can come off badly in accidents. Ask your driver to slow down if you are worried. Scams are more common than pickpocketing or thefts; if people befriend you on the street or in bars, ask you to buy them some baby milk, or invite you out for dinner or drinks, these are likely to be setups - especially in Havana. However, don't go out of your way to avoid all contact - the majority of Cubans are friendly, curious and generous - so just trust your instincts.
Cuba operates a dual currency system. Tourists in Cuba will generally be using Cuban convertible pesos, or CUCs (pronounced "cooks"), which are equal in value to the US dollar. Casas particulares, Viazul buses, paladar restaurants, private taxis and other services aimed at foreign visitors will be priced in CUCs. When you exchange foreign money in Cuba, you will be given CUCs.

The second currency is the Cuban peso – CUP. These are used by Cubans, and one CUC is roughly equal to 24 CUPs. You can only obtain CUPs by exchanging CUCs, not foreign currency.
Most tourists will have no need to obtain CUPs. However, if you feel like going a bit more local, CUPs will come in handy. You can buy street food, or fruit from street vendors. You can buy a drink at venues more commonly frequented by Cubans, such as the smaller cultural centres. You can also ride in a local taxi, which is shared with other passengers. Given the exchange rate, anything you pay for with CUPs will also seem ridiculously cheap – although the main reason for using them would be to have more of an immersive Cuban experience, rather than to save money on a mojito. Basic Spanish is advised if you want to go for this option. For tips, stick to CUCs – these are far more valuable to Cubans.
The other reason that some tourists are keen to get their hands on CUPs is that the 3 CUP note features Che Guevara – making for an unusual souvenir.
ATMs are widely available in cities, but cards issued by US banks (ie. American Express and Mastercard) are not currently accepted; Visa is the safest option. Bring cash to exchange and check with your holiday company on the best Cadecas to use, checking the current rates as you go. Although the CUC is pegged to the US dollar, there is a 10 percent surcharge on exchanging them, so Sterling, Canadian dollars or Euros are advised. Always check with your holiday company prior to travel, as the political situation is shifting, and things may change in the near future.
Visiting the US after Cuba
You can visit the US after a visit to Cuba, but you will need to apply for a US visa to do so. You will be ineligible for the US Visa Waiver Program, which means that 
you will not be able to use an ESTA
to visit the States.
This decision was put in place by the US in January 2021 and applies to any trip made to Cuba after 1 January 2021. If you travelled to Cuba before 2021, the usual ESTA eligibility criteria apply.
Cuba advice from our travellers
At Responsible Travel, we think the best people to advise our travellers are often... other travellers. They always return from our tours with packing tips, weather reports, ideas about what to do - and opinions about what not to.
We have selected some of the most useful Cuba travel advice that our guests have provided over the years to help you make the very most of your holiday - and the space inside your suitcase.

Take guitar and double bass accessories, eg strings and give to primary schools in the countryside

"Forget about internet - it practically does not exist where it does it's expensive and very, very slow. Be a Cuban for a while." - Dorothy Woods

"As our guide said 'be horizontal', enjoy Cuba for what it is and expect changes to any plans." - Brian Willis

"It was our home whilst we were there - in each casa - we were made to feel we were really at home whilst still being free to come and go as we wanted." - Charles Butler

"Good maps would be helpful for drivers. Or an off-line GPS program - otherwise, when you needed it most, it completely was lost." - Jason Falk

"Be prepared to have your ideals about socialism challenged! Learn Spanish - it's Cuba not England." - George Turnbull

Take a trip in a Coco taxi in Havana - uncomfortable, noisy but great fun.

"Take ear plugs, particularly if staying in town centre casas particulares (rooms can be by the street, and therefore noisy)..." – Saavan Gatfield

"Set your mind to a different scale. Things not always go smoothly - and if you expect it to be like Europe you might get upset easily." - Anna Vissens

"Don't expect great vegetarian food if... there's plenty of rice, beans, salad etc. but not the variety of foods we're perhaps used to. However, what you do get is fresh, plentiful and in large quantities." - Kiona Simpson

"It wasn't really a holiday more an experience! The way Cubans live their lives with such fortitude and good humour under such trying circumstances is humbling." - Gillian Rowe

"Cubans have to hitchhike to get to work. We gave quite a few lifts which was a good way to meet people." - Philippa Widman

"What I know is I don't know Cuba. I had an opinion on Cuba before I left, however this is a very complex society and as our tour guide said, unless you live here it is difficult to understand." - Lois Brassart