The revolution is not an apple that falls when it is ripe. You have to make it fall.


Never tell me the odds.

The stories of the Cuban Revolution have become legend, told and retold by those who were part of it – many of them still alive today. Great victories have been celebrated in song, poetry and murals, and the image of Ernesto 'Che' Guevara, a leading figure, has become iconic. And because Fidel Castro maintained such a firm grip over the country for decades in the face of international sanctions and US aggression, when you explore the history of the revolution in Cuba itself you can expect a largely one-sided account.
But don't let the ever-present propaganda put you off when visiting this stubborn outpost of Communism on America's doorstep. A guided tour of key locations on
the Revolutionary Trail
will give you a more rounded view of history.
Kath Bateman from our Cuba specialist holidays partner, Caledonia Worldwide, runs the tour. She says: "Undoubtedly if you ask anyone over 50, the vast majority would be overwhelmingly positive about the revolution. But younger generations, I think, are weary about the lack of economic freedom and freedom of speech. The revolution resolved many injustices that needed sorting out in the beginning, but it hasn't always moved with the times."
Slanted history or not, it is a remarkable tale of how determination, courage and a bit of luck helped a ragtag bunch of rebels overcome an empire. And if that all sounds a bit like the plot of
Star Wars
, well, who's to say that George Lucas didn't draw some inspiration from
la Revolución cubana
?
"History will absolve me"
The revolution was prompted by the 1952 military coup that installed Fulgencio Batista as president. Fidel Castro was a young lawyer whose political aims were thwarted by the coup, and on 26 July 1953 he led a group of rebels in an attack on the Moncada Barracks. This first attack was a failure and many of the participants were jailed. Castro, a man rarely lost for words, gave a four-hour speech at his trial, declaring that "history will absolve me". After his release, he headed to Mexico, where he began recruiting for his revolutionary group, named Movimiento 26 Julio after the Moncada assault. This was where Fidel first encountered a young Argentine doctor called Ernesto 'Che' Guevara.

In 1956, a group of 82 revolutionaries led by Castro, his brother Raul, Che Guevara and Camilo Cienfuegos, sailed to Cuba on the Granma. On landing, almost all of them were killed by Batista's forces but a handful of survivors made it to the harsh mountainous landscape of the Sierra Maestra, where they set up a base of operations.

From their Comandancia de la Plata, the rebels launched waves of attacks on government forces, in conjunction with urban strikes and armed uprisings led by Castro's ally, Frank País. Rebel Radio broadcasts spread the message of revolution across Cuba, increasing support and morale to counter increased pressure from Batista's forces, bolstered by American arms, planes and money. Eventually a series of victories, including the Battle of Santa Clara orchestrated by Che, led to the revolutionaries sweeping into Havana on New Year's Day 1959. Batista fled the country, and a new chapter in Cuban history began.

In the following years, industry was nationalised, land reforms were implemented, universal healthcare provided for all citizens, and a programme began to eradicate illiteracy. Of course, not all Cubans embraced the Communist takeover and many escaped a wave of imprisonment and executions of those seen as being against the revolution.

Today, visitors to Cuba will still see jingoistic propaganda singing the praises of the revolution everywhere, but enthusiasm is definitely starting to fade.
Casas particulares
Kath and her team at Caledonia Worldwide have deep connections with Latin America, especially Cuba, where they organise specialist holidays for travellers interested in music, dance, history and walking. "For me, what makes Cuba so special is the people. They're so resilient, upbeat, welcoming and resourceful. It's the only country where our clients always want to go back straightaway."
And when visiting Cuba, you'll normally be accommodated in
casas particulares
. There's no better way to get to know Cuban people and their culture. "We use casas particulares most of the time for our guests," says Kath. "You're staying in someone's home, but they're fully licensed with strict hygiene regulations. Most of our home stays have great cooks; people are often really surprised. Our hosts have adapted to European appetites and away from stodgy deep-fried cuisine.
"And you'll be fed so well. Cuban cuisine is wrongly done down. It's seasonal, organic and local and it's forced to be imaginative – the only complaint we get about the food is that there's too much of it! I'd recommend the seafood, prawns with garlic, and the pork's really good too."
Staying in casas particulares also provides valuable income to families across Cuba, which has been impoverished by decades of economic sanctions.
If you'd like to chat about Cuba or need help finding a holiday to suit you we're very happy to help.

Our top trip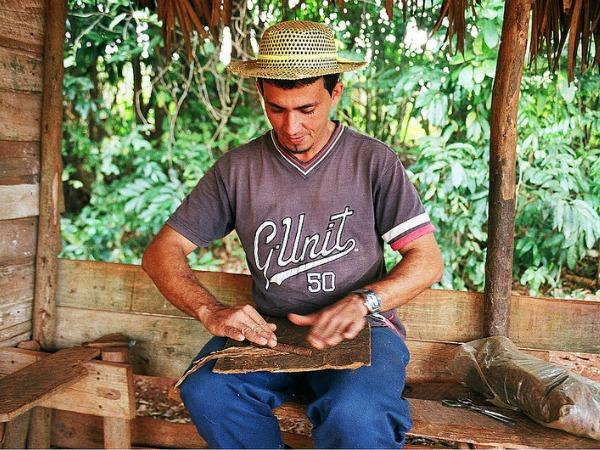 Get into the Cuban swing over just ten days.
From
£1545
12 days
ex flights
Tailor made:
Everything is tweak-able, giving you the freedom to build a unique and personal trip for your chosen date. Upgrade your accommodation for all - or just part - of your trip, slow down the pace with few extra nights here and there or add a few more active adventures along the way.
What to visit on the Revolutionary Trail
"No matter how often I go to these places they never fail to excite and horrify me," says Kath Bateman. "I think because it's all still so recent. There are many people alive today who were either involved or had family who were."
Comandancia de la Plata, Sierra Maestra
The valleys and mountains of the Sierra Maestra provided ideal shelter for Castro's band of revolutionaries, and local people remain incredibly loyal to Castro, says Kath. "They still call themselves 'Fidelistas' – 'soy Fidelista', they say – so it would be folly not to start touring the Revolutionary Trail here. We go up to La Platica in Pico Turquino National Park where the rebels had their base and transmitted Rebel Radio. It's a fascinating place to visit with good local guides like those we employ."
Santiago de Cuba
Cuba's second city has often been called the Cradle of the Revolution. Frank País lived and organised revolutionary activities here. Castro gave his famous victory speech from a balcony, and was laid to rest here on his death. You may visit the Moncada Barracks, a hugely significant location, and La Granjita on the outskirts of Santiago, a chicken farm where the revolutionaries hid their weapons.

Our traveller Adele Dow toured the Revolutionary Trail in 2019. She says: "Visiting the cemetery where Fidel Castro is buried, Cuban families lined up to have photos taken in front of his grave. They were so quiet and respectful as they waited in line, and when their turn came, posed proudly with solemn faces in front of the stone with the marker that reads simply, 'Fidel'. It was touching, and broadened my understanding of Cuba."
Santa Clara
"An unmissable spot," Kath insists. "All Cubans know the significance of Santa Clara. It's where Che and his division struck a big blow against the army, blowing up an armoured train." This was the scene of the revolution's final big engagement. There is a huge statue to Che here, and you can see various exhibits inside the remains of the train carriages. After Guevara was tracked down and killed by the CIA while fomenting revolution in Bolivia, he was interred in a memorial at the Plaza de la Revolución in Santa Clara.
Havana
Once the Presidential Palace, the Museum of the Revolution in Havana traces the story of the revolution, and what life was like beforehand. There are many interesting exhibits, from bloodstained uniforms to Che's black beret, and even the Granma on which the rebels sailed to Cuba.
Bay of Pigs
In the south-west of Cuba, 200km from Havana, the Bay of Pigs is a popular diving location. It's best-known for a failed counter-invasion by US-backed commandos. Aggrieved at the loss of significant economic interests, and worried about Castro's deepening links with Soviet Union, the USA arranged for 1,400 troops to invade from Nicaragua in 1961. Castro himself led the forces that repelled the attack.
History is written by the victors
The Cuban Revolution was a pivotal moment in the 20th century – a story of sacrifice, courage, camaraderie and gigantic cigars that many Cubans, especially the older generation, still revere. The impact of the revolution continues to resonate with Cuban exiles and their families in Miami as well, and in the way that Cuba and the USA view each other with deep suspicion.
But exploring the revolution with clear eyes is important. There may have been plenty of heroics in this struggle, yet there are no clear-cut heroes. Castro and Guevara both had a lot of blood on their hands. It's a thrilling and momentous adventure though, and knowing the full story of the Cuban Revolution is vital for anyone wanting to understand Cuba today.