"Our only 14 day tailor made trip in Central India, with equal focus on wildlife, culture and plenty of luxury thrown in."
Highlights
Delhi | Agra | Taj Mahal | Bhopal | Sleeper train journey | Satpura NP | Bandhavgarh NP | Kanha NP | Raipur
Description of Central India holiday, culture and wildlife
Anyone looking for tours in India should certainly take a peek at this fantastic 16 day experience that encapsulates the cultural heritage and remarkable history of this exciting country as well as concentrating on wildlife watching every step of the journey.

From the world-renowned reflections of Agra's Taj Mahal to the Islamic influence abound in Bhopal, tour India and you'll quickly become versed in just what it means to be a multi-cultural society where religion and spirituality are at the forefront of everyday life.

Moving on from the Muslim heritage, lakeside scenery and wonderful Mughlai dishes of Bhopal, this tour of India continues to Sanchi's Great Stupa where Buddhism comes to the fore - with a chance to stop at the UNESO site of Bhimetka, en-route, definitely a highlight for lovers of ancient cave art.

Heading southwards you'll journey to one of India's foremost national parks, Satpura, where some incredible landscapes provide a naturally protected habitat for a wide range of wildlife, rarely seen by casual day trippers from New Delhi.

No India tour would be complete without an overnight trip on the Indian Railways and as you travel in a first-class sleeper compartment all the way to Bandhavgarh Tiger Reserve you'll feel excitement levels begin to rise as you head towards the realm of Royal Bengal tigers that prowl alongside sloth bears, leopards and wild dogs whilst an abundance of resident and visiting birdlife flit overhead.

After spending time admiring the ancient fortifications and ferocious-looking vultures of Bandhavgarh your tours in India reach their final destination as you get to experience the incredible array of eco-systems in evidence within the protected borders of Kanha Tiger Reserve.

With over 20 species of big mammals and more than 200 species of bird, Kanha is undoubtedly one of India's finest wildlife parks with a well thought out conservation policy to encourage sustainable tourism and natural animal encounters to be passed on to the next generation.

Below are just a few of the highlights that you can expect from these tours of India:

- Three national parks, the Taj Mahal, Bhopal, Sanchi and the UNESCO site of Bhimbetka.
- Experience a host of walking safaris and wildlife drives.
- Aim to encounter big cats and numerous other species of animals indigenous to India.
- Benefit from the passion and knowledge of a specialist wildlife expert who's also well-versed in India's natural history and its potential for natural photography.
- Go bird-watching like you've never done before.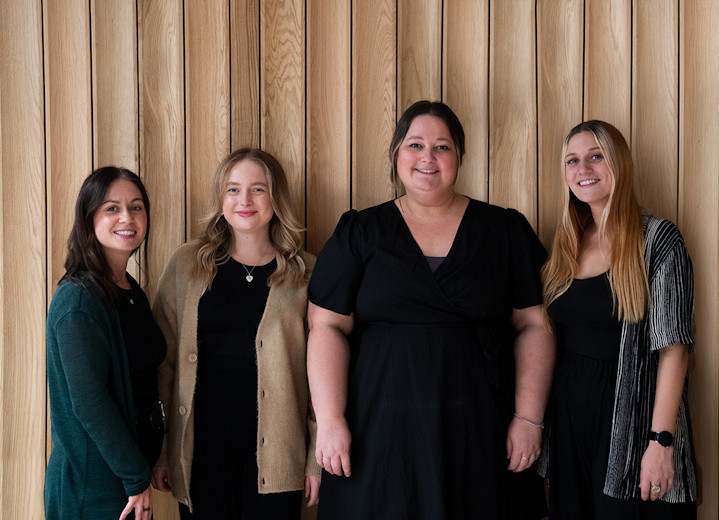 Departure information
This trip can be tailor made throughout the year to suit your requirements
Our top tip:
This is a tailor made trip, so don't be tempted to cram too much in. Immerse and enjoy.
Activity level:
Leisurely with some early starts.
Accomm:
Heritage properties, sleeper train, forest lodges and safari camp.
Included:
Accommodation, nearly all meals, transport, safaris, guides, transfers.
Solos:
Solo travellers welcome. Surcharge for own room.
Responsible tourism
Central India holiday, culture and wildlife
Carbon reduction
Your holiday will help support local people and conservation. We must also reduce CO2. Learn about the CO2 emissions of this holiday and how to reduce them.
Environment
1. Our environment responsibilities start right from the office. We have policy of using eco-friendly goods and paper, plus we reduce, reuse and recycle where possible. We print our office documents on both sides of the paper to reduce paper consumption. We try to keep our marketing materials at bare minimum by using modern electronic communication for marketing purpose. We also work to minimise energy and water consumption in our offices, and we encourage our partners to follow similar waste management and energy philosophies.

2. We operate with small group sizes which not only maximises interaction within the group and guides and local community but also minimises the impact on environment.

3. Our vehicles comply with strict Euro IV emissions or Bharat Stage III control regulations set by the European Union and Indian Environment Ministry. We regularly check and maintain vehicles to the highest possible standard in order to limit carbon emissions and ensure the comfort and safety of our passengers.

4. In this tour you will be styaying in homestays, lodges and hotels which are safe, comfortable and operated in a sustainable way. We specifically pay attention to the lodges and camps, located around national parks for their waste disposal and eco-tourism policies.

5. Tiger reserves and national parks are covered in majority of our tours and with the increasing number of tourists in these reserves can put extra pressure on the local flora and fauna. Howvever, we believe wildlife tourism can be an important conservation tool if used responsibly. Travel to national parks and wildlife areas can bring positive economic benefits as entrance fees contribute to the maintenance and conservation of local flora and animal species, while visitors benefit from the educational aspects of the area and take away with them an increased awareness of the need and place for conservation. Equally important tourism helps the local communities living around these reserves by providing jobs and helping them realise the importance of the forest.

Our tour leaders and drivers follow strict policy while visiting national parks to minimise pressure on Tiger Tourism. Our code of conducts is:
• We do not guarantee sighting of any particular species because this puts pressure on drivers, guides, naturalists, mahouts and other authorities. Rather, we rely on skilled naturalists and guides who are expert in deciphering jungle signs to locate the client's dream animal/birds.
• We refrain from rushing through the jungle beyond the permitted speed in the hope of catching a glimpse of a tiger or other animal. We maintain a slow speed, which not only allows the tourists to absorb nature but it is also safe for animals crossing/sitting on the road.
• We do not go beyond the marked area for tourists inside forest in hope of better sightings.
• We strictly do not chase animals or disturb their natural behaviour for a better look or for the 'ultimate photograph'.
• Whenever we find garbage or plastic inside the reserve, we carry it out for safe and responsible disposal.
• We maintain a safe distance from animals and do not come between parents and offspring.
• We avoid approaching nesting or breeding sites as this causes unnecessary stress to parents and young ones.
• We do not support attractions which use animals as entertainment for profit. These animals are often taken from the wild, mistreated and are trained to perform unnatural behaviours, which are not only stressful but often harmful to the animal.
Apart from above, we strictly follow and expect same from our clients to abide by the rules and regulations pointed out by Forest Department of India and local authorities.
Community
1. We know that a local guide can enliven every tour with local folk-lore, snippets of gossip, names of plants and their medicinal uses. Most importantly particularly in remote villages, our guide is our host, showing us around his or her area. This helps to make our tours an experience of cultural exchange rather than a brutish trample through someone else's way of life.

2. Many drivers in India are paid tiny fees in the expectation of large tips that allow the car owners to get away with low wages. We pay all our drivers a decent wage and we do not, as many operators do, expect them to sleep in their cars when doing long journeys involving overnight halts. We either ensure accommodation and good food is available for them at the lodges we use (and we check the accommodation is of an acceptable standard) or we pay for them to stay in a nearby hotel.

3. Many of our tours offer opportunities to visit ancient places such as UNESCO World Heritage Sites where the entrance fees contribute to the maintenance and restoration of these unique places. We asks that travellers respect signage, take only photographs and leave no litter or graffiti behind, even if others have done so. Do not attempt to bring home any rocks or stones or other souvenirs of the location and don't purchase such items from vendors as this can encourage the on-going destruction of local areas of interest.
5 Reviews of Central India holiday, culture and wildlife
---
Reviewed on 13 Mar 2018 by
Barry Hunter
1. What was the most memorable or exciting part of your holiday?

Seeing tigers at Bandhavgarh and staying in some wonderful accommodation.


2. What tips would you give other travellers booking this holiday?

Avoid the cities as much as possible (very difficult though as that's essential to get flights etc!!) Be prepared for the early morning starts for the game drives


3. Did you feel that your holiday benefited local people, reduced environmental impacts or supported conservation?

Yes, produce bought from local villagers and people employed from the villages at the various places we stayed. Green/Eco approaches in the rural areas.


4. Finally, how would you rate your holiday overall?

It was terrific!!
---
Reviewed on 16 Jan 2015 by
Louise Knop
1. What was the most memorable or exciting part of your holiday?

It was the first time we had travelled to India and we were on a mission to see see the wildside of India. Our first tiger encounter is something we will never forget It was amazing


2. What tips would you give other travellers booking this holiday?

For people travelling to national parks and safaris to always have a packet of antibacterial wipes and tissues/toliet paper if female!


3. Did you feel that your holiday benefited local people, reduced environmental impacts or supported conservation?

Yes we did as the operators are very considerate of using local when they can and of reducing the impact of the guests travelling with them even through small things like recycled packing for packed lunches etc Also their coice of accomodation was always with both conservation and low enviromental impact in mind


4. Finally, how would you rate your holiday overall?

We had a great holiday and nothing was too much for Saurabh. The operator managed to fulfill our wishlist of wildlife experiences in Central India in our limited timeframe
---
Reviewed on 29 Apr 2014 by
Claire Martin
1. What was the most memorable or exciting part of your holiday?

Satpura National Park was really beautiful and, although less chance of seeing a tiger than at Khana, the wildlife was abundant and less visitors made the experience more personal. Seeing a sloth bear was a real highlight! It was also really special to be able to learn more about the Baiga people and be welcomed into their homes... from chatting with the children to being shown how to make garlic leaf pancakes.

We were accompanied by Saurabh who was a fantastic naturalist & guide, answering all sorts of queries from birds to rock art and ensuring that all the arrangements went smoothly. All of the lodge owners were very welcoming and provided the best hospitality, introducing us to the local villagers and ensuring we were well fed and watered. Don't even get me started on the delicious food!



2. What tips would you give other travellers booking this holiday?

Don't be put off by flight prices. If you can't get a cheap through ticket to these destinations then there are plenty of low cost airlines that you can use for the internal flights. This means you can easily have some time in Delhi, Calcutta or Mumbai as well if you want. We had a few days in Mumbai which provided a fascinating contrast to Central India. My friend had never been to India before but this area is a great introduction as the travelling is easy and hassle free. Similarly, if you've travelled quite a bit in India, this area is very unique so well worth a visit.

We had to do a bit of a whislestop tour due to time constraints but try to spend a good few days in each area, particularly the national parks to maximize your sightings and so you can try some different game experiences .. canoeing, walking etc. Try to allow some time for walking in the Maikal hills & cycling too.

Oh... and the usual stuff, mozzie repellant, hat, sunblock etc but top tip is to book it!



3. Did you feel that your holiday benefited local people, reduced environmental impacts or supported conservation?

Yes, the tour was designed to benefit the local people as much as possible and responsible tourism is at the heart of the operators ethos. Since tourism is not well developed in this area they are passionate about doing it properly. Lodges were carefully selected for their eco credentials and two of the three lodges even employed / paid their staff off season to keep families together in the villages.

Festivities and birthdays were celebrated in the villages so everyone could enjoy them with dancing and cake and advice was given on cultural etiquette, tips etc, when needed which was handy. There is still very little tourism here and, since we were always visiting locally owned accommodations, stalls etc you could see how visiting in this way provided direct benefit.
Likewise visiting the national parks helps keep them open and support the conservation of tigers and the endangered wildlife.



4. Finally, how would you rate your holiday overall?

5 stars all round. The holiday was so unique .......... busy, relaxing, fun, massively interesting and a huge privilege.

Read the operator's response here:
Thank you for the review and giving us an opportunity to show you our part of the world. We hope to see you again in central India soon.

Thanks again.

Chinkara Team
---
Reviewed on 11 Apr 2014 by
Rosy Everitt
1. What was the most memorable or exciting part of your holiday?

Where to start!?!

Highlights have to be the Puri ceremony at the temple at Bhoramdeo (not for the feint hearted). The abundance of amazing home cooked, freshly prepared, organic food. The local market at Neur, which was beautifully vibrant and colourful. The train ride was a great experience...it was all fabulous!


2. What tips would you give other travellers booking this holiday?

Go.

Central India doesn't get as much hype as other more well know areas such as the Agra (Taj Mahal) and Goa but if you are looking for a taste of true India away from the tourist trail, you want to eat (lots of) amazing food and meet some wonderful people this is the place to go.


3. Did you feel that your holiday benefited local people, reduced environmental impacts or supported conservation?

Absolutely. Every care has been taken to ensure that the local communities benefit.

The accommodations we used all employ local people and have really strong relationships with the staff and their families.

We used all local transport, spent money in local shops, stalls and restaurants.

We met and interacted with people.

The parks are there purely for conservation purposes and the accommodations in the park respect and work in harmony with the environment.

There was not one moment where I thought what we were doing was damaging to people or the land.


4. Finally, how would you rate your holiday overall?

Brilliant!!! A perfect introduction to India.
---
Reviewed on 11 Nov 2014 by
Anita Hooper
1. What was the most memorable or exciting part of your holiday?

We spent 2 weeks in India, with a 4 day trip to Kanha National Park which was organised by the provider.
The companies owners went completely out of their way to organise the trip, and to ensure that they met us. The organisation and their communication with us was seamless.

Our 3 night stay in Kanha was amazing - Jehan & Katie were wonderful hosts & even managed to contact their Dr in Mumbai, and organise antibiotics for me when I developed a severe ear infection/ perforated ear-drum (not
related to my stay with them)! Raj the resident naturalist took us on 4 safari trips - his knowledge & passion about wildlife was infectious - we also saw 4 tigers: quite something considering it was October, when tigers are probably
hardest to spot.

We briefly visited a jungle retreat in the Maikkal Hills where Sunny laid on a wonderful lunch.

I can't possibly chose one aspect of this - the whole package was amazing


2. What tips would you give other travellers booking this holiday?

Please do speak to the tour operator about options for your trip. They will tailor your stay to your requirements & organise both travel & accomodation. They are incredibly helpful & will ensure that you have the most amazing holiday


3. Did you feel that your holiday benefited local people, reduced environmental impacts or supported conservation?

Yes, this was made clear to us when we booked our stay. I know that our operator, and where we stayed all ensuure that they support and sponsor local people. The accomodation is envirnonmentally-friendly & they only promote eco-tourism/ conservation.


4. Finally, how would you rate your holiday overall?

Absolutely amazing in all respects. Not only would I recommend this to my friends, but would love to re-visit for a longer period of time/ visit other places.
Thank you so much to everyone involved in making our holiday so memorable :)
---
Popular similar holidays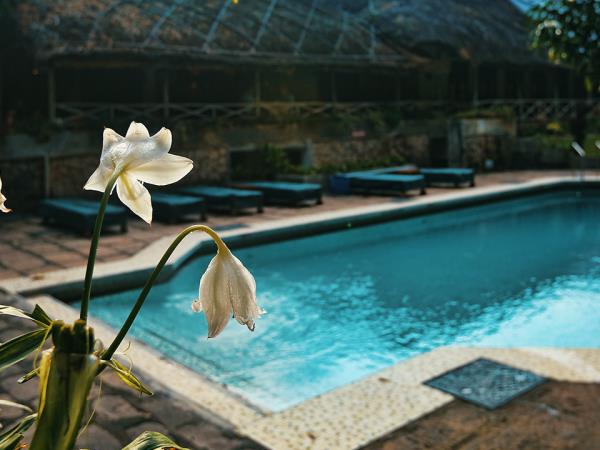 Revitalize in Kerala - A most wonderful and balanced trip
From £1349 - £1779 11 days excluding flights
Wildlife tour through India
From £2799 - £3399 16 days including UK flights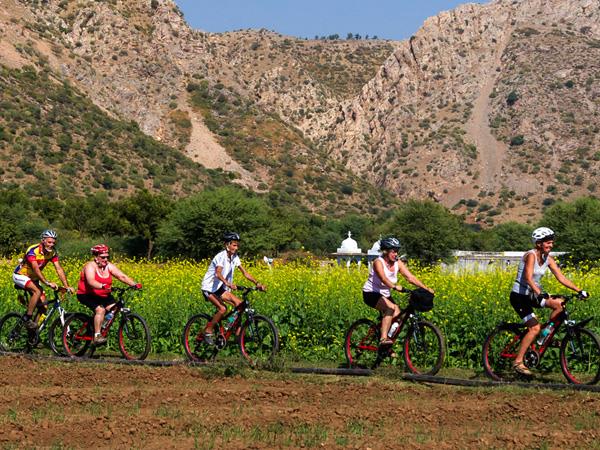 Enjoy cycling tour in Royal Rajasthan with Taj and Tiger
From US $2060 16 days excluding flights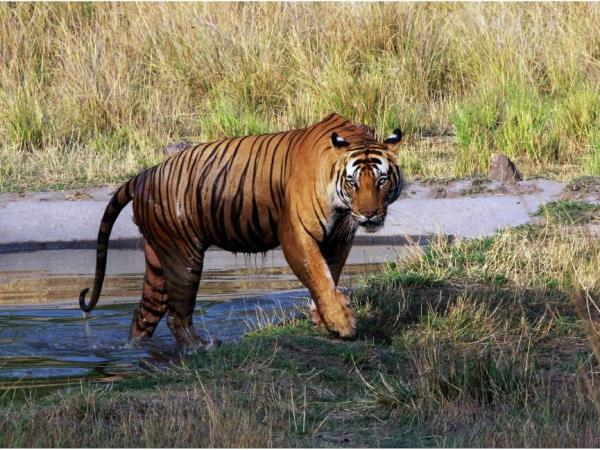 A chance to see the majestic tiger in the wild
From £825 - £1050 9 days excluding flights