"A week of family volunteering in Costa Rica, contributing to important sea turtle conservation work, staying in a beach cabin, with early morning and night time beach patrols. A lot of work and a lot of fun. "
Highlights
San Jose | One week of volunteering with sea turtles | Options for longer volunteering stays | Local community cabin accommodation | Local cooking | Monitoring turtle nests | Protecting turtle hatchlings | Turtle releases | Costa Rica Pacific coast
Description of Family volunteering with turtles in Costa Rica
Take your family off the beaten track on this family volunteering trip, working with sea turtles on some of the most stunning beaches that Costa Rica has to offer. Become part of an important mission to help with turtle conservation, working as a team to protect this endangered species.

In line with the turtle nesting season, you and your family can volunteer between the beginning of July and the middle of December. Join a team working to protect both nesting and hatching turtles off the Pacific Coast. Kids love the hands on nature of this, as well as knowing that what they are doing is going to help hundreds of turtles from each nest to survive to adulthood. Last year 15,000 turtles were released back to the sea.

Much of the volunteering actually happens at night on this project, as this is when the turtles come up to nest. We understand that this can be disruptive for sleep patterns for the youngsters, but the kids are often the ones begging their parents to let them patrol! There is plenty of time in the day for taking a nap and getting in some rest. We will always arrange for your family to patrol at a time that would be best for the kids' sleep patterns.

You will be patrolling the beaches in search of nesting turtles, monitoring turtle nests, protecting new hatchlings and recording observations for the charityís research. This will be used to help form campaigns to change regulations that endanger the species in Costa Rica.

The communities in which we work are quite remote. This means that they are unspoiled by tourism, and really give you the opportunity to get involved in the local community and enjoy the spirit of Costa Rica and its stunning scenery. There is loads for both children and adults alike to enjoy. Releasing the baby turtles and protecting the nesting turtles is something that captures everyone's imagination. In addition to the volunteering, there are lagoons for swimming in, horse riding, surfing lessons, a butterfly farm, hammocks to relax in, the beautiful beaches to stroll along... and you can even get involved in helping out in the local community with the kids. Our recent volunteer youngsters have loved learning about the lifestyles of their Costa Rican counterparts, and playing on the beaches with them. Any language barriers simply disappear here!

We will arrange private accommodation for you and your family, and will always try to ensure the specifications that you are looking for. Please be aware that we rent accommodation from local families, and these are very traditional cabins. They are basic but comfortable. You are never far from the beach here, and our main project house is just 20 metres from the sea!

Private transfers can be arranged for your family to the project sites from San Jose at an additional cost.
Day-by-day itinerary
| | |
| --- | --- |
| 1 | Arrival in San Jose. Arrival between Monday and Thursday encouraged. You will be collected from the airport and taken to a central hotel in San Jose. |
| 2 | Transfer from San Jose to the beach project. Public transport transfer included as standard, but private transfers are also available. |
| 7/ 10/ 14 | We can arrange for your family to stay for 7, 10, or 14 days. Other durations available too- please ask. On your last day we will transfer you back to San Jose (public transfer as standard). You will stay in a hotel in San Jose for your last night. |
| Last day | We will collect you from your hotel and take you back to the airport. Alternatively, you can stay and explore more of Costa Rica! |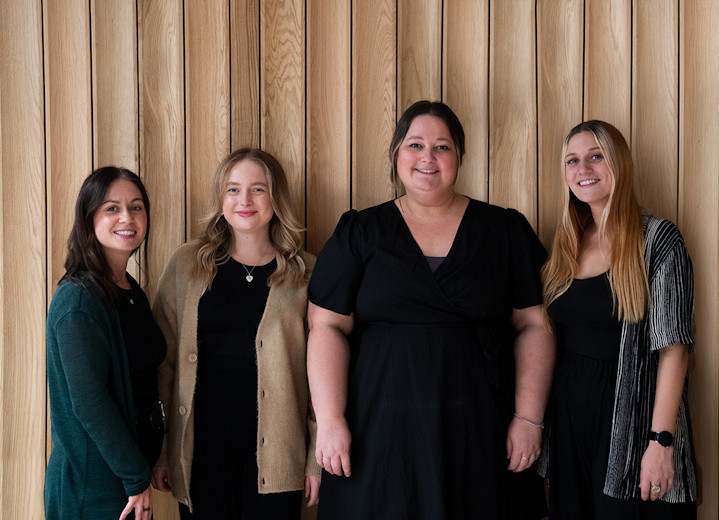 Departure information
Tailor made: Flexible departures July - December (nesting season)
Responsible tourism
Responsible tourism: Family volunteering with turtles in Costa Rica
Environment
Our placements are designed to immerse you in a different culture, living and working with local people. Thereís plenty to gain personally from this - but we make sure that the project directly benefits local people and wildlife too.
Wildlife
The threat of extinction for sea turtles is very real. Projects such as this are playing an important role in stemming this decline. You will be working with a well-respected marine conservation and research organization, staffed by biologists and enthusiastic volunteers. Turtle protection is an important aspect of its work, but it also campaigns against pollution, unsustainable and inhumane fishing practices too.
Environment
While in Costa Rica, you and your family will be helping to protect the marine environment and limiting their own impact by living basically and eating locally sourced food. Our organisation is an environmentally responsible one that operates recycling and reusing of waste products. We also offset carbon emissions in our office (gas, electricity, business mileage) and encourage all participants to offset their flight emissions via a carbon offset scheme run in conjunction with Tree Aid.
Transport
We use public transport as our main means of transportation to the project sites. This reduces emissions and invests in the local economy and infrastructure.
Community
Meeting local needs
Many in the local community rely on the marine environment for their livelihood (whether through fishing or tourism). The work of charities such as this is essential to safeguard their future. The organisation provides some paid work locally, but has to rely on extra help from volunteers to be able to protect the turtles effectively. As well as protecting the turtles, you will also contribute directly to the local economy, eating, shopping and using leisure facilities in the surrounding area.
Cultural sensitivity
We emphasise the importance of showing respect for local people and their customs in our briefing material. Participants will work alongside permanent staff, forming close bonds and getting an insight into real life in Costa Ricaís rural communities. One of our greatest achievements on this project is for local residents to have chosen to help volunteer on this project to protect their environment. This has been a huge change, as traditionally they would use the turtle eggs for cooking or for aphrodisiac purposes.
5 Reviews of Family volunteering with turtles in Costa Rica
5 out of 5 stars
---
In depth story review
"Ruth was really keen on working with turtles, and because we live by the sea in Whitby, we thought it would be really nice to have the sea by us again. And it is just a totally different country, different culture, sights and smells, so all that appealed to us. "
Learn more about this itinerary in Responsible Travel's interview with Karen and Ruth a tour leader on this trip
Read full interview
---
Reviewed on 02 Nov 2018 by Angelique Winston
1. What was the most memorable or exciting part of your holiday?

Oh my goodness, so many! The friendliness of the people, the beautiful surroundings, we were on the beach surrounded by lush green. The musical cacophony of all the surrounding wildlife. Holding a baby turtle for the first time, watching 126 of them crawl to the sea, knowing that you have helped them have a chance at survival. Being mesmorised by the Mummy turtle, while she lays her
eggs and knowing you are part of something fantastic, when you count them and protect them. The fantastic conversations you have on night patrol. The wonderful knowledge of the project coordinators and how they make you feel like family. The monkeys in the trees, throwing their discarded almond shells on our heads. My sons constant state of excitement, at everything he was surrounded by and holding a turtle egg. That type of experience, could never be taught in a classroom.


2. What tips would you give other travellers booking this holiday?

Do not go with any preconceptions, relax and go with the flow. The projects are organised, however, nature is unpredictable and the more fluid you are as a person, the more enjoyable you will find it. Bring a really fantastic night camera.
There was so much wonderful stuff that happened at night, however, you
can't use a flash at night, in case it disturbs the turtles, so if you can invest in a good night camera, it will be worth it. If you are going with children, remember, your children will mirror your response. There are a lot of late night patrols, and they will get tired as the week goes on, especially, if they are playing in the sea in the day time. However, if you are motivated, they will be motivated. My son, never waivered from wanting to do the night patrols. Maybe, bring some energy
boosting treats for them, as some patrols are longer than others. Make sure you invest in good waterproofs, as the reason Costa Rica is so green, is due to it's sunshine and wonderful downpours. Also, a good pair of waterproof walking shoes. At night, even if is not raining you may have to walk through a slight bit of water. Lots of socks, if you don't want to put on damp socks the next night.
Learn a little bit of Spanish, not so much that you will have difficulty getting around, more so, because, everyone is so friendly, that it is lovely to engage in banter with them. Always keep a bit of money for the end of the project. I found everything was organised really well throughout, however, a slight hiccup on my last day meant I had to pay for a coach. This wasn't a problem for us, however,
there was a guy who was also returning on that day, who had no money, if we hadn't helped him out, he would've been stuck. Make sure you have everything you need, as you are in quite a remote part. I brought a few snacks with me
and that kept my hungry son going in between meal times and when I didn't
want to get out of bed yet! Just enjoy it!


3. Did you feel that your holiday benefited local people, reduced environmental impacts or supported conservation?

Yes, even more than I originally thought. The food was cooked by the locals and
it was wonderful being able to share their food all together. The food was absolutely delicious. The accommodation we stayed in was a place owned by a local, who rents it out. The project itself, has locals involved. We went on night patrol with a few. The transportation and first night hotel is either family run or someone from the community.



4. Finally, how would you rate your holiday overall?

I wish I had, had the chance to stay longer, it is such a wonderful experience. The fact that you are able to live within the community, right on the beach and take part in some wonderful hands on research. You are involved completely right from the start, from handling the eggs, baby turtles, to washing the equipment the next day. It really was a fantastic holiday.
---
Reviewed on 12 Oct 2018 by Steve Halsey
1. What was the most memorable or exciting part of your holiday?

Watching turtles laying their eggs and releasing newly hatched baby turtles into the sea


2. What tips would you give other travellers booking this holiday?

Keep packing to a minimum - lightweight quick dry clothes - and take walking shoes for the beach.


3. Did you feel that your holiday benefited local people, reduced environmental impacts or supported conservation?

Yes. Our accommodation was owned by local people who lived on the same land. All meals provided by local women. The project definitely reduced our environmental impact as tourists and the whole project was aimed at supporting conservation


4. Finally, how would you rate your holiday overall?

Absolutely to be recommended. An amazing experience for all of us. Our daughters (age 14 and 9) enjoyed every minute. It's a holiday we will always remember.
---
Reviewed on 05 Oct 2018 by Antonio Cucchiara
1. What was the most memorable or exciting part of your holiday?

Going out on patrol late in the evening, with clear skies and being able to see the whole Milky Way and shooting stars, following by finding a turtle and
rescuing the eggs as the turtle was laying them. Building the shelter next to the hatchery was great fun and a fabulous team bonding experience for us a
family together with the other volunteers. Being on beach patrol at sunrise and seeing a Sea Turtle making its way back into the ocean having just laid its eggs
was also a magical moment.


2. What tips would you give other travellers booking this holiday?

Buy very lightweight long trousers for the evening / late-night patrols. Donít wear shorts as you will likely get eaten alive by bugs. Come stocked with snacks if
you have young children. Make the effort to go on every single patrol you are given. Keep asking how you can help and be as involved as you can be.


3. Did you feel that your holiday benefited local people, reduced environmental impacts or supported conservation?

Yes very much in terms of supporting sea turtle conservation and also the environment re:the beach clean. The only local people we saw were the guide and some kids and our cooks. We would have liked to have had more involvement with the local community.



4. Finally, how would you rate your holiday overall?

Absolutely amazing. Memories that will last a lifetime.
---
Reviewed on 16 Sep 2017 by Helen Parker
1. What was the most memorable or exciting part of your holiday?

The whole holidays was an amazing experience, from seeing the turtles and collecting the eggs to visiting the school for a celebration day and learning to surf.


2. What tips would you give other travellers booking this holiday?

Learn some Spanish, get stuck in and if you love turtles and wildlife this is your perfect holiday!


3. Did you feel that your holiday benefited local people, reduced environmental impacts or supported conservation?

Yes in all respects


4. Finally, how would you rate your holiday overall?

Our children have given it 5 stars and have talked about it constantly. It has changed their out look, which was the aim of the holiday!
---
Reviewed on 19 Oct 2015 by Simon Wrench
1. What was the most memorable or exciting part of your holiday?

This project and experience was absolutely amazing. As a family of 4 (2 adults & 2 children, 8 & 10 yrs old) we decided it was important to not just have a holiday but to do something that would play a part in making a different to our
environment for the future. Our 8 year old son, in particular had an interest in Turtles so we decided this would be a great project to work on. We weren't disappointed. The location was stunning, remote (so off the tourist route, which
we loved) and gave us an feeling of living a little like a local family and we loved being constantly in the outdoors. Our children met & played with the local kids which was incredible and everyone was so welcoming. The turtle conservation work in particular was incredible, the night patrols & hatchery work made us really appreciate the work undertaken by all volunteers and the project team and we felt honoured to think that we made a little difference to the
Olive Ridley Turtle Conservation program.


2. What tips would you give other travellers booking this holiday?

Don't expect the luxury's of home and know that you will quickly understand and appreciate you can enjoy a pure, happy time without not not much at all. All facilities and services are available and the food it terrific given the location. Go into the holiday with a open mind, be prepared to muck in, learn heaps, have fun and you won't be disappointed. As a family we were made so welcome by volunteers and locals alike. We had plenty of time during the days to do what we wanted and we never got restless, infact we go into relax & go slow mode quite quickly and the days just flew! Having the Spanish language wasn't essential but was helpful in getting to know the locals.


3. Did you feel that your holiday benefited local people, reduced environmental impacts or supported conservation?

Yes, we felt the project really gave back to the local community and respected their lifestyle & views. We stayed in a family cabana as part of a local families property and they were so helpful, kind & generous. We understand that our fees went to paying them for our stay. We learnt a great deal about the environment & the turtles and that the project did everything it
could to reduce environmental impacts ie composting, lighting, etc. The project provided a presence on the beach but not in a way that dictated to took over from the way the locals live there lives. There are some really dedicated local people who believe in the cause and are so grateful for the support they receive from volunteers.


4. Finally, how would you rate your holiday overall?

Amazing, so humbling, incredible to think we could do a little bit to help and have fun at the same time. As a young family, our kids really have an appreciation for conservation work, have a deeper connection and understanding that animals and the environment require our help to keep it safe, they realise the human impact on the environment isn't always positive and that it requires true dedication & a commitment to make a difference.
---
Popular similar holidays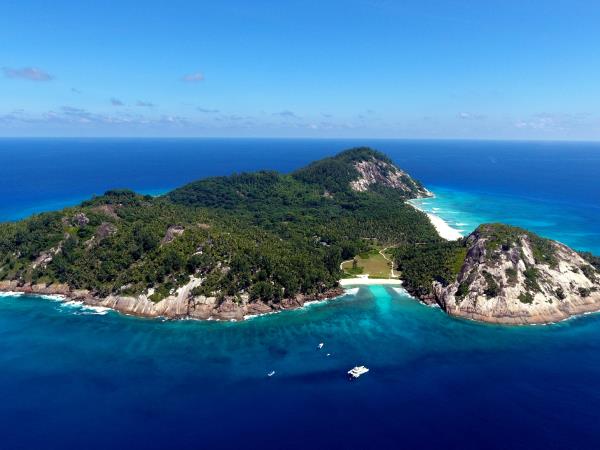 Volunteer on an exclusive island paradise in the Seychelles
From US $2800 - US $7600 4 weeks excluding flights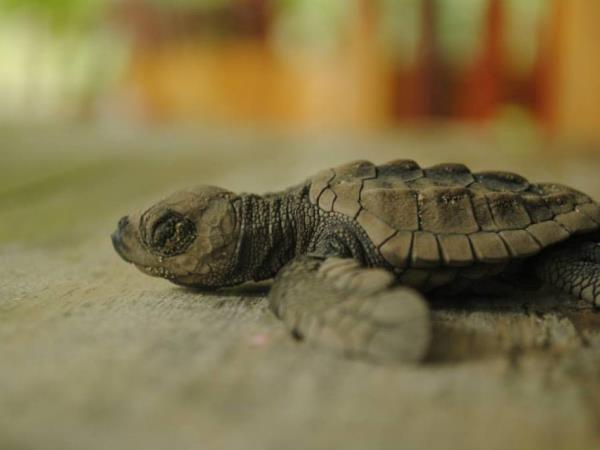 Protect nesting turtles on Costa Rica's beautiful beaches
From £969 7 days excluding flights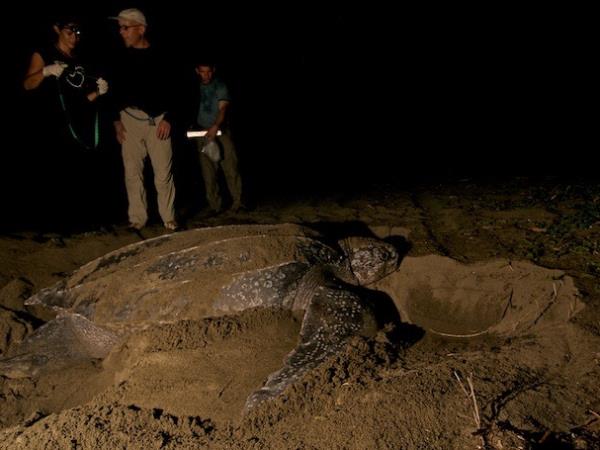 Help researchers study & protect giant leatherback turtles
From US $1495 7 days excluding flights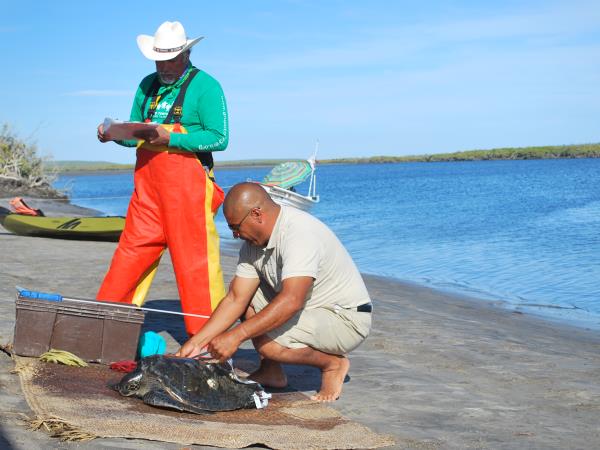 Participate in turtle research and observe ocean wildlife
From US $2295 8 days excluding flights