"Ride through unspoiled Romania, exploring its lush scenery in summer and kicking up snow in winter, with cultural visits and local food the icing on this equine adventure cake!"
Highlights
Riding centre and guesthouse in foothills of Transylvanian Carpathians | horses to suit all abilities | non-riders welcome | variety of riding trips | centre-based riding and cultural experience with bear watching and road trip | Transylvanian point-to-point trail ride | winter riding through snow | great local food | traditional hospitality | full board
Description of Horse riding holiday in Romania
Saddle up and ride out through the Romanian wilderness on a week-long horse riding adventure. Our riding centre and guesthouse stands next to green pastures on the edge of the village of Sinca Noua. This beautiful spot is right in the foothills of the Transylvanian Carpathians, around 50km west of Brasov.

Here, we team western standards of comfort with Romanian traditions, cuisine and lifestyle. Our wonderful horses will take you into the landscape, but for non-riders, this is still the perfect base, surrounded by a landscape rich with unique flora and fauna. Our visitors enjoy this natural, pristine environment, and benefit from our focus and commitment to sustainable development. We employ staff from the local village, cook with locally produced, organic food, and include plenty of local attractions on each holiday, so you can really get to know Romania.

Our horses are well trained and truly impressive. We have a good mixture of Lipizzan, Arabs, Shagy-Arabs, Kisberi and Romanian and Hungarian sport horses to choose from and match the right horse to each rider, depending on their ability and experience in the saddle.

Our riding centre and guest house is open throughout the year and we run a mix of holidays. For snow rides, the best time to come is mid January to late February, while summer rides, when the landscape is very lush, are best from early May to late October. Below, we detail the types of riding holiday we offer. Choose between one-week riding holidays, family holidays and trail rides across Transylvania.

Centre-based cultural experience ride
There's a strong emphasis on culture during this week-long riding holiday. Ride out through the rolling hills and plateaus, enjoying long canters through pastures and meadows without fences. To break up the riding, there is also a day on a cultural road trip, accompanied by a very knowledgeable and enthusiastic Romanian guide, and on one evening we visit a hide in the forest to see wild bears. After each day, head back to our guesthouse to relax and tuck into our local, organic meals and beverages.

Transylvanian trail ride
This is a point-to-point ride that best suits the experienced rider, who will love the often fast pace and long canters. You will ride for over 200km through the endless rolling hills of Transylvania, passing through villages that are rarely visited and feel untouched by time. In the evenings, relax at guesthouses along the way, where local host families offer a very warm welcome.

Winter rides
Winter in Transylvania is really magical and a riding holiday here when the snow is on the ground is unforgettable. Ride through meadows, kicking up clouds of snow dust as you canter, then unwind in the evenings with local, organic food followed by a seat near the fireplace and a glass of Romanian wine or brandy.

Individual rides and family holidays
We happily cater for both experienced and novice riders. If you're new to riding, we will help you get to grips with life on horseback. We often cater for whole families who are keen to learn to ride. If you would simply like to enjoy the scenery, without riding, our guesthouse is a great base for exploring and hiking the trails into the surrounding countryside. Experienced riders, meanwhile, will love spending a day cantering through the pastures and open meadows that lie on the doorstep of our riding centre.

The package prices include transfers to and from Bucharest airport, accommodation, riding, full board and entry fees on excursions. Single room supplement is extra. We can also devise tailor-made holidays, just let us know what you're interested in doing.


If you would like some help or advice, or just want to discuss your ideas for your next trip, do give us a call.
Departure information
This trip can be tailormade at a time to suit you.
Responsible tourism
Responsible tourism: Horse riding holiday in Romania
Environment
Equus Silvania has the objective to act in a responsible way in all its activities with regards to environmental impact. We are always open to new ideas of how we can maintain and improve the integrity of the natural environment around us.
Education and Information
Our visitors get a first-hand experience and extensive information about flora, fauna, and sustainable land-use systems. We are attempting to make your holiday not just a relaxing and enjoyable experience, but also an interesting one.
Energy and Construction
During the construction of all our facilities, we endeavored to use environmentally friendly materials. Wood, free of non-natural wood preservers, has been our main construction material as it is a renewable resource. We heat exclusively with renewable resources and have our guesthouse insulated with a thick layer of rock wool. Solar power provides warm water throughout most of the year. As a tourism enterprise, we are not able to fully avoid the consumption of fossil energy, however we still choose sustainable alternatives whenever this is feasible from an ecological and an economic point of view.
Food
Here at Equus we use mainly locally produced organic food in our kitchen. People in Sinca Noua generally do not use pesticides or artificial fertilisers, and the livestock is still kept the old way: outside on the pastures. Our own garden delivers fresh onions, salad, zucchini, tomatoes, peppers, berries, peas, beans, and many more vegetables and fruits. Other food such as milk, eggs, honey, potatoes, lamb, and veal is bought from the farmers in the neighborhood. Pork, chicken, ducks, geese, and all cold cuts are from our own production. We are particularly proud of our home-made hams, sausages, and bacons.
Trail selection
When we select the routes for our trails and excursions, we take very seriously conservation concerns. We avoid sensitive areas such as wildlife day resting sites and seasonally important areas. We also take care to not cause soil erosion and stay outside of wetlands, where the hooves of the horses may cause damage. In summer, we of course respect the farmers' needs and stay on the cart tracks when we ride through hay meadows.
Conservation Project
Equus Silvania is a proud partner and supporter of Foundation Conservation CARPATHIA (www.carpathia.org), which has the goal to create a world-class wilderness reserve in the Southern Carpathians. Sinca Noua is not only on the Eastern most edge of this future National Park, but Barbara and Christoph Promberger, owners of Equus Silvania, are also directing the CARPATHIA project. In this context, we kindly ask all our guests to contribute with a donation to the conservation of these beautiful and important forests and grasslands.
Community
We use mainly locally produced food in our kitchen. Our own vegetable garden delivers fresh onions, salad, zucchini etc., other food such as milk, potatoes, lamb or veal is bought from the farmers in the neighbourhood. We have 10 local Romanian employees and receive a large part of the goods and services from the people of Sinca Noua. Incomes are not large here so we definitely believe on putting a price on sustainable, local resources to support the area.
We try to implement a sustainable development which includes the employment of staff from the village, the use of locally produced, organic food, or the inclusion of local attractions into the programme. Our clients also contribute to a regional conservation fund, which helps finance the long-term conservation of the incredible area we live in..
10 Reviews of Horse riding holiday in Romania
---
Reviewed on 23 Dec 2017 by
Claire Taylor
1. What was the most memorable or exciting part of your holiday?

I met many pigs! I initially fed them scraps and then planned a departing banquet for them. I went to Romania to ride horses but am obsessed with pigs!


2. What tips would you give other travellers booking this holiday?

Do it as all aspects are catered for!


3. Did you feel that your holiday benefited local people, reduced environmental impacts or supported conservation?

Absolutely. Food was freshly produced. Stray dogs were being cared for. There was no wastage. The house is eco friendly so again no wastage.


4. Finally, how would you rate your holiday overall?

Wonderful rest and recouperation.
---
Reviewed on 19 Aug 2012 by
Lorna Newbrook
1. What was the most memorable or exciting part of your holiday?

The visit to Sigishoara and Viskri was very interesting and these places are the sort you could visit more than once. We were treated to some wonderful home cooking in Viskri and had time to visit the Saxon church and museum. It was like stepping into another era altogether.


2. What tips would you give other travellers booking this holiday?

Get fit beforehand and take very good boots for riding which have good ankle support for walking. Read up about Transylvania and the Saxon towns at least, as very little information is given on the tour - you need to find out for yourself.


3. Did you feel that your holiday benefited local people, reduced environmental impacts or supported conservation?

In some ways. However, it was disappointing that the proprietors of the riding centre were on holiday the week I was there, as their conservation projects were one of the selling points of the holiday. It meant that there was very little information about the local landscape, community and conservation projects as the leaders of the rides were not from the area and had limited knowledge. The visit to the bear hide supported that project, but in Viskri it would have been helpful to know more about local handcrafted products - we found out about these by chance.


4. Finally, how would you rate your holiday overall?

I enjoyed my holiday. I travelled on my own and was part of a very friendly group. The horses were lovely, the food excellent and the setting fantastically beautiful and unspoilt.
---
Reviewed on 30 Aug 2010 by
Jane Henderson
1. What was the most memorable or exciting part of your holiday?

A. Galloping full tilt over the open grasslands of Transylvania.
B. Sleeping in a perfectly restored Saxon bedroom in a village house


2. What tips would you give other travellers booking this holiday?

Take plenty of suncream and bite cream and a neckerchief to keep the sun off your neck.

The minor discomforts, mishaps and moments of exhaustion - all to be expected on a fast ride some distance from "civilisation" - are worth the pain many times over.


3. Did you feel that your holiday benefited local people, and minimized impacts on the environment?

Yes - used local houses for accommodation and local products. By travelling on horseback we were completely in harmony with the local traditions of transport by foot or horse and cart.


4. Finally, how would you rate your holiday overall?

Excellent - with a real sense of achievement for having stood the distance!

---
Reviewed on 04 Feb 2010 by
Anna Faure
1. What was the most memorable or exciting part of your holiday?

Riding in the snow, skiiing, visit to Bran castle.


2. What tips would you give other travellers booking this holiday?

At this time of year, don't ride in leather soled boots - something waterproof with a heel. Try to get to other castles in the region, such as Sinaya.


3. Did you feel that your holiday benefited local people, and minimized impacts on the environment?

Yes.


4. Finally, how would you rate your holiday overall?

Excellent.
---
Reviewed on 04 Mar 2009 by
Glenys Howarth
1. What was the most memorable or exciting part of your holiday?

I went on this holiday in early February in the hope that I would be able to ride the horses through snow. For the first part of the week it was like Spring, with not even a hint of a snowflake. We did some very enjoyable rides through ancient forests - so peaceful - and across fields that resembled open savanah. Then on the Thursday morning we woke to a foot of snow and the place was transformed into a magical world - a bit like Narnia. Cantering through soft powder on sure-footed horses who obviously enjoyed it as much as we did was amazing!


2. What tips would you give other travellers booking this holiday?

If you go in winter, don't be disappointed if it doesn't snow - all the rides are fantastic anyway, and so many different places to go with stunning scenery. Take clothes to cater for both warm and cold weather.


3. Did you feel that your holiday benefited local people, and minimized impacts on the environment?

The farm that we stayed at in Sinca Noua employed a number of local people to cook, look after the horses and help with running the farm. We ate cheeses and meats produced in the village, drank liquors made from local fruits, and the pigs got our left-overs!


4. Finally, how would you rate your holiday overall?

This was an amazing holiday, the horses were very well trained. We did some really long canters, to the point where I was asking if we could stop for a rest! Christoph and Barbara have something very special here - it was a priviledge to be able to take part in it, even if for just a week.

---
Reviewed on 04 May 2007 by
Stephanie Schlegel
In terms of our holiday - we really liked it a lot! (so this makes *****). Its very nice people, great food (even vegetarian and if not organic meat), comfortable accommodation, fantastic (and well kept) horses (mainly Arabs) and they really make an effort in terms of helping the village to become environmental friendly and to support and even enlarge the National Park.

The rides are great, too (many canters :-), but you should be an experienced rider and do not mind walking quite some bits with your horse in hand when it gets too steep in the mountains), and the best of it all is the landscape - you better go there quickly, before this all changes (after Romania now joined the EU). You can ride for ages and you never really meet anybody except shepherds.

I loved it too, that there are cows, sheep and even horses and donkeys running around not being tied up. Greg - our riding guide has some hilarious stories about Romania (but not only this) to tell, too and also by the expeditions in the nearby villages you learn a lot about the country and its people.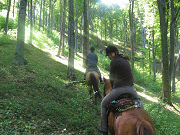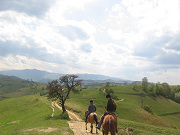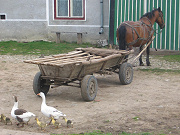 ---
Reviewed on 19 Aug 2006 by
Rob Brown
Take a look at Rob's photos from this trip.

(click photos to enlarge)

We would give this holiday a 5* rating. It has to be the best holiday we have had as a family for all sorts of reasons. We have a 16 year-old daughter, 14 yr-old son, and 10 yr-old daughter. We wouldn't describe any of our children as "horse-crazy", although they all take riding lessons on a fortnightly basis. They enjoy riding, although our son is often reluctant to participate. In fact, he was the one not really looking forward to going. However, meeting other boys there (two 16 yr-olds and a 14 yr-old) completely changed that, and he ended up wanting to stay!!

Other reasons for enjoying the holiday: the riding was excellent for all levels of rider; the scenery was superb even though the weather was mixed; wildlife was abundant (saw red-backed shrikes, bee-eaters, lesser-spotted eagles, hoopoes etc); hygiene was spotless; accommodation was comfortable; food was fresh, tasty, plenteous, varied, and home-cooked by the Romanian cook; and the whole project is undertaken to benefit the environment as far as possible, including sustainable building, sustainable living, renewable energy, the local community (with whom Christoph and Barbara have excellent relations), and the wild-life.

But the most important reason has to be Christoph and Barbara themselves. Where else could you enjoy the warm company of some of Europe's foremost wolf biologists while riding out in remote and stunning landscapes and woods, or relaxing round a wood-burning stove on a cool evening after a hard-day's ride? And being field biologists, their expertise and experience in all aspects of wildlife is a delight to behold. The very purpose of their enterprise (biologists doing tourism) is to educate people (us) that large carnivores (wolves, bears, lynx etc) can co-exist with human beings in a non-destructive relationship - as people have been doing in Transylvania for thousands of years.

As far as the details go, a few words may be helpful. We went on the second of the two "family-week" holidays. All five of us are riders, but not all members of the other families were. The non-riders went walking, cycling, on visits to interesting places. The daily itinerary for all of us was planned on the basis of what we all said we would like to do during the week. The programme was therefore extremely flexible. The only down-side of this is that you don't know the exact amount of the total bill until you come to pay it at the end, although the costs of the various activities are listed on a menu. Rather like in a restaurant.

No personal riding equipment is provided. So if you wear riding hats (not compulsory in Romania, but highly recommended), you need to take them with you. Same for body-protectors, boots etc. Not clear from the web-site, and surprised the family using it when they arrived, but accommodation in the chalet (which is next-door to the main house) is a single, 6-bed, upstairs dormitory.

Visit to the wolves, Poianna and Croy, is a must. And ask Christoph to do his wolf-howl with them! Visit to the bear-hide, although expensive, is another must. The reason this one costs so much is that the Romanian Forestry Commission, who run the hide, charge this for the visit. The up-side of this is that the bear-hides bring in more money than the trophy-shooting, so there's more reason to protect the bears. Hard economics, but true.

We also did the two-day trip. Another expensive option, but the experience of seeing a way of life that hasn't changed for several hundred years is not to be missed. This way of life is unlikely to continue for long after Romania has joined the EU (Jan 2007), simply because so much of it fails to comply with EU regulations. Our tents also leaked in the rain, but, hey, getting wet comes with the territory! I think they'll be getting some new Jack Wolfskin ones in the very near future!

I've gone on long enough, but hopefully this gives a flavour!

Thanks for putting us on to this operator. We'll be staying in touch with Christoph and Barbara, and hopefully get to visit at some other times of the year.


Read the operator's response here:
We noticed the tents were leaking only on this trip (before we did not have rainy nights on this trip) and have consequently taken four new tents, so this issue is now resolved.
---
Reviewed on 19 Sep 2006 by
Katy Egan
1. What was the most memorable or exciting part of your holiday?

Without a doubt galloping along the sustainable tracks around the countryside of the traditional farming village of Sinca Noua. Oh and our exciting trip to the bear hide, full of fascination, tinged with the right amount of fear, but feeling confident in our guide to know we were not in any real danger.


2. What tips would you give other travellers booking this holiday?

Research and figure out what appeals to you and do that as there is so much to do and see in this country, make sure your last line is not if only I had known, I could have gone there or done that. Also do not be put off; the country is only getting to grips with its new government and many places are not what westerners would be used to. Don't let this scare you, get involved talk to the people - they are only dying to either find out about you or practice their English so give it a go; some of the most rewarding conversations I had were with Romanian women who had no word of English.


3. Did you feel that your holiday benefited local people, and minimized impacts on the environment?

Definitely, from the moment we stepped through the door, we felt the honest blend of old traditions and new comforts, in an effort to include the whole village in the good work that they're trying to do, there is clear evidence of love and mutual respect beween the project and the local villagers.


4. Any other comments?

It was truly excellent; I was only sorry to leave! There was unbelievably amazing food in the place we stayed with Christoph and Barbara, welcoming atmosphere, stunning scenery, fabulous horses, intelligently chosen for skill levels, could you really ask for more? Go for it, I doubt you'll regret it.
---
Reviewed on 12 Aug 2006 by
Rosemary Wilson
1. What was the most memorable or exciting part of your holiday?

The best part of the holiday was the scenery, flowers & butterflies - an amazing Country.


2. What tips would you give other travellers booking this holiday?

You don't have to ride a horse to have a great time - walkers & cyclists will enjoy it just as much as riders. Don't bother with holiday money, you don't need it.


3. Did you feel that your holiday benefited local people, and minimized impacts on the environment?

There was minimal impact with local people. They were very friendly & always smiled & said hello, in Romanian. The Community benefited from the visits to the bear hide, wolves & villages etc and they shouldn't have suffered any environmental problems - any waste went to the pigs! We used water but were asked to do so sparingly & as we had no cars individually, always travelled in a minibus, or went by other non polluting mode of transport.


4. Any other comments?

To be highly recommended to all.
---
Reviewed on 11 Jun 2005 by
Frances Hart
We had a wonderful holiday in Romania. I would rate it as ****, only losing one star because the tenting experience was rather primitive and we got rather wet, whilst our tour leader went home to a nice dry house. The eco bit was fine though as we ate locally sourced food used local people as guides etc. We travelled by horse and the souvenirs we bought were all locally made and used locally sourced materials wool, leather etc. We were all made aware of local successes and local or national problems that people face.
Read the operator's response here:
The group went on the riding holiday through a UK based agency and the offered and signed-up programme included the 2-day trip and the overnight stay in tents. Despite that the group was asked whether they want to go for the 2-day trip and the big majority wanted to do this and stay in tents. Parts of the group even mentioned that this 2-day trip has been one of their motives to sign up for this trip. And the group was not left alone, three guides stayed with the people in the tents. Overall, however, we had a very nice time with the group and enjoyed the week a lot.
---
Popular similar holidays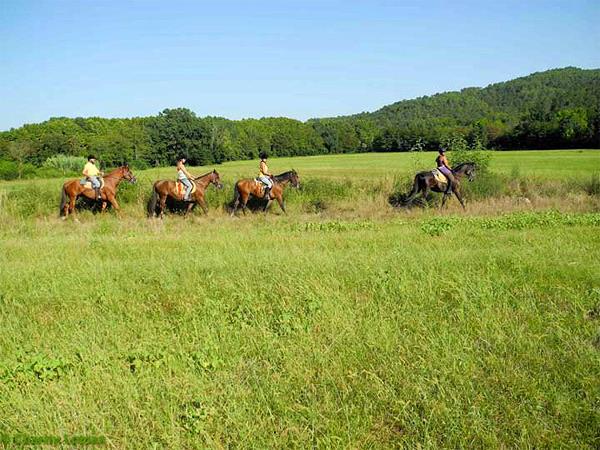 Horse riding in the beautiful Catalan countryside
From €700 - €1150 8 days excluding flights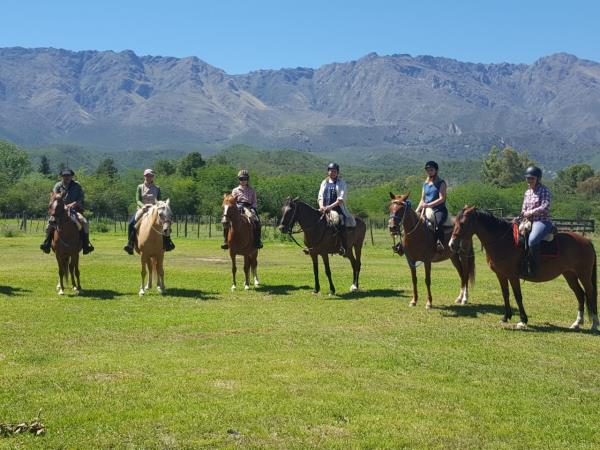 Amazing horse riding in the peaceful mountains of Argentina
From €1960 8 days excluding flights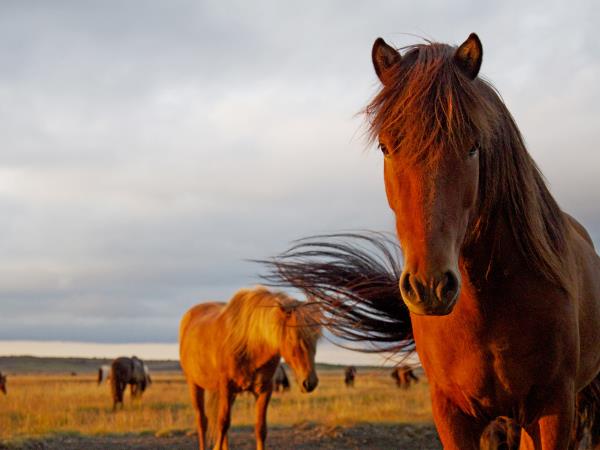 Ride in a hidden nature reserve surrounded by glaciers
From £1375 5 days excluding flights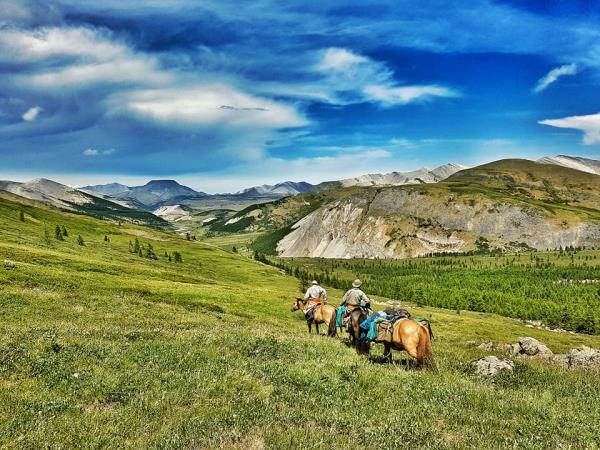 An adventurous cultural experience in northern Mongolia
From US $2225 - US $3490 13 days excluding flights