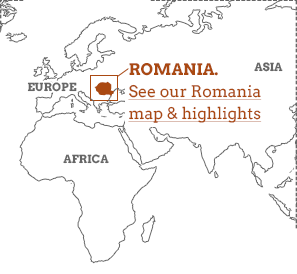 Parts of rural Romania feel as though they've been preserved in amber for centuries. The Carpathian Mountains and Transylvania region particularly are draped in tradition, with ways of life sustained by sensitive cultural holidays that see you staying in small, family-run guesthouses that spoil you with homemade, locally sourced food. Walking the forests and peaks of the Carpathians is an adventure at any time of year, but especially in winter, with the trees thick with snow. Our most popular Romania holidays focus on bears – you can volunteer your time and efforts at one of Europe's most respected conservation projects.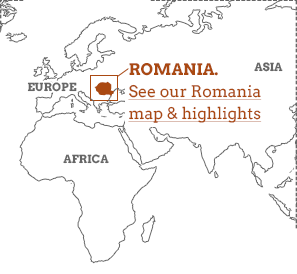 Our top Romania holidays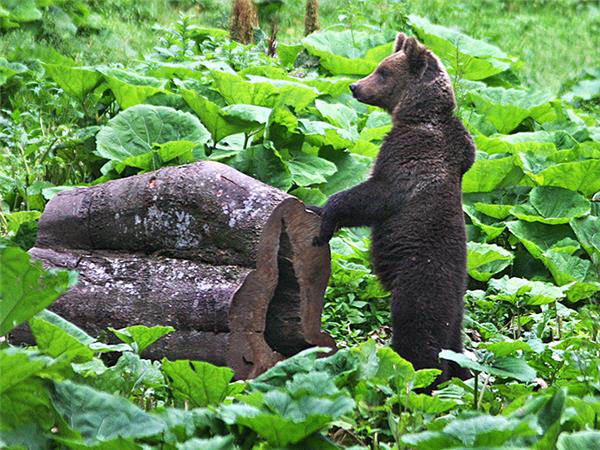 8 days
inc UK flights
Wolves, bears and sightseeing
Small group
2022: 14 May, 4 Jun, 11 Jun, 2 Jul, 16 Jul, 6 Aug, 13 Aug, 20 Aug, 10 Sep, 17 Sep, 1 Oct, 8 Oct, 2023: 29 Apr, 13 May, 3 Jun, 10 Jun, 1 Jul, 15 Jul, 5 Aug, 12 Aug, 19 Aug, 9 Sep, 16 Sep, 30 Sep, 7 Oct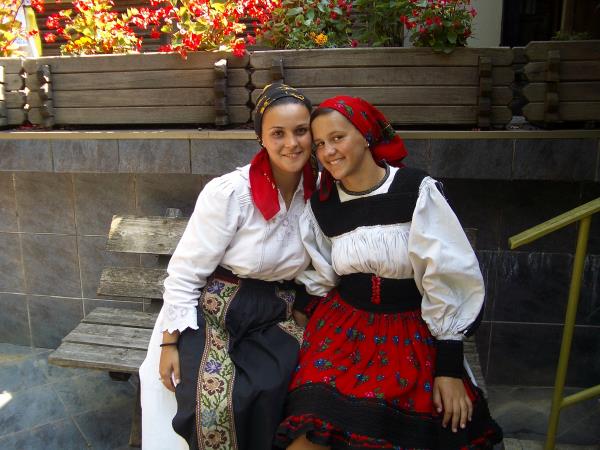 11 days
ex flights
Small group tour to rediscover enchanting rural Romania
Small group
2022: 30 May, 29 Aug, 2023: 29 May, 12 Sep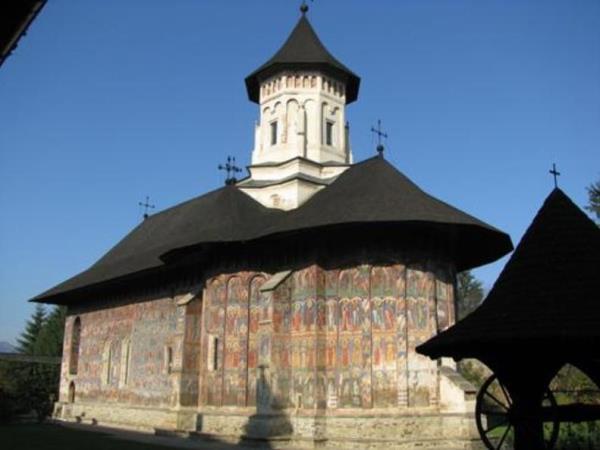 14 days
ex flights
An amazing tour exploring medieval Europe and Transylvania
Small group
2022: 28 May, 3 Sep, 25 Sep
Best time to go on holiday to Romania
Romania scorches in summer, especially in the southern and eastern lowlands, with the beach often the best place to be during July and August. May can be rainy – but it's also when twitchers start to flock to the Danube Delta. In April, blossoming trees and wildflowers are complemented by beautiful Easter celebrations. September is the best time to visit Romania for autumn colour and an explosion of mushrooms, plus days that are still long and warm. January and February are great for winter activities like snow sports or slower explorations of pristine white wilderness.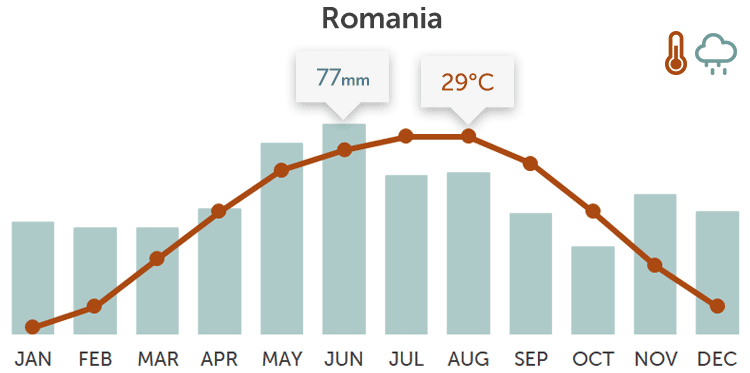 Map & highlights
The Carpathian Mountains encircle Transylvania. These hulking peaks are draped in primeval forests where hikers may catch glimpses of large carnivores. Your best bet for seeing bears, however, is by volunteering for a week at a sanctuary, whereas birdwatchers should head east for the Danube Delta. Sighisoara has colourful 16th-century houses, while the Hollywood-esque sign in the hills outside the Saxon town of Brasov will make you double take. Slightly west, Sibiu is one of Europe's best-preserved medieval towns, and parts of the northern Maramures region resemble a Brothers Grimm fairy tale come to life.
1. Brasov
The giant HOLLYWOOD-style sign on Mt Tampa's woody slopes seems brashly incongruous for a 12th century walled-and-turreted Saxon town whose beguiling old quarter underscores fairytale ties to the Pied Piper story. Visit the Black Church, eastern Europe's largest Gothic church, then listen to heraldic trumpeters at midday on the medieval cafe-lined Council Square (Piata Sfatului) - reputed site of Europe's last witch-burning.
2. Carpathian Mountains
Split into ranges like the flat-topped Bucegi, the
Carpathians
encircle
Transylvania
with lonely peaks cut through by spectacular gorges walled by 300m cliffs. Hike primeval forests and alpine meadows, while scanning for wolves, bears and lynx - or 50 species of wild orchid. Traditional Szekler villages dating to the 9th century provide colourful human counterpoint.
3. Danube Delta
Europe's longest river ends its journey in an idyllic 4,200 sq-km wetland of floating reed islands, marsh and shifting sandbars by the Black Sea. It's a birdwatching nirvana with over 300 species of winged wonders from pelicans to red-breasted geese - but don't miss fishing hamlets like Crinan with its traditional reed houses, gorgeous secluded beaches at Sulina and Sfantu Gheorghe – or the renowned local fish soup!
4. Maramures
A region that feels like a living exhibition of centuries-old rural life. Villagers dress like extras in a Brothers Grimm movie, while folk music and dance is celebrated at festivals such as August's Hora de la Prislop. Wood craft encompasses immense ornately carved village gates or delicate musical instruments as happily as UNESCO-listed wooden churches.
5. Sibiu
One of Europe's best preserved medieval cities, Sibiu was dubbed the Red Citadel as Transylvania's first Saxon stronghold. Its bohemian blend of cobbled alleys and eye-popping squares comes with cultural treats like May's Jazz Festival, October film festival, Brukenthal gallery and Astra open-air architecture museum featuring 340 historic buildings. The strange eye-slit windows on its multicoloured houses are just as memorable.
6. Sighisoara
Enchanting as a fairytale film set, Sighisoara's technicolour 16th houses nestle on cafe-lined lanes overlooked by onion-domed churches and the gorgeous medieval Clock Tower. Trace 14th century citadel walls, delve the History Museum, then get a bite at Casa Dracula – a restaurant carved from the 1431 birthplace of the infamous Vlad Tepes. The atmospheric nearby Saxon villages of Viscri and Biertan are also must-sees.
Culture
Those interested in Romanian culture will find plenty to savour among its beautifully preserved, living medieval towns and villages, particularly in the Maramures region, where they sometimes feel almost frozen in time. In the countryside many people still profess a belief in witchcraft and ancient folk tales abound. The UNESCO-listed painted churches of Maramures are a major cultural attraction, and you will find traditional handicrafts everywhere, from hand-woven shawls to homemade (and very potent) tuica. You can even stay with a genuine count for an introduction to Romania's culture and history.
Transylvania
The
Transylvania
region will forever be linked with Dracula, but once you've got the obligatory wander around Bran Castle out of the way, there's much more to
holidays in Transylvania
than just Bram Stoker's classic novel. You can drive between pretty Saxon villages, watching out for horse-drawn carts laden with hay. There are magnificent medieval towns to explore such as Brasov and Sibiu, and abundant hiking in the Carpathians. And there are guided woodland treks with naturalist guides that show you how to track wild bears, as well as throwing in the chance to see them up close in a sanctuary.
Carpathian Mountains
The
Carpathian Mountains
are one of Europe's most significant mountain chains, yet relatively under-explored. Where they pass through Romania, surrounding Transylvania, they form pristine walking terrain. You can hike from hay meadows to isolated mountain hermitages, gazing out over sunny pastures near Brasov. The Zarnesti Gorge in Piatra Craiului National Park offers a dramatic contrast, while other
Carpathian Mountains holidays
might take you deep into the forests where expert guides track wolves and bears. Horse riding and mountain biking are also good ways to explore, and if you visit in winter, a highlight could be a sleigh ride in the snow.
Family holidays in Romania
Romania can seem like a fairy tale come to life: dark forests full of mysterious predators; picturesque villages; ancient and ruined castles surrounded by myth. We don't want to dwell on the Dracula stories, but kids will undeniably be drawn into the ghoulish legends around Transylvania, while also loving the chance to pitch in with tasks such as milking cows or stacking hay alongside a friendly farmer.
Family holidays in Romania
can also feature the Black Sea coast or hiking in the mountains between spring and autumn, while winter is all about tracking wild animals in the snow.
Wildlife
Forget the vampire bat nonsense – the wildlife in Romania is in the mountains and forests, not the castles. Predators prowl these primeval landscapes, including lynx, owls and wolves. If you want to see bears, your best chance is by
volunteering at a bear sanctuary
in the Carpathian Mountains set up to protect and rehabilitate animals that have escaped cruelty in zoos, circuses and cages. If birds are more your thing, the vast Danube Delta is a twitcher's delight, and yes, there are bats, with lots of colonies in mountain caves – but they're after bugs, not your blooood.
Types of holidays & vacations in Romania
Walking holidays in Romania
immerse you in pristine, serene landscapes: the forested slopes and karst valleys of the Carpathian Mountains; Apuseni National Park; or iconic routes such as the Enchanted Way. You can also mix your trekking with snowshoeing in the winter.
Wildlife
is a big attraction in Romania, whether that's the myriad birdlife in the Danube Delta or the shy predators stalking the forested Carpathians. And in
winter
, the snowfall makes this scenery even more fairy tale-like. Crackling fires and plum brandy warm you up after chilly days exploring by skis, snowshoes or sleighs.
If you'd like to chat about Romania or need help finding a holiday to suit you we're very happy to help.