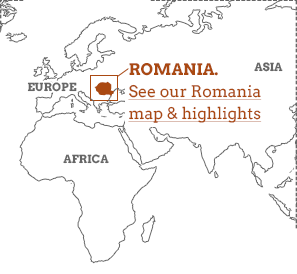 Rural Romania is perhaps the only place in Europe where a bicycle can often be the speediest form of transport, and where friendly local people offer free tots of home-made hooch. When the Iron Curtain lifted, it revealed a country of sturdy peaks, alpine plateaux, vast coastal wetlands and primeval woods roamed by bear, wolf and lynx, plus villages fuelled by tradition and brightly hued medieval cities infused with myth.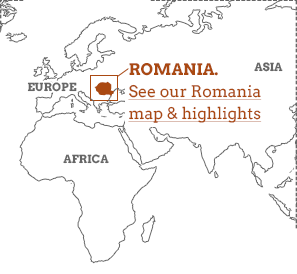 Romania is a land where bears and wolves prowl a tapestry of majestic vistas and fairytale towns.

But Romania doesn't preserve its roots in aspic – they're as innate as breathing. Many people still travel by horse-drawn cart, produce their own food (and booze) and carve wood into everything from alpine horns to churches. Today, the nation's natural splendour backdrops a rich cultural infusion of Saxon, Hungarian and Roma influences. Our Romania travel guide reveals a country where you can find life as sustainable – and sustaining – as life can be.
Romania is...
a welcoming time-capsule of unspoilt nature and evocative history.
Romania isn't...
a rogue-filled Dracula theme park.
What we rate & what we don't
Local food & drink
Romanian nosh is deliciously distinctive – intriguing stews, tongue-tickling pickles, pick-me-up street snacks. Cabbage and grape leaves are stuffed with spiced meats (sarmale), while garlic and vinegar flavour piquant soups. Danube Delta fish soup is world-class, and there's excellent wine from Dealu Mare and Dobrogea (reds) and Tarnave (white). Home-made plum brandy (tuica/palinca) is so ubiquitous you'll often be offered it for free!
Winter
Winter is beautiful in Romania (outside slushy Bucharest) as the white stuff creates dreamlike vistas waiting for exploration with snow-shoes or horse-drawn sleighs. Hit a dozen varied ski trails at Poiana – or ski the wild Lumea Pierduta (Lost World) plateau. Snow also provides a perfect canvas to track the country's iconic big predators, while ice hotels provide truly cool resting places.
Slow living
Life moves at a human pace here. Horsepower often still means the equine sort, as people clop around in horse-drawn carts or winter sleighs, happy to carry visitors who aren't enjoying walking or cycling along solitary back roads. Hay is hand cut with slowly swooshing scythes, cloth is quietly woven, wood carefully carved. You get there in the end.
Caves
Romania has over 12,000 caves (pestera). But forget dark dank holes – these are places of wonder. Names offer clues. Pestera cu Oase (Cave of Bones) gave up Europe's oldest-known human fossil (a 35,000-year-old jawbone). The magnificent galleries of Bear Cave offered skeletons of the extinct cave bear. The Ice Cave glints with Europe's largest cave glacier. Size important? Then book a tour of the 45km-long Wind Cave, Romania's largest.
Wildlife
Romania's wild landscape hosts over 33,000 species including Europe's highest concentration of large carnivores – wolves plus rare Eurasian lynx and wildcat as well as over 5,000 bears. But don't forget caves with Europe's biggest bat colonies, woodland birds including rare eagles and owls, plus 300 species of water bird in the Danube Delta.
High country
The mighty
Carpathians
encircle Transylvania with distinctive ranges – Apuceni's cave-pocked karst formed into pale stony crinkles by aeons of watery erosion, Bucegi's hiker-friendly plateaux. Gorges and wildflower meadows mix things up, while plentiful cabanas (mountain huts) provide rest and shelter for tired trekkers. Local guides, meanwhile, are happy to reveal local plants used for medicine and folk magic.
Colourful history
Evocative myth and history are Romania's forte, from the chilling story of Dracula inspiration Vlad Tepes to magical Dacian stone circles erected long before Christ. In between, Greeks, Romans and Saxons battled over a land of soaring mountains and fertile plains. Colourful towns out of a fairytale (literally for some) dot the map, watched over by lonely castles and fortified churches. Romania is a cultural mélange too, a colourful mix of Saxon-German, Hungarian and Roma.
Transylvania
Spurious Dracula links distract from a region you really will want to sink teeth into.
Transylvania
wonderfully combines spellbinding nature with rich traditions combining Romanian, Hungarian and Roma influences. The distinctive ranges of the Carpathians create a hiking paradise of alpine meadows and amazing karst geology, while towns like Brasov, Sighisoara and Sibiu are vivid medieval time capsules oozing vibrant cosmopolitan charm.
Dracula
Marketing lures gullible types to places like 'Dracula's Castle' near Brasov with yarns about the infamous blood-sucking Count. Don't bite. Dracula was a fictional character created by Bram Stoker in 1897. And his oft-cited historical model – 15th century aristocrat Vlad Draculea (commonly called Vlad Tepes - Vlad the Impaler) skewered his foes in Wallachia not Transylvania.
Uninspiring architecture
Once-beautiful historic Romanian cities were blighted by brutalist architectural carbuncles in the post-war decades of communist rule. EU accession in 2007, meanwhile, has seen a dash for modernity that risks further eroding the former architectural charms of cities like Bucharest – a capital whose tree-lined boulevards and Belle Époque architecture once earned comparison to Paris.
Dogs
Vast numbers of stray dogs roam Romania, and should be regarded with real caution. Many have gone feral, living in packs that have attacked and seriously injured people. Dog bites in Romania also involve a risk of rabies.
Tranfagarasan Road
The fact those petrol-heads at Top Gear once voted this the world's best road could make it seem a good thing. But as you spew lead speeding through breathtaking mountain scenery, spare a thought for the dozens of forced labourers who died trying to hastily build what was vile dictator Nikolai Ceasescu's pet project of the 1970s.
Eating & Drinking
Romanian meals often begin with a soup – often given delicious piquancy with a lacing of garlic, vinegar or sour cream.

Romania is the world's 9th biggest wine maker – and lots of it is excellent!

Street eats are popular, with favourites including covrigi (hot pretzels sprinkled with salt or sesame/poppy seeds), placinte (curd cheese or fruit-stuffed savoury or sweet pastries) and mici (grilled rolls of spiced minced pork or beef, served with mustard).

The castle truly linked to Dracula-inspiration Vlad Tepes is the ruined Polenari Citadel near Curtea de Arges in Wallachia.

Our top trip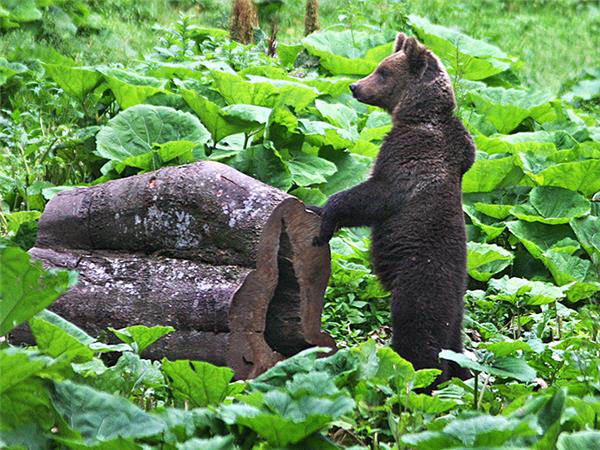 Wolves, bears and sightseeing
From
£1649

to

£1849
8 days
inc UK flights
Small group travel:
2024: 27 Apr, 11 May, 1 Jun, 15 Jun, 6 Jul, 20 Jul, 17 Aug, 21 Sep, 5 Oct
2025: 26 Apr, 10 May, 31 May, 14 Jun, 5 Jul, 19 Jul, 16 Aug, 6 Sep, 20 Sep, 27 Sep, 4 Oct
If you'd like to chat about Romania or need help finding a holiday to suit you we're very happy to help.

People & language
While Romanian is the official national language, some of the mountain regions are home to the country's sizeable ethnic Hungarian population so they may well speak Hungarian! But learning even a few basic phrases in Romanian will not only win you friends for effort but may also result in speedier service in restaurants, which can be notoriously slow and indifferent.
A cheery 'Buna ziua' ("boo-nuh zee-wa" - literally, 'good day') is always a useful ice-breaker.
'Multumesc' ("mool-tsoo-mesk") is 'thank you'.
Gifts & Shopping
Bucharest Monopoly – the classic board game with a Romanian twist! You'll find it in shops all over the capital for around £12.

Sponsor a bear at the Libearty Sanctuary for 60 euros for one year - all proceeds go towards the sanctuary.

Locally-made ceramics and linen tablecloths or shawls are wonderful souvenirs to buy for just a few pounds in rural areas – helping to keep handicraft traditions alive.

Palinca - double-distilled plum schnapps – is the national drink, and the best stuff is widely made at home! To buy in a shop, reckon on £5 for a brand like Palinca de Salaj.

Local legend claims that after the Pied Piper magicked away the children of Hamelin, he reappeared with them in Brasov.

How much does it cost?
Entry and tour at Libearty Bear Sanctuary – £1.60

Bottle of good Romanian wine - £3

Bottle of decent palinca - £5

Three-course meal in mid-range restaurant – £10

InterCity train from Bucharest to Brasov - £10

Hand-woven wool carpets - £50/m2
A brief history of Romania
Though Romania's ties with classical Thrace, Greece and Rome date back 2500 years, its historic sense of self formed in medieval times when it became a European bastion against Eastern invaders. This created today's patriotic narrative of Saxon settlers battling Mongols, Tartars and Turks from atmospheric castle eyries, while holy types prayed for victory inside fortified monasteries. To Romanians, 15th century aristocrat Vlad Tepes – reputed inspiration for Bram Stoker's mythical Dracula thanks to his penchant for mass impaling of foes – is a national hero rather than someone with a poor grasp of the Geneva Convention.
Read more