Carpathian Mountains travel guide
---
2 minute summary
Pack your rucksack with keksy wafers, a hunk of bread and a slab of creamy goat's cheese before waving goodbye to all your troubles and setting off to explore the beech forests, bat caves and mineral rich valleys of the Carpathian Mountains. This is one of the most underrated stomping grounds in Europe and an absolute thrill for hikers hoping to catch a glimpse of beavers and otters on forest covered riverbanks, or marmots, deer and chamois making an appearance on higher ground.
Apart from the smaller critters, the Carpathians create an ideal environment for larger predators too and boast sizeable populations of wolves, brown bears and lynx, all of which should only be tracked with an expert and observed from a safe distance or purpose built hide.
Romania and Slovakia promise the very best of the Carpathians with seasonal variations adding a totally unique dimension to a never ending mix of mountain trails and animal encounters. Find out more in our Carpathian Mountains travel guide.

Hello.
If you'd like to chat about the Carpathian Mountains or need help finding a holiday to suit you we're very happy to help.
Rosy & team.
01273 823 700
Carpathian Mountains highlights
---
Make the most of your time
As the Carpathians are Europe's second longest range of mountains the chances are you're not going to get over them all in the course of one visit. Best thing to do is explore one section at a time with the soaring peaks of the High Tatras in Slovakia or the deep pine forests of Transylvania, presenting a couple of options depending on your preference. Although cities such as Braşov or Zărneşti in central Romania or Bratislava in southwest Slovakia do offer access to the Carpathians, you're far better off staying in a guesthouse within a remote hamlet to ensure you maximize your time in the mountains.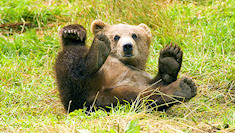 Bear watching
The privilege of seeing just one of over 6,000 wild brown bears will be a highlight of any trip to the Carpathians. Hides allow small groups to observe cubs up close with rescue centres, such as the Libearty Bear Sanctuary, offering further insight. Snow covered forests are perfect for skilled trackers and following on snowshoes helps you explore essential habitats with the minimum of interference.
Braşov
A great base in the Southern Carpathians for trekking trips or wildlife watching tours is the medieval city of Braşov. Thanks to the central location it's relatively easy to access all areas with the mountain resort of Poiana Braşov offering numerous winter sports and a nearby lake presenting excellent bird watching opportunities on the Danube Delta.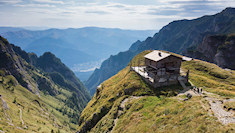 Bucegi Mountains
Hikers heading south of the city of Braşov, in central Romania, will be treated to some of the Carpathians' most exceptional high alpine trails, all of which can be accessed via a cable car up the Bucegi Mountains. The scenery at over 2,000m is unlike anything else and hikers will often find themselves walking over flower-filled meadows against a backdrop of snow-covered peaks, even in July.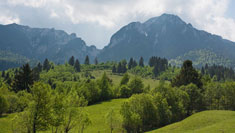 Piatra Craiului National Park
One of the most stunning ridge walks to tackle in the Carpathians can be found within Piatra Craiului National Park and takes a couple of days hiking from north to south. Although the trail is considered somewhat precarious in places it's easily accessible from the town of Zărneşti and supports an array of endemic species amongst numerous deep gorges and rugged karst landmarks.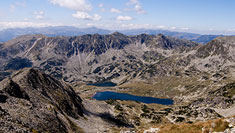 Retezat National Park
With glacial lakes mirroring monumental mountain peaks, Retezat National Park is considered one of the Carpathians' most naturally beautiful regions. Wolves, wildcats, chamois and red deer are all known to inhabit the protected primeval forests with several local communities still living traditional agricultural lifestyles surrounded by steep terraced valleys filled with birds and butterflies.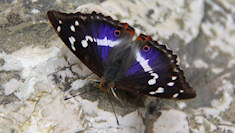 Slovak Paradise National Park
Boasting over 300km of walking trails, many of which include ladders and footbridges, Slovak Paradise National Park is one of the best loved regions of the Western Carpathians and definitely justifies the name. A succession of caves and waterfalls help to create an intensely fantastical experience with Slovakia's highest concentration of butterflies just a wing's tip when it comes to wildlife.