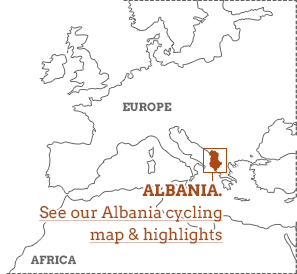 Cycling instantly places you in an environment rather than watching through a window. Imagine being able to explore by bike in unknown landscapes dominated by undulating peaks and troughs; pungent black pine forests and sun dappled chestnut groves. Albania is 70 percent mountains; it's the first thing you see when you fly into Tirana. So it should come as no surprise that a small group or self guided cycling holiday is going to include more than one or two ups and downs. Albania also boasts borders with Greece, Macedonia and Montenegro, as well as a Mediterranean coastline featuring communist-era fishing villages and resorts like Sarandë.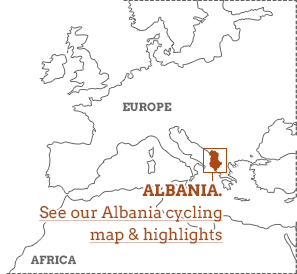 Self sufficiency is what Albanians do best and cycle groups are welcomed with a warming glass of
rakija
(fruit brandy) and a home-cooked meal made from home-grown produce.

Being on a bike gives you the freedom to experience authentic Albania from a unique perspective. You can hop off and hop back on again whenever you feel like it – try doing that on a coach or cruise ship. A cycling holiday also leaves minimal impact on the unspoilt valleys and woodland you'll visit, as well as helping to preserve towns and villages away from the capital and coastal resorts. Qualified guides, back up vehicle drivers and accommodation owners are all encouraged by the boost that cyclists bring to regional economies. Road maintenance and rebuilding projects by local governments are also in place to meet the influx of travellers interested in exploring inland. It's this sort of tangible impact that cycling holiday makers bring to the party. They're not all just focused on wrap round shades and Lycra, you know.
Read on for more in our cycling in Albania travel guide.
Cycling in Albania is…
like pedalling into a mysterious, mountainous land where everything's homemade and local people meet you like long lost friends.
Cycling in Albania isn't…
about five-star hotels, zero gradients or racing to the front of the pack. You can take diet out of your dictionary too, while you're at it.
What to expect when cycling in Albania
Albania's roughly the same size as Belgium but whereas the latter is relatively flat, Albania's undulations are the equivalent of a tousled continental quilt on a Sunday morning. Cyclists looking for a moderate to tough challenge – get excited!
The jagged peaks of Prokletije (the Albanian Alps) straddle northern borders with Montenegro and Kosovo like a gnarled set of gnashers to ensure the 'Accursed Mountains' live up to their fearful reputation. Cycling across the Montenegrin border on a self guided tour allows you to enter Albania from above the lakes where panoramic views over the mountains pave the way to what lies ahead. This is a land where ancient blood feuds (gjakmarrja) have stained the scenery and still to this day you'll find tiny locked towers (kullë), which were once the only safe havens for those on the run from retribution.
Thankfully, northern Albania is no longer held in the grip of gruesome gripes and you're just as likely to be welcomed into traditional border villages, like Ostros and Ostrog, as you are to big cities, such as Shkodër, which spreads like lichen across northern mountain foothills.
Natasha Black, from our small group holiday experts Exodus Travels, introduces their cycling guides: "It's quite a challenge to find local cycling guides in Albania. Often young people will look for work at the resorts on the coast or in Tirana. There are just not a lot of employment choices for Albanians living in the mountains. We guarantee employment for local people as we know they're the best people to show you around their country. The guides that we use are local Albanians that love nature and just love being outside. They have to undergo six months of training with the ministry of tourism to become fully qualified. Guides like Arjan, for instance. He used to be in the Albanian army, Special Forces, but now he loves to show people around Albania by bike or on foot. You're in safe hands with Arjan, as you are with all of our guides and drivers."

Your cycling guides will be able to tell you more about the landscapes and the culture of the places you'll visit. They'll furnish your journey with stories, like this from Junid, an Albanian cycling guide who works with our small group cycling specialists Exodus Travels: "There was a couple who moved to the mountains to start a farm. They lived in a tent for the first year whilst the farmhouses and guest cabin were being built. One day they were out at the market and came back to find their tent had been ripped apart by wolves. It's very rare for wolves and bears to come near farms or roads in Albania. They prefer the dense forests away from humans."

Just to repeat: it's very rare to see wolves, and bears, in Albania. I mean, they're there, in the Alps, but they just don't tend to come anywhere near humans. In fact, even though you will be cycling in very isolated areas, don't expect wild animals to be appearing around every bend. You might chance upon a herd of wild goats, perhaps, or even the occasional eagle wheeling overhead, just don't anticipate anything larger.
Cycling south
Long, winding tarmac roads and several steep climbs make the crossing from Montenegro into Albania a moderate to challenging ride. Take your time to enjoy the experience, as a whole, rather than racing ahead. Give yourself moments off the saddle to watch for movement in oak and beech forests (you never know) or marvel at prominent peaks that appear from the ground like the sharpened knuckles of a giant's clenched fist.
The further south you cycle the more Mediterranean the landscapes and the climate becomes. Pogradec, on the shores of Lake Ohrid, provides a well-placed point to climb up and into the barren border mountains shared with Macedonia. Other routes from the rocky plateau overlooking Lake Ohrid include a lengthy descent to the shores of Lake Prespa that straddles not only Albania and Macedonia but also Greece.
Cycle to the southwest of Albania via the Muzina Pass (580m) and there's another dreamy descent towards one of the less well known darlings of the Ionian Riviera, Sarandë. I say lesser-known, but trying telling that to those Albanians escaping the capital, Tirana, every summer. For them Sarandë signals sand, sea and sangria. For cyclists, it's more likely to offer an overnight rest before riding the rest of the Riviera in search of communist-era fishing villages, shaded black pine forests and sea views from the Llogara pass (1,043m).
Junid is an Albanian cycling guide who works with our small group cycling specialists Exodus Travels: "Our cycling tours are usually 50 percent in the mountains and 50 percent along the coast. This allows cyclists to see Albania, as a whole, and spend time in small villages, surrounded by nature. We basically follow an old Italian military route through the mountains from Tirana. More people are starting to see the benefits of tourism, and not just along the coast. The potential for tourism inland is huge and the reconstruction of the mountain roads will eventually lead to even greater numbers reaching more remote and previously isolated areas of Albania.

"Cycling as part of a small guided group (max 16 cyclists) or on a self guided itinerary provides practically zero impact on the environment and maximum chances to meet local Albanians. Some of the routes that we recommend have literally only opened up because of our cycling tours. This allows sustainable tourism businesses to expand gradually and local governments to pay attention to the upkeep of roads and infrastructure in remote rural areas.

"When we first started our cycling tours 10 years ago there was no one using the roads in the mountains other than local people travelling between farms and villages. As we started to become regulars on the road we made friends with local people along the route. The couple mentioned above that had their tent eaten by wolves started with one wooden cabin to accommodate just four guests. Ten years on they now have 200 cows, 10 cabins and a working trout farm. They also employ six local people to help the family with cooking and cleaning. Every year they reinvest their profits into their farm. It's this sort of local business that benefits from our cyclists, and also what our cyclists like the best."
Self guided cycling in Albania
On a self guided cycling tour, the freedom that you experience on a bike is matched with maps, detailed route notes and luggage transfers between locally-owned guesthouses. Emergency 24-hour support allows you the confidence to cycle on your own but also brings the benefit of local knowledge that you won't find in the guide books. You can also decide on the difficulty of the terrain although, bear in mind, Albania is 70 percent mountains so there will be plenty of ups and downs, even if you're just sticking to the coast.
Small group cycling Albania
Cycling as part of a group (maximum 16) is a great way to pedal alongside people of a similar mindset as well as having opportunities to socialise when saddles have been safely stowed. Local cycling guides, such as Junid from our specialists Exodus Travels, know the roads very well which allows you to enjoy the ride rather than worrying about what's waiting around the next bend. Guides have also built up relationships with guesthouse owners and self-sufficient farmers so they understand just how important your presence is for sustainable tourism.
Junid says, "Our tour groups are often from similar backgrounds and like similar things. They're from cycling clubs back home or have friends and family who like to cycle with them at weekends. It's these sorts of like-minded people who are helping to spread the word. Albania is still a mystery to many but once you've visited you'll want to come back."
Guides also know where the pot holes are to avoid and when a lengthy ascent is coming up. A support vehicle follows along behind to transfer your luggage and offer a lift, if needed. "Our groups cycle, on average, 70km per day on often quite challenging gradients," says Junid. "You're going to be cycling up and down hills to little villages and over mountain passes. Groups are always followed by a support van. If a cyclist wants to miss out an ascent but cycle down the other side then this is always possible. But you need to know that cycling holidays in Albania are going to include mountains. Take 'flat roads' out of your dictionary."
This type of tour is ideal for solo cyclists. It encourages camaraderie at a conversational pace rather than a head-down, every-person-for-themselves sort of attitude. If you are thinking of joining a group as a single cyclist then you certainly won't be alone. You also might have the chance to pay a supplement for your own bedroom, depending on the size of accommodation, or you can bunk in to a twin room with another member of the group of the same sex.

Local bike hire will be included on self guided and small group tours although you're advised to bring your own helmet, padded shorts, cycling clothing and gel seat to ensure complete security and comfort. E-bikes can also be hired locally in Albania as long as you request this option in advance.
Making inroads
"Albania is growing gradually to accommodate tourists. Most of the small cycling groups that we have are interested in nature and experiencing the peaceful life in the mountains. We don't have big all-inclusive hotels or five-star services. We offer a chance to see nature intact and to provide a benefit for people living in remote regions. We help to create employment and also to improve the infrastructure to support greater numbers of visitors. We don't want to ruin what we have and neither do our tour groups. The local government, too, is also taking note. Road maintenance and rebuilding projects are hot topics in recent local elections." – Junid, an Albanian cycling guide who works with our small group cycling specialists Exodus Travels
Our Albania cycling Holidays
If you'd like to chat about Albania cycling or need help finding a holiday to suit you we're very happy to help.

Best time to go cycling in Albania

Rushing melt-water rivers signal the start of Albania's cycling season in April, but hang on until autumn and you'll be treated to hearty harvest feasts to keep you pedalling through pines and over peaks.

Either side of July and August is the best to go cycling in Albania, especially down south. It's just too hot otherwise and roads can get crowded, although nothing like other areas around the Med. Inland, up on the Llogara Pass (1,043m) and Barmash Pass (1,159m), for instance, temperatures will feel slightly cooler in summer although early starts are still recommended to avoid the midday heat. Cycling in April will require a few extra layers but crisp blue-sky days in the mountains are just the best. May and June find wildflowers decorating alpine meadows whereas late September and October are all about the harvest where steaming bowls of spicy bean and butternut soup welcome you back to base – just don't forget your waterproofs; for the weather, not the soup.
Cycling in Albania, month by month
The start of the year is not the best time to go cycling in Albania, although you'll find a different side to seaside hot spots like Sarandë once seasonal workers and sun worshippers have skipped off back to Tirana. Obviously the higher you go in January and February the colder it's going to get, but the main mountain passes in the south, Llogara and Barmash, generally remain open despite the threat of snow. Cycling against a backdrop of snow-capped mountains can be a real treat, especially on a blue sky day, and April tends to be the start of the cycling season for small groups as March is still too cold and wet. Now, May is a much more comfortable month for cyclists to take to the roads around the southwest coast and the southeast border with Greece. Melt-water rivers and waterfalls are at the peak of their powers whilst mountain meadows are starting to sing with wild flowers including lilies, orchids and geraniums. June is definitely heating up, especially on the coast and in the valleys. July and August, meanwhile, are off the scale and almost worth avoiding unless you can stick to early starts and shaded black pine forests higher up the mountain slopes. September can also be fairly hot although seasonal showers and constant sea breeze can cool things down a tad – don't forget your waterproofs – especially towards the end of the month and into October. Autumn is an extremely industrious time of year for Albanians living off the land in the mountainous agricultural regions of the south. Olive and grape harvests coincide with steaming bowls of bean and butternut broth to provide a warm welcome for cyclists after a bracing, dry day (hopefully) outdoors. Darkness and damp descends in November and December, so it's not the best time of year to go cycling, although tailor made tours still run and some accommodation is open and extremely affordable. From Junid, an Albanian cycling guide for our small group specialists Exodus Travels: "It's still lovely and warm in southern Albania at the end of October. Ideal weather for cycling. Basically, either side of July and August are the best months to go cycling. April, May, June or September, October. We often get requests to cycle in the summer but it's way too hot. And crowded. Albanians take their vacation at this time of year, so the coast and the mountain roads are much busier."
More about Albania cycling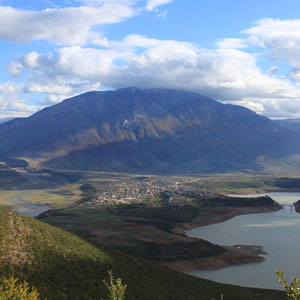 Pedal over the alpine passes of the Prokletije mountains before heading down through the Black Drin Valley and further south to Butrint National Park, close to the border with Greece.