Berbers are, for the main part, practising Muslims
, and so do please respect their culture. You will hear the Muezzin, or call to prayer, sometimes five times a day, or you may just see someone rolling out a prayer mat and preparing to worship if you are in someone's house, shop or passing by. Please give Berber people the peace and time to worship. Also, during Ramadan, it is important to remember that this is a time of fasting. Your guides or hosts may choose to sit somewhere else during your meal breaks, for example, so it is worth remembering to be sensitive to this. And also remember that they may be a little more tired than usual.
In Berber culture, the
left hand is considered unclean
. It is traditional to exchange food or money with the right hand, and shake hands with this one too.
The traditional greeting is to shake hands and sometimes give two kisses, but only between two people of the same sex.
A women will traditionally hold out her hand to be shaken
, and until that point a man won't offer a physical greeting, but bow his head instead.
Please be very respectful when photographing people
. Take your time to get to know them a little first, and then always ask if it is OK. Ideally without sticking a camera in their face and giving them little choice.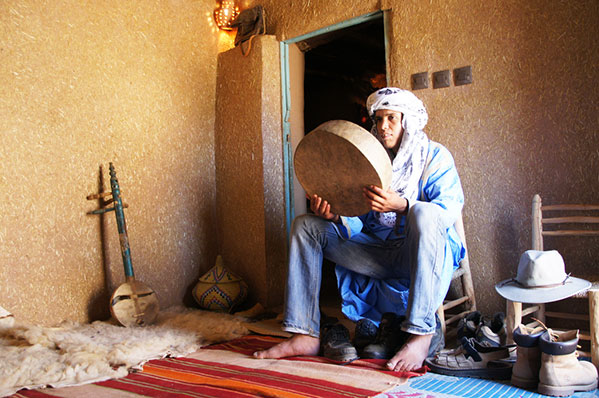 Even though you are only an hour or so from the big city,
the etiquette of dressing modestly
definitely applies in the Atlas Mountains. It should also apply in the cities but tourists are forgiven more easily in the city. In mountainous rural areas, wear long trousers, keep shoulders covered and so on.
Support the work of and read all the information on the Imlil Valley Association
website, a network of people working tirelessly to ensure that tourism is of the responsible kind in this gateway to the High Atlas village. Founded by Chris McHugo from our supplier Kasbah du Toubkal, one of its most impressive projects is
Education for All
, which provides education for Berber girls after primary age. They always welcome donations and you can also volunteer as an education expert there on one of our holidays.