Best time to visit Austria

You may not be joining Ball Season in Vienna, but you'll still have a ball snowshoeing in East Tyrol in January.

If snow is your thing, late Nov-April is, on average, perfect for frosty fun. Austria likes its rain, so always bring an umbrella just in case. June-Aug bring beautiful summer weather, particularly the further south you go, but never too scorching. Of course the high mountains are always cooler, but with risks of lightning in summer. Christmas and New Year in Austria are magically festive, with glühwein and Christmas markets everywhere you go, no matter how remote. Hike in autumn to catch the wine harvest, with many festivals to accompany it.
January, February and March are the snowy seasons in Austria – the snow is near-guaranteed by this time, making Austria's famous ski resorts very busy. If you're looking to snowshoe and cross country ski, you can book holidays to do both up to the end of March. April is the start of the walking and cycling season along the Danube. In the higher mountains, the snow won't have fully melted, so wait a little longer for the best hiking conditions. April is the month with the highest avalanche risk, due to melting snow. Between April and May, cities like Vienna undertake 'spring cleaning'. Citizens band together to clean their public spaces in preparation for the busy tourist season, and thousands take part. May is a traditional holiday in Austria – villages raise maypoles, brass bands perform – and it's the start of the hiking and cycling season in the Alps. June is the best time to see wildflowers – look out for beautiful blue gentians in the Alpine meadows. Go on a photography holiday in June to capture the flora at its most fabulous in the Kaunergrat Nature Park. In East Tyrol, don't be alarmed to see flaming torches burning in patterns on the mountains. The Sacred Heart Fires are a long-standing tradition in some Tyrolean villages. Snow can last on the Alps until June – and the first winter snowfall can fall as early as September. If you want to climb Austria's highest mountains, or indeed have your sights set on the lofty Grossglockner, the season to do so is shorter – get high from June to mid-October, when the weather is best. From July to August, Salzburg is particularly busy because of its world-famous classical music festival so you can listen to Mozart among the mountains. Evenings are often thundery in the mountains – it's not the percussion section, but summer storms. In September, alpine villages celebrate the cattle returning safely from the mountains. There are festivals organised around the large cattle drives, with people celebrating until the cows come home... October is normally the latest month for walking and cycling holidays – and walking when the valleys are fully in thrall of autumn can be wonderful. In Kawendel the sycamore trees scatter a confetti of orange leaves on the walking trails. November is a difficult month – as there isn't always snow on the ground just yet, but the weather isn't always great. In towns like Innsbruck and cities like Vienna, Christmas Markets infuse the season with cinnamon-heavy festive spirit. If you travel in December you can expect snowfall, but it's not guaranteed that there will be good powder everywhere you turn. Most winter sport trips start in December; the higher the better is probably the best at this time of year.
Things to do in Austria
If you want to escape the piste posse, cross country skiing is one of the most exhilarating ways to see Austria. Having hosted the Winter Olympics twice in Seefeld, they are experts at creating trails that lead you into wild, winter wildernesses. There are over 300km of cross country skiing trails in Seefeld alone. In the Alps, the Stubai and Zillertal Mountains conceal even more remote snowscapes, with frozen lakes and blanketed meadows creating the most serene holiday on ice. And Austrians love their spa hotels – so there is always a sauna waiting at the end of the day.
Hiking can be done summer and winter, to varying levels. The North Austrian Lakes aren't at the same elevation as, for example, the Hohe Tauern National Park, where peak after peak beckons. But they will elevate your spirits for sheer aesthetic perfection alone. Hiking along the River Danube is iconic, as you amble along this vast artery that cuts through the heart of the country. And the Tyrol is steeped in tradition and a whole other culture, with strong Italian influences and superb food.
Austria is one of Europe's most cycle friendly countries, with a wonderful choice of ways to see it from the saddle. Going with the flow along the Danube, passing ancient monasteries and wineries en route, pedalling Von Trapp style through the Tyrol, maybe not climbing every mountain, but definitely enjoying the edelweiss. The northern lakes are flatter and more full on in terms of Austrian kitsch, with pretty taverns, coffee shops and fairytale castles – plus swimming areas to cool off in.
Things not to do in Austria
Leave it until you are retired. It's not all Mozart and moseying around coffee shops in Austria. The hills are very much alive with music, and you can do the veritable Von Trapp thing so easily as it has a super-efficient, family friendly infrastructure of hiking and cycling trails, expert guides and so on. More adventurous teenagers have white water rafting, climbing and canyoning to enjoy too. And if that doesn't have them pumped, the hot chocolates and copious cakes certainly will.
Try and tackle high mountains in winter without a mountain guide if you are snowshoeing or cross country skiing. You need support and local knowledge and there are plenty of excellent guided holidays out there that take you into wilderness wonders. Because you just don't mess with the mountains. And in general, stay clear of downhill. Environmentally, and often economically, they are a slippery slope.
Mention The Sound of Music. Seriously. Most Austrians don't care about it, or have even seen it. Nor have they yodeled or worn lederhosen. It is a proud and polite nation. But not when you ask them if they can solve a problem like Maria. Sorry, couldn't resist.
Our top Austria Holiday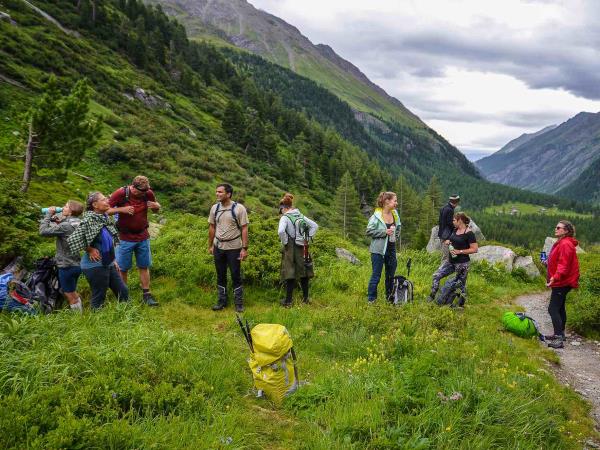 Daily yoga, stunning alpine hiking, delicious food.
From
€980

to

€1080
7 days
ex flights
Small group travel:
2022: 13 Aug, 20 Aug, 27 Aug, 3 Sep, 10 Sep, 17 Sep, 24 Sep
If you'd like to chat about Austria or need help finding a holiday to suit you we're very happy to help.

Festivals and events in Austria
Cattle drives
Austria's farmers move grazing livestock depending on the seasons – a practice known as transhumance. The herds and flocks are driven up to the high alpine pasture in spring, and then back down to the lowlands in autumn. Communities celebrate the safe return of their cattle, sheep and goats from the mountains in September, and the valleys ring with cowbells.
Responsible Travel recommends
Nicola Croom, from our specialist holiday company World Expeditions, has this advice for when to cycle on the Danube: "Overtourism is not an issue yet on the Danube Cycle Path, however the months of July and August are typically busier than the shoulder season (April-May and September-October), as this is when most Austrian people tend to go on holiday; if you want to avoid the crowds it is better to travel earlier or later in the year, in spring or autumn."