Austria is most definitely about mountains and music. Just like a symphony, it has everything thrown into its musical mix: Alpine peaks, with Grossglockner the highest in Hohe Tauern National Park, boom out like a rousing brass section. The serene lakes of the north are the strings section, a series of soothing, tranquil movements that you can walk or cycle through in total awe of their purity and pitch perfect beauty.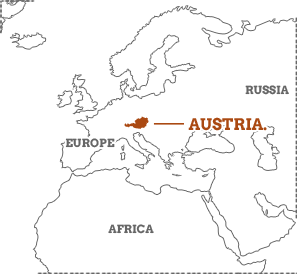 Download lots of Mozart before you come hiking here on your MP3. He does rousing well, as do his beloved native landscapes

The wind section is Seefeld, with its Olympian action filled winter sports history, but each village and valley proffering its own perfect concerto, but plenty of places to grab solo moments, cross country skiing away from the crowds. The Tyrol is percussion, quirky and independent, but totally unmissable. And the Danube is like the composer, weaving through it all masterfully, bringing together the most harmonious holiday.


Austria is...
like the Swarovski Crystals that are made here. Pure, dazzling, clear and simply beautiful.
Austria isn't...
just for winter holidays. It has one of the most superb hiking and cycling networks in Europe.
What we rate and what we don't in Austria
Cross country skiing
The sport often plays second fiddle to downhill skiing in Austria, but it's a lovely way to interact with the landscape. Cross country trails are far more peaceful, and you don't need to rely on ugly mountain infrastructure, fake snow or expensive lift passes to get going. Look out for foxes, weasels and hares, all wearing winter white.
Hohe Tauern National Park
Hohe Tauern National Park in East Tyrol is amazingly wild. Its famous centrepiece is the enormous Grossglockner, tallest in Austria – though there are actually hundreds of peaks pushing 3,000m in the park, which have the nice effect of scattering visitors, so you can find plenty of unexplored corners. Golden eagles flourish here – you'll have to ask one of them what the best view of the landscape is.
Family holidays
For some reason, Austria has a reputation for attracting the over-65s – which is great, but people of all ages can get involved in the sporty side of the Alps. Austria's landscape self-shaped itself into a natural theme park: try rodelling – tobogganing – in winter, and canyoning in summer.
Hiking
Well, you wouldn't want to run up the Alps, would you? (Although you can – check out the Grossglockner Ultra-Trail). Hiking used to be the only way to get across the Alps if you weren't Hannibal – and it remains one of the most rewarding ways to see the landscape. And contrary to what you might think, you don't have to be super-fit to climb, as there are chairlifts to the top.
Salzkammergut
It seems universally true that when a country names a region its 'Lake District', that region turns out to be extra-pretty. Austria's Salzkammergut is just east of Salzburg, its glacial lakes perfectly reflecting the church spires and colourful facades of the wealthy towns on their shores. Halstatt owes its architecture to the profits of salt mining, whilst Bad Ischl is a spa town. It's a well-trodden region, but cycling can get you away from the crowds and catapult you into glorious mountain scenery.
Tyrol
The Tyrol region seems more Austrian than Austria. Here, every village is its own rich world and accents can change from valley to valley. There's a lot of money in the area, thanks to posh resorts, but the trails are as rocky and rugged as you'd wish. Explore from Achenkirch village to reach the Kawendel and Rofan Mountains.
Skiing on fake snow
Austria counts itself as one of the world's snow-sure skiing destinations. Skiing is big business here, and to deliver on the promise of pristine skiing conditions, a lot of money has gone into top of the range snow-making machines. Some 70% of Austria's slopes can now be covered with artificial snow. We think
fake snow is a no go
. It's costly and uses a huge amount of water. Exploring the natural environment regardless of the weather is far more rewarding.
The Sound of Music
Some people's only impression of Austria comes from a 1965 Rodgers and Hammerstein musical about a nun who finds love – and forms a family of Nazi-evading singers. It's the equivalent of thinking Hairspray is an accurate depiction of modern-day Baltimore, or The Mikado modern-day Japan. Whilst the Von Trapp family were real, their story is very different from the film. Most Austrians have never heard of the film, and are baffled by the Sing-a-Long tours in Salzburg.
St Anton
Surely one of the most glamorous of the Tyrolean ski resorts, St Anton's reputation has meant it's an expensive crush of swishy salopettes and real fur headbands, lots of Stag Parties (sometimes earning it the nickname 'St Manton') and astronomically expensive restaurants, spas and après ski. Seefeld, round the corner, is a better base, and also particularly nice for summer hiking.
If you'd like to chat about Austria or need help finding a holiday to suit you we're very happy to help.

Food, shopping and people in Austria
Eating and drinking in Austria
From a rich landscape comes a rich cuisine. Austrian's classic dishes are based on the kinds of things that you'd want to eat having spent a day hiking: hearty, meaty, with plenty of dairy.

Treat yourself to coffee (served with cream) and cake (more cream here) at 3pm – both very integral to the Austrian constitution. Then, when dinner rolls around you'll find nothing hits the spot like Käsespätzle, which are egg noodles simply smothered with mountain cheese, or 'Brettljause' – a farmer's platter with wafer thin slices of smoked meats, which beats a Ploughman's hands down.

When it comes to drinking, Eiswein (ice wine) is a delicacy, whilst continental lagers like Bavarian weissbier – wheat beer – are consumed in abundance from attractive glass tankards. East Austrians drink their wine at Heurigers, out-of-town taverns specialising in bottles from the local wine regions.

In Styria, south Austria, you can buy nutty green pumpkin seed oil – it looks unctuous and black but it's dark green when poured out, and makes an amazing dressing.

People and Language
The official language in Austria is Standard Austrian German, which is close to standard German, bar a few bits of vocabulary. Most people speak Austro-Bavarian dialect at home – it's difficult for speakers of High German to understand, whilst Austrians will understand High German just fine. Many people speak English, too, but don't count on it. Luckily, a 'wow' when you are at the top of the mountain is universally understood – amazement is the lingua franca up here.

May God greet you: Grüße Gott (sometimes shortened to 'sgott')

Goodbye: Auf Wiedersehen

The bill, please: Zahlen, bitte!
Gifts & shopping
It's not all dirndls and cowbells. After a week of wearing felt slippers in your guest house, you might be a house-shoe convert and need to buy a pair of your own – look out for slippers made using local felt. Christmas decorations make charming presents and, if you're feeling particularly generous, you might find Swarovski crystal versions. Swarovski isn't the only glitzy glassware manufacturer in Austria – there's Riedel stemware, too – these high quality wine glasses grace restaurant tables across Vienna. One thing you'll be sure to find at every airport and gift shop are Mozartkugel, chocolate and marzipan treats from Salzburg, Mozart's hometown.

Austrian history should start with Oetzi – a 5,300 year old Stone Age man found frozen in a glacier in the Oetz Valley. He's one of the best-preserved examples of Stone Age man, and sports 57 tattoos.

How much does it cost?
A weissbier: £5

Wiener schnitzel: £10-£15

Big bag of Mozartkugel: £7.50


A brief history of Austria
Austria was initially settled by Celtic tribes, before becoming part of the Roman Empire until its fall in the 5th century BC. Charlemagne of the Holy Roman Empire (note: different from the Roman Empire) conquered the area in 788 and spread Christianity, and then a couple of hundred years later, Austria got its name, Österreich – Eastern Realm, under the House of Babenburg. However, Austria's most important ruling family came 300 years later.
Skip ahead, to Rudolph I of Germany, who ruled Austria from 1278. His house, the Habsburgs, remained in power in Austria for the next 640 years – extraordinarily, all the way up until the end of World War I. This enormous house married into many royal families across Europe. There were Habsburgs everywhere from Spain to the Netherlands. Even Marie Antoinette was one (but we'll get to that later). In 1542, the Habsburgs became Emperors of the Holy Roman Empire, and gained control of territories as far as Spain and southern Italy.
Read more