Part of what makes the Tyrol so special is its backdrop of A-grade mountains – but that's only part of it. It's a place where mountain huts cut strange figures on the mountainside after the snow has melted, their wonky foundations jutting off the slopes. It's a place where every village has its own brass band, and there's always a half-drunk bottle of apricot schnapps on the side, ready for hosting duties. It's a place where at least 30 percent of all farms are organic, and farmers still find scythes the best way to cut the grass. Here, every autumn is marked by the parade of cattle coming down off the mountains, decorated from horn to nostril with flowers and bells, to mark their safe return from the high pasture.

Austrian writer Ludwig Steub praised the 'blue battlements' of the Tirolese mountains. You might also praise its apricot schnapps.

The Tyrol is famous for winter sports – particularly skiing, which was 'invented' in its modern form in St Anton. But come to the area in the summer and you'll experience a very different side. The chairlifts and cable cars are still running, but now they transport you into a paradise of meltwater and meadows. You can hike to your heart's content, and never run out of trail.
It can be hard to pin down this state when you first read about it: the Tyrol, or North Tyrol, to be specific, is a thin corridor through the mountains, just below Bavaria. Innsbruck, its state capital, is famous for being ski-season central. If you look on a map you'll see that East Tyrol appears, separate and smaller, below Salzburg. It's smaller, but East Tyrol shouldn't be overlooked. It's home to the Grossglockner, Austria's highest mountain, and the High Tauern National Park which contains it. There's also, confusingly, South Tyrol, but this is Italian. Unless specified, Tyrol in Austria refers to North Tyrol.
Achensee
Achensee is the largest lake in the Tyrol region. It's very long and very skinny, trickling through the Tyrol like a larimar-coloured fjord. In summer its shores are as close as Austria gets to beach-like. Climb Rofanspitze, a big peak above Achensee, it's a solid 2,259m above sea level, and views from its cross-topped summit are very memorable.
High Tauern National Park
The High Tauern National Park in East Tyrol is one of central Europe's biggest national parks. It's a great setting for Austria's highest mountain, the bulky, snow-topped Grossglockner, which attracts Europe's ambitious mountaineers. In its foothills, farmland and settlements are replaced by glaciers and waterfalls, and golden eagles, ibex and rare bearded vultures roam unchecked.
Innsbruck
The capital of Tyrol, Innsbruck is a cosmopolitan, historic city which would be beautiful even if it wasn't surrounded by alpine wonderland. The Zaha Hadid-designed Nordkette funicular connects the city with the mountains, telling you all you need to know about the city's reputation as a glamorous ski resort. Nearby is the smaller town of Seefeld, a walker's paradise.
Karwendel Alpine Park
Between Innsbruck and Achensee lies the Karwendel Alpine Park. This beauty spot is especially attractive in autumn when its native sycamore trees turn orange. It's famous for the Goetheweg Trail, part of the long distance Eagle Walk. This hike takes you above Innsbruck, so you can look down over the city from the remote mountains.
Lienz
Innsbruck's East Tyrol equivalent, the small city of Lienz sits on the confluence of the Isel and Drava rivers. It's a pretty city which still has some medieval portions, like the imposing height of Bruck castle, and attractive onion-domed roofs. Its position in the southern side of Austria adds to its appeal: the weather is often rather nice and sunny.
Oetz Valley
This little valley is bang in the middle of the Tyrol, separating the Stubai and Otztal Alps with a tract of shockingly green pasture. Travelling its length, you'll find the Tyrol's highest waterfall and tallest mountain. The Oetz Valley is a good base for family activity holidays – all those steep slopes make for vertiginous via ferrata, cool canyoning and breathless toboggan runs.

Tirol or Tyrol? In German it's the 'Tirol' – 'Tyrol' is the anglicised version.

Our top trip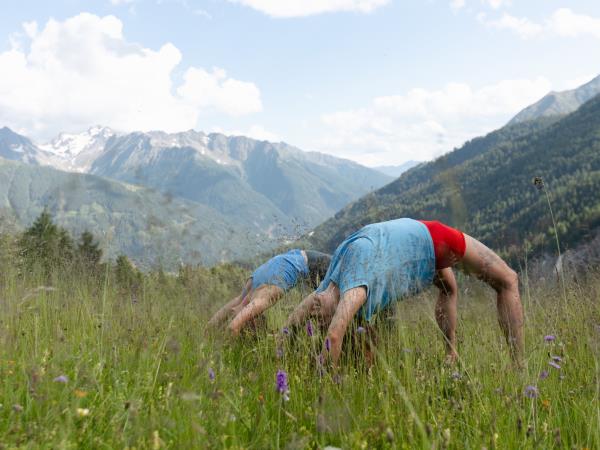 Daily yoga, stunning alpine hiking, delicious food.
From
€1095

to

€1295
8 days
ex flights
Small group travel:
2024: 1 Jun, 8 Jun, 15 Jun, 22 Jun, 29 Jun, 6 Jul, 13 Jul, 20 Jul, 27 Jul, 3 Aug, 10 Aug, 17 Aug, 24 Aug, 31 Aug, 7 Sep, 14 Sep, 21 Sep, 28 Sep
If you'd like to chat about Austria or need help finding a holiday to suit you we're very happy to help.

Things to do in the Tyrol
Summer
Tyrol is a skiing region, but increasingly, as climate change makes ski seasons shorter and less predictable, it's even more important that the region diversifies. Coming in summer, when the snow has melted, you will see the Tyrol's glorious topography for what it is: essentially, a giant playground. It's great for family activity holidays and for energetic hikers. Cyclists whoosh along defrosted roads, while
yoga retreats
bask in the sunshine.
Winter
Those snow topped mountains aren't just for decoration – get up there! Tyrol is synonymous with Austria's best skiing.
Snow shoe
and cross country ski instead – these sports help you reach areas you'd not be able to get to any other way. In snow shoes you're practically unsinkable, meaning you can tackle fresh snow with ease, when regular walking would plummet you waist-deep in the drift.


Lottie Joynes from our leading supplier WearActive, talks about their base in East Tyrol
"Tyrol is quite an interesting county because it has changed hands quite a lot between different countries. East Tyrol is one of the most authentic regions, I would say. It's quite a traditional area and it's very Catholic. The valley we are in only got a road in the 1950s, before this it was very closed off and because of this it still feels very traditional and there are lots of festivals and events in the area."
The livestock in the Tyrol feed on hay that's rich with wildflowers and herbs – it's so fragrant that the cattle that graze on it produce a special milk, heumilch or 'hay milk' that makes amazing dairy produce. Heumilch is a resoundingly clear benefit that comes from non-intensive, traditional farming methods.

Even without the haymilk, you won't go hungry in the Tyrol. Tyrolean cuisine is famous for being hearty, perhaps a little heavy, and filled with dairy and meat. A normal lunch dish is kaiserschmarrn, a huge mass of shredded pancakes, which was a favourite of Franz Josef I, one of Austria's more memorable royals. He was emperor; he could have what he wanted for lunch.
People sometimes think of Austrian national dress when they think of the Tyrol – dirndls for women (in Austro Bavarian dialect it's 'diandl'), and lederhosen for men. It's used as a costume around Oktoberfest and might also be seen on staff in some restaurants. It's used for events like Dirndlspringen – a comedy diving contest in full costume, so it's not got the same cultural cache it used to have. Whilst no one in the area is likely to dress up on demand, it's lovely to see when you do spot it in use.

Lottie Joynes from our specialist holiday company WearActive describes a traditional lunch in East Tyrol "The Tyrol region is famous for being heavy – lots of cheese, ham and bread – great for hikers. East Tyrol has interesting food. You'll see a lot of knödel: bread dumplings stuffed with cheese, cheese and spinach, cheese and ham… you can sense a theme here! There's also kaisershmarrn – (shredded pancakes) eaten with apfelmuss (apple sauce). You'll find this everywhere. It's a dessert but it's always massive so you won't be able to eat anything else."