Things to see & do in Vilnius, Lithuania
A tumbling maze of cobbled streets weave among the red-tiled roofs of the medieval UNESCO-listed Old Town of Vilnius, Lithuania's compact and bohemian capital city. On stylish Gediminas Avenue, boutique shops and upmarket cafes lie in the imposing shadow of the neoclassical Vilnius Cathedral, while ornately-decorated baroque churches stand tall alongside modern art galleries and a sobering museum documenting life under the Iron Curtain in the ex-KGB Headquarters.

This is a city that wears its history proudly, overseen by the red-brick hulk of the Gediminas Castle Tower. In Cathedral Square two simple plaques mark the spot where in 1989 the Baltic Chain of Freedom – two million people holding hands unbroken across the three Baltic States – connected Vilnius to its fellow Baltic capitals Riga in Latvia and Tallinn in Estonia in a peaceful, yet powerful statement of independence from the Soviet Union.
Vilnius' history
Before World War II, Vilnius was one of the largest Jewish centres in Europe. By the end of the war, around 95 percent of its Jewish people had been wiped out in the Holocaust, but not before enduring life in two cramped ghettos in the Old Town. Wander through the narrow cobbled streets to the west of Didžioji Street, up to Dominikonų and Vokiečių Streets and you'll come across plaques marking the locations of the Small and Large Ghettos, and to the thousands upon thousands who were sent to concentration camps, or into the Paneriai Forest to die when the ghettos were liquidated in 1941 and 1943 respectively.

Post-war life in Vilnius under Soviet rule is brought into terrifying reality at the Museum of Occupations and Freedom Fights housed in the former Gestapo and KGB headquarters. A stark contrast to the culturally free, artistic Vilnius emerging today, its prison cells and torture chambers have been preserved exactly as KGB agents left them in 1991 – while other areas of the museum tell of Lithuanian partisans' fight for freedom and independence.

In Cathedral Square, the Stebuklas or miracle tile is one of two pavement plaques which mark the southerly end point of the Baltic Chain of Freedom and the beginning of Lithuania's independence, and it's said to have magical powers. Stand on it, spin three times clockwise and any wish 0ou make will come true. For more medieval history climb last remaining part of the Upper Castle, the red brick Gediminas Tower which stands proudly over the Old Town for a panoramic view across the city and River Vilnia.
The independent Republic of Užupis
"Everybody has the right to live by the river River Vilnelė, and the River Vilnelė has the right to flow by everyone." So says the first line of the constitution of the independent Republic of Užupis, Vilnius Old Town's former Jewish neighbourhood 'beyond the river' which was left abandoned after the Holocaust and neglected during the Soviet Era. Until Lithuania's independence, run down Užupis lacked most basic facilities or utilities, with derelict houses becoming squats for artists and the homeless. Even today, a regenerated Užupis still retains a strongly bohemian, artistic flair, and celebrates its independence – perhaps slightly tongue-in-cheek – on 1st April each year. Explore its winding, mural-decorated streets and marvel at its off-beat constitution – proudly on display as you cross the river.
Art and culture
In its pre-war Jewish heyday, Vilnius was recognised as a place of great intellect and culture – the 'Jerusalem of Lithuania' – and with its emergence from Soviet rule, this legacy lives on. Take a walk down Literatų Street in the Old Town and admire its walls filled with a myriad of small artworks – metal plaques, halved ceramic tea pots, painted tiles – by local artists honouring Lithuanian literary greats. Visit the handsome, neoclassical Vilnius Cathedral and some of the city's exquisitely decorated baroque and orthodox churches, or alternatively head to the Mo Museum for a taste Lithuania's most up to date contributions to art and design.
Foodie delights
Vilnius has a burgeoning café and restaurant scene, but one that celebrates local produce and the region's foraging heritage, with mushrooms and wild berries a common sight on menus. A wealth of traditional restaurants serve up tasty Baltic treats such as zepellins, giant potato dumplings stuffed with pork mince or vegetables and served with a creamy mushroom sauce or šakotis, a spiky-looking cake created from batter dripped on a roasting spit over an open flame. Home brewing and craft brewing are popular too, and the region's traditional honeyed tipple, mead, is making a comeback. Be sure to try a sip (or two) of local fruit wine, too, packed with a wild strawberry, apple, blackcurrant or gooseberry punch.
Our top Baltics Holiday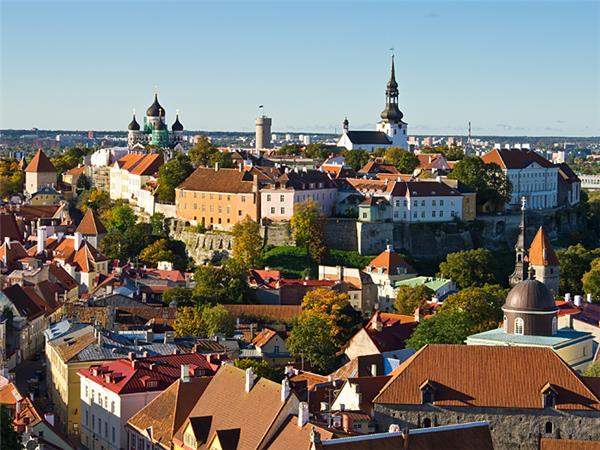 Journey through Estonia, Latvia and Lithuania in 12 days
From
£1899

to

£1999
12 days
inc UK flights
Small group travel:
2022: 13 Jul, 20 Jul, 10 Aug, 17 Aug, 24 Aug, 4 Sep, 7 Sep, 21 Sep
2023: 19 Apr, 7 May, 17 May, 25 May, 28 May, 8 Jun, 14 Jun, 18 Jun, 28 Jun, 12 Jul, 19 Jul, 26 Jul, 30 Jul, 6 Aug, 9 Aug, 16 Aug, 23 Aug, 3 Sep, 6 Sep, 20 Sep
If you'd like to chat about Baltics or need help finding a holiday to suit you we're very happy to help.

Vilnius' compact size means exploring on foot is easy, and its plethora of cosy cafés and beautifully-decorated churches means there's plenty of opportunity to rest weary toes. If you get lost however, you'll find most young Lithuanians speak English as a second language and will be happy to point you in the right direction, while their older counterparts tend to favour Russian.

Organised small group torus of around two weeks take in Vilnius as part of a wider exploration of the three Baltic States. You'll usually enjoy walking tours of the city with a local guide, before free time to wander at your will and visit whichever of the city's sights and museums take your fancy.
Best time to visit Vilnius
Short summers and cold winters characterise the weather in Vilnius, with the city particularly enjoyable in May or September, when the summer crowds that arrive between June and August have dispersed. You'll need to bring a brolly whatever time you travel as showers show up year round. Most small group trips run from May to September, with the odd December departure so you can see the Baltics over Christmas. Vilnius is magical now, with Christmas markets and a huge tree in Cathedral Square.