Walking holidays in the Baltics
"It felt like you were walking on a sponge." Barbara Bilgre, who travelled on our
Baltics walking holiday
, is explaining the unusual sensation of a unique activity: bog walking. "We got to wear these 'bog shoes', which I think are similar to snow shoes, and we just went hiking through this bog. It really was like walking on a sponge – kinda springy, water would seep through and sometimes your feet might get a little bit wet."
While in many European countries natural peat and wetlands have largely disappeared, bogs are a major feature of the Baltic landscapes. Bog shoes have long been used in Latvia and Estonia, where extensive wetlands would otherwise make it impossible to reach places on foot. "It is a very traditional thing to do," says Dizugas Vickus, tour leader at our walking holiday specialists Exodus. It's not something many visitors to the Baltics get to try, and Dizugas explains that travellers are often looking for easy experiences during their holidays. "But locals are tough people compared with our tourists," he says, "usually the harder something is, the more joyful it is for them."
Barbara Bilgre found it a fantastic experience. "One of the things that appealed to me about this trip was this unusual experience that there's no way I would have ever had in any other circumstances. We went with an expert who told us all about it and showed us the various pools and talked about the plants and the ecological succession of the area, it was pretty amazing." On the challenge of using the bog shoes, Barbara says she was surprised at how easy it was to walk in them. "There were a lot of firm areas, and then some really marshy areas, where we were walking over the developing peat, but you never felt like you were going to sink into the ground." She adds: "but it's really difficult to stand in one place".
'Bogshoeing' is a way to discover the natural environment, and all its animal inhabitants, in pristine silence – away from other people. But tourism here also benefits the, now protected, peatlands, providing funding for national parks and education on the importance of preserving them. "It is important to preserve all of the nature as much as we can," says Dizugas Vickus. That's because Eastern Europe is home to some of the highest percentage of forest cover in all of Europe, essential to its biodiversity, but its peatlands, huge
carbon sinks
, are vital in the fight against rising global temperatures.
Our top trip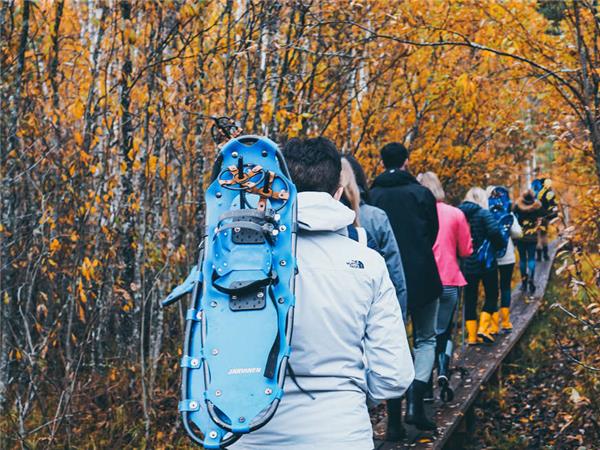 Walking in the Baltic States: Estonia, Latvia and Lithuania
From
£1295

to

£1360
8 days
ex flights
Small group travel:
2024: 25 May, 8 Jun, 3 Aug, 31 Aug, 14 Sep
If you'd like to chat about Baltics or need help finding a holiday to suit you we're very happy to help.

What do walking holidays in the Baltics entail?
Walking holidays in the Baltics aren't all about bogs. "The landscapes are so inordinately different," says Barbara Bilgre. "So stunning and diverse. We would walk through these beautiful coniferous forests and then we would wind up out along the coastline of the Baltic Sea, among these sandy and rocky beaches." Visitors to Eastern Europe may expect bear-filled forests, but might be surprised to learn that Latvia also boasts six Blue Flag beaches. You'll discover the sandy dunes of the Curonian Spit, the forts and forests of Gauja National Park, the lakes of Kemeri National Park and, of course, the bogs of Laheema National Park.
Baltic walking holidays select the best of the scenery to explore on foot but, travelling across these small countries by bus and ferry, you'll see a combination of both cities and nature. "I really think they did a nice job of doing both," says Barbara. "I'm really very much into nature and I knew we were going to be doing a lot of nature hikes, which I was really interested in. But we also got to see some of the capital cities – Riga was beautiful. Then we visited some of the smaller towns, staying in some of them, and then we had these wonderful nature hikes. So it was a beautiful balance."
Walking groups are kept small, typically between 10-16 people, which is better for quieter hikes where there's a chance of catching a beaver mending her dam. It also means you can stay in the smaller town hotels and eat at traditional restaurants, where you won't be running into large groups of tourists. Typical Baltic cuisine is influenced by surrounding countries, such as Russia, and the sea. Barbara says it's similar to food she's eaten in Germany, "there's a lot of meat and potatoes," but adds, "there's also a lot of fish, and there really is a wide enough variety that most people can find something they will enjoy".
No animal courts controversy quite like the wolf and in Eastern Europe, where it is widespread, the story is no different. In April 2018, Estonia decided to collectively elect a new national animal – none had existed before. Right from the start, several frontrunners emerged: the elk (or moose, depending on your provenance), the lynx (shares its name with the Estonian president), the beaver (a rewilding success story after it was wiped out in the 19th century), the bear (Estonia has the highest population density in Europe) and the wolf.

Amid accusations of vote rigging and deception, the wolf was announced the winner. But there was one clear winner for the public: the hedgehog. The "people's champion" announced Estonian daily newspaper Postimees – the hedgehog has long had a place in Estonian people's hearts, featuring as the wise councillor in the epic Estonian poem Kalevipoeg. Its bid for national animal earned it Facebook pages and won it online popularity polls. Postimees describes it as an animal "everyone is always glad to come across" – and there's a fair chance you might.
"We saw smaller wildlife," says Barbara Bilgre, talking about the animals she spotted, "no bears, no moose, nothing like that. But I think probably the nicest one for me, because I don't see them very often, was a little hedgehog, which was very cute." Dizugas Vickus does much to dispel any ideas that the Baltics may be in any way unwelcoming. He describes the walks as being through "typical Baltic forest – trees are not particularly big and don't form dense and dark forests, instead they're rather small and cozy."
More than anything, your local guides will make you feel welcome, sharing their knowledge of the wildlife and wild landscapes, as well as the lesser known history of this sometimes misunderstood corner of Europe. "We had one guide, Elda, and she was amazing," says Barbara, "very social and outgoing, very friendly – we all loved her." She adds, "Our driver was wonderful too. In fact, when we had the dunes hike on the beach, he had the day off. He went to the beach looking for tiny pieces of amber that wash up along the shore there, and then he gave one to each of the women on the trip. It was just such a lovely gesture."
When to go walking in the Baltics
You step through the door and ice crystals instantly crackle inside your nose. The air, suddenly sharp and hard to swallow, burns in your chest and you feel the tips of your fingers start to tingle. You check your phone: it's -5°C and it's the middle of the day. You start thinking that this might not be the best time for a walk in the dark and frozen woods.
The truth is, the Baltics are breathtakingly beautiful in winter, but fairytale landscapes have a touch of the Grimms' grimness; bitterly cold, the weather can really crush your will to walk. As such, walking tours don't run in this corner of Europe between October and April. Fortunately, the remaining seasons are just as spectacular.
In spring, the snow starts to thaw, and birds begin to return back to the Baltics. This part of Europe is of major importance for migrating birds, and more than 50 million visit the coastal wetlands in the first few weeks of May. In autumn, the first thing you'll notice on your walks through the woods are the locals out picking mushrooms. Once the main source of food in forested areas of the Baltics, foraged fungi has remained a cultural phenomenon. Similarly, in late summer and early autumn, you'll see people gathering berries – a staple in Baltic cuisine. "The berries were wonderful," says Barbara Bilgre. "We were a little bit early for the season," which starts at the end of August, "but we did have some, and the cherries were good as well."
Summer is a busier time to visit the cities, but remember you'll benefit from the long hours of daylight during your walks. "Even though it was summer, and a lot of people do travel throughout Eastern Europe in the summer, there was still a lot of solitude where it was just our group," says Barbara, who went on our Baltics walking holiday in June. "There were a lot of streams and waterbodies in the places we hiked, and it was summer so there were a lot of flowering plants, which was beautiful, and we saw lots of things like dragonflies and beetles and pollinating insects, which was lovely to see."