Holidays to Bangladesh take you to a low-lying land where waterways rule the way of life. The vast Padma (Ganges) and Jamuna (Brahmaputra) rivers are the lifelines, feeding fertile plains and mangrove forests. In the southerly Sundarbans, Bengal tigers precariously share the freshwater pools, creeks and mangrove forests with local fishermen and honey collectors. Meanwhile, the war-shocked villages of the Chittagong Hill Tracts are slowly opening to hikers. Following these age-old routes of traders and pilgrims is a peaceful departure from the rapid rickshaw cities.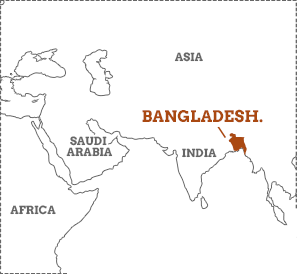 The national flag of the sun rising over a green land was designed after independence in 1971. The red represents the thousands who died for independence – a loss that's still felt today.

Although 90 percent of Bangladeshis identify as Muslim, the Dhakeshwari Hindu Temple, Star Mosque and Armenian Church in the capital, Dhaka, clue you in that there are many more beliefs at work. Further north, Sylhet is a less frenetic city surrounded by Sufi shrines and 19th-century tea estates. Find out more in our Bangladesh travel guide.
Bangladesh is…
a country dependent on a fragile network of sacred rivers and fertile deltas.
Bangladesh isn't…
just about tigers.
Bangladesh map & highlights
Our Bangladesh holidays tend to fall into one of two categories: a three-week loop of the whole country or a ten-day trip focussing on a theme. Wildlife tours, for instance, zoom in on the south: the vast mangroves of the Sundarbans (ancestral land of the Bengal tiger) and the Chittagong Hill Tracts (newly accessible valleys recovering from conflict). Longer tours will head into the north, where the city of Sylhet doubles as a base for sighting the endangered species and tea hills of the Srimangal region. Dhaka is a common starting point for most tours – an all-in start to your holiday to Bangladesh. You could also finish your tour with a border hop into India's West Bengal for Darjeeling and Kolkata.
1. Chittagong Hill Tracts
The jungle-painted hills, ravines, lakes and mountains of the Chittagong Hill Tracts were the scene of a 20-year-long war triggered by Bangladeshi independence. These days, hikers know it as one of the most peaceful parts of Bangladesh and home of 15 ethnic minorities. A local guide can take you to the thatched stilt houses in Ruma Bazar, where you can learn about local customs and the Bawm people's continual struggle for land rights.
2. Dhaka
There are almost 165 million people in Bangladesh – and it feels like they all live in Dhaka, the high-volume capital city. A quick (there's no other speed here) rickshaw tour of Old Dhaka will whisk you past the rose-pink Ahsan Manzil palace, ornate Star Mosque and Armenian Church and graveyard, before dropping you off amongst the fruitmongers and flower wreath stalls of Shankhari Bazar.
3. Sixty Dome Mosque
The Sixty Dome mosque lies on the edge of the tigerlands of southwest Bangladesh. The dust-red walls and 70 (not 60) domes of this 15th-century mosque are still going strong after over 600 years, earning it a spot on the UNESCO World Heritage List. Arches and cornices decorate its cavernous insides, while palm gardens neatly frame the outside.
4. Somapura Mahavihara
Head to the far north of Bangladesh, and you'll come across one of the biggest Buddhist monuments in Asia: Somapura Mahavihara. Although built as a Buddhist monastery in the 8th century, Hindus and Jains have also studied here, so you'll see artwork, sculptures, carved tiles and shrines from all three Dharmic beliefs. The design is unique in this part of the world, inspired by the ancient stupas of Indonesia.
5. Srimangal
Capped langurs, hoolock gibbons, Indian muntjacs, Sunda slow lorises – Srimangal is a haven for hundreds of secretive species (and those who like to glimpse them). Sail the Hail Haor wetlands to watch for waterfowl or hike Satchari National Park to seek endangered Phayre's leaf monkeys. This region is also Bangladesh's tea capital, surrounded by striped plantation hills and Manipuri tribal villages.
6. Sundarbans
The Sundarbans is the biggest mangrove forest in the world – a vast delta of islands, creeks, beaches and savannahs at the meeting point of the Ganges, Brahmaputra and Megna rivers. It's also the hunting ground of the elusive Bengal tiger. Boat is the best approach, taking you on larger rivers and small canals for maximum tiger-spotting chances. Wildlife co-stars include saltwater crocodiles and long-nosed Ganges dolphins.
If you'd like to chat about Bangladesh or need help finding a holiday to suit you we're very happy to help.

More Bangladesh articles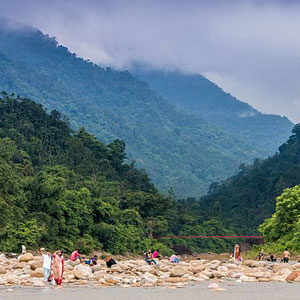 Thanks to its tropical-subtropical climate, the best time to visit Bangladesh is nice and clear.