Rainforest volunteering in Belize
Many visitors don't get beyond the beauty-stacked Belize coast. And who can blame them? But while scuba divers and snorkellers are drawn to projects along the all-star reefs and beaches in northeast Belize, there are miles of rainforested mountains and rivers in the southwest that need help.
The Maya Mountain Marine Corridor slots together six watersheds between the Maya Mountains and Gulf of Honduras. This patchwork landscape is one of the most ecologically important areas in Belize, influencing everything from the weather to reef health, while cupping more than 100 mammals and 300 bird species in its leafy hands. It was also a Mayan stronghold around 1,500 years ago – and it's got the pyramids to prove it.

The threats are many: hunting, climate change, deforestation, net fishing, pet trade, agrochemicals, cattle ranching… Which means that the ways you can help are also many.

The whole region, stretching from the Deep Forest River Reserve to the Toledo District, lays out over 40 ecosystems in the shape of lowland rainforests, pine savannahs, broadleaf forests, coastal plains, seagrass beds and freshwater systems. The rainforests in particular need a helping hand. Threatened species like the jaguar, Baird's tapir and yellow-headed parrot rely on the forest felled by cattle farming and not-quite-what-they-say-on-the-tin 'eco resorts'.
When you travel with a holiday company that specialises in rainforest volunteering in Belize, you'll know that the work you'll do isn't a greenwash (unlike many of the rainforest eco resorts). Or worse: well meaning, but damaging. You'll be matched with the very best contacts in Belize – expert scientists and park rangers who'll teach you how to monitor camera traps, fix up nature trails and boardwalks, plant trees and lead presentations at kids' camps.

The data you collect will guide government legislation that helps protect the rainforest. Holiday satisfaction levels: through the roof.

By letting a specialist tour operator take the reins, you know you'll be assigned a placement that fits both you and the team you'll be working with. Plus, your accommodation, transport and projects will be sorted for you, and you'll always have a helpline to call on the off-chance you need it. Read on to find out what rainforest volunteering holidays in Belize involve.
If you'd like to chat about Belize volunteering or need help finding a holiday to suit you we're very happy to help.

A crucial canopy
Over 60 percent of Belize is coated in forest. The southeasterly Toledo District is one of the few places in Central America where the rainforest stretches as far as the eye can spy. Problems range from deforestation for cattle farming to poisonous pesticides running into the wildlife-rich rivers that feed the trees.

Caroline, Project Manager at our rainforest volunteering holiday specialists, Pod Volunteer:
"Our volunteers… provide additional support on the ground where help is needed most, ensuring that we continue to sustainably manage our rich resources for tomorrow."
What kind of work might you do?
As with all volunteering holidays, projects change year by year and month by month, depending on the season, weather and political climate. But you might:
Build boardwalks over the fragile rainforest floor Clear and spruce up walking trails Work with rainforest communities to establish conservation areas Plant trees and collect seeds for the nursery Update and design information signs Share knowledge with communities and inspire people to protect their rainforest Create wildlife corridors between fragmented forest Measure river water quality, especially where mangroves are used as manatee nurseries Help create a wildfire management plan
The Belize rainforest is a vital territory for threatened species like jaguars, yellow-headed parrots, white-lipped peccary and leopard-like ocelots. It's not all about the land mammals, though. Monkey River and Deep River flow through the rainforests of the Maya Mountains, providing sea grass and fresh water that manatees and river turtles (known locally as hickatees) rely on.
What do rainforest volunteering projects involve?
Collect data on the jaguar population through camera traps Catch and band birds Campaign against the illegal hunting of ocelots Build parrot boxes Encourage birdwatching tourism as an alternative to capturing yellow-headed parrots for the pet trade Work with farmers to prevent conflict with jaguars Help develop a sustainable alternative income for communities reliant on destructive cattle farming or fishing practices Promote best practice among fishermen and prevent gill-net use Patrol and monitor river turtle nests Develop and enforce no wake zones in manatee habitats
It's all in the details
Most of the work is outside, often in wild, remote regions of the Maya Mountains. But that's part of the charm. This is the Belize that 90 percent of tourists don't see.

You'll bed down wherever the rainforest is, perhaps in the Toledo District or by the sea in Punta Gorda. Field bases have few amenities, so bird watching, reading and getting to know your team is the liveliest it gets. Town-based homestays tend to have extras like WiFi and public transport. Wherever you stay, you'll probably share a room with your travelling partner or a fellow volunteer of the same sex.
This is the rainforest, so expect a little rain. Don't worry, though – the project managers will be glad to get you indoors to think up lesson plans for local schools or learn how to influence Belizean policy development. Hooray for real, long-term change.

Projects tend to run Monday to Friday, 9 to 5, including a long midday break to avoid the humid heat. You'll soon learn to approach your break like a Belizean, and siesta.
You'll usually have weekends and evenings free to explore the Mayan ruins, zip line through the forest canopies, and see how tiny communities create cracking chocolate.

Rainforest volunteering holidays are often however long you want them to be, starting at one week and ending at four or more months.

Minimum age usually starts at 18, due to the remote locations and tool work.

You'll never be thrown into the unknown. Training is always included.
Rainforest volunteering tends to attract the smallest group of volunteers, as too many cooks has proven to spoil the broth. You'll probably be with a maximum five to 10 people.
More Belize volunteering articles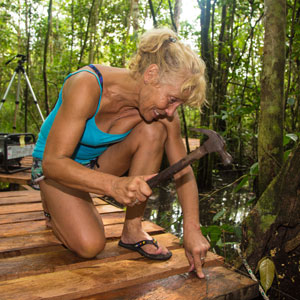 From IDing sea turtles to building boardwalks – read our guide to find out more.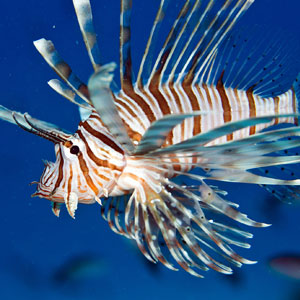 Find out how killing lionfish can help protect the fragile reef system.