Bolivia & Peru travel guide
The stunning spine of these two countries are the snow capped Andean peaks that plunge down through lush valleys before spilling into the steamy Amazon. Dotted with pretty colonial cities, indigenous villages, terraced farmland, Inca ruins and remote wildlife reserves – Bolivia and Peru hold some of South America's most classic, beautiful and characteristic scenes, not to mention two of its most sought-after sights: Machu Picchu and the Salar de Uyuni.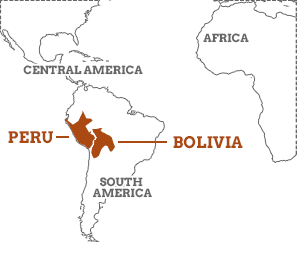 We normally look beyond the clichés but in some places, the clichés are just too cool to miss. Bowler-hatted woman, soaring condors and llamas in front of Machu Picchu - Bolivia and Peru live up to their myths.

As our Bolivia and Peru travel guide explains, combining these two countries in a single trip is not only rewarding but simple, as the international border passes through Lake Titicaca – a highlight in its own right. Short flights allow you to join the dots between the Amazon and the Andes, and spending time in both countries means you can explore indigenous Quecha and Aymara culture, as well as the traditions of the rainforest.
Bolivia & Peru map & highlights
These are hefty countries to take on alone, let alone together. However, there are quick and easy flights to take you between Lima, Cuzco and the Peruvian Amazon, cutting out full day (or longer) journeys. Once in Bolivia you'll be mostly dependent on overland travel but luckily the landscapes – Andes, desert, salt flats – are astounding enough to keep you entertained on even the longest of bus rides. Flights are a possibility for descending into the Amazon here as well though. Two weeks is really the minimum time you'll need to really see these countries, with three, four or even five week tours possible, allowing for full Inca Trail treks, salt flat tour and jungle immersions – all at a lazier Latino pace.
1. Cuzco
This ancient Inca capital sits 3,400m above sea level, is surrounded bys snow-dusted Andean peaks, and is a pretty idyllic place to acclimatise before taking on the Inca Trail. It's also a great spot for encountering modern Inca culture in the form of the Quechua people, whose language, dress and customs have changed little over the centuries. If you have a few days, venture down to the nearby Sacred Valley.
Inca Trail & Machu Picchu
2. Inca Trail & Machu Picchu
Rediscovered a century ago, the "Lost City of the Incas" has not lost its ability to astonish, thanks to its phenomenal mountaintop position, with panoramic Andean views. The tough but rewarding, four-day Inca Trail takes in other ruins and villages aling the way – or save time (and your knees) and hop on the luxury train. However you arrive, Machu Picchu will literally be a high point of your holiday.
3. La Paz
Most people's first reaction as they arrive into La Paz is to gasp sharply – and it's not (ok, not only) because of the 3,800m altitude. Dominated by the snow-covered Mount Illimani, the capital's buildings cling to almost vertical Andean slopes. This indigenous stronghold is a colourful chaos of bowler-hatted Aymara ladies and witches' markets selling all manner of ancient potions and alpaca knits.
4. Lake Titicaca
The shimmering, high altitude Lake Titicaca straddles the border between Bolivia and Peru, but also seems to bridge the real and spiritual, as a sacred place for the Aymara and Quechua. Visit the communities of the floating Uros Islands, meet weavers and fishermen, eat trout fished fresh from the lake and hike across the Isla del Sol, then spend a night on the island to wake up to the most magnificent of sunrises.
5. Peruvian Amazon
Fly into Puerto Maldonado from Lima or Cuzco, and your adventure begins as you cruise upriver in a canoe, until you are surrounded by nothing but lush vegetation and the deafening sounds of the world's mightiest rainforest. Head out on foot and canoe by day or night, to seek anacondas and black caimans, howler monkeys and capybaras, and elusive pink dolphins that inhabit these murky, mysterious waters.
6. Salar de Uyuni
If you can't quite stretch to a space flight this year, Bolivia's Salar de Uyuni may be the next best thing. This vast salt desert, over 3,600m above sea level, takes a couple of days to cross, experiences extremes of sun and cold, is blindingly white and even has its own "islands" covered in cacti. You'll also lose all sense of perspective in the endless white, making for some amusing photo opportunities.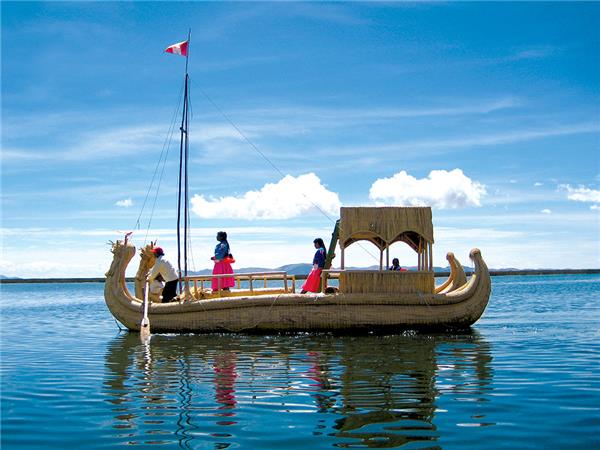 Explore the Amazon Andes and Inca trail
From
£3212

to

£4335
25 days
ex flights
If you'd like to chat about Bolivia & Peru or need help finding a holiday to suit you we're very happy to help.

More Bolivia & Peru articles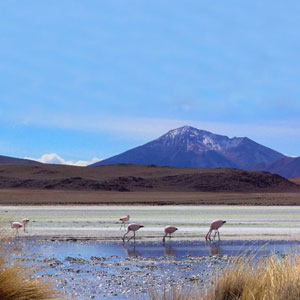 The best time to go is in the cooler but drier months – just be sure to pack plenty of alpaca sweaters!