Borneo family travel guide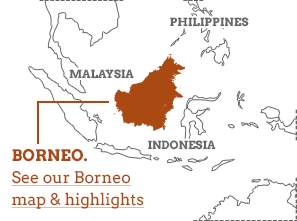 If you want to get the kids hooked on conservation, Borneo is an excellent place to start. They can learn how orphaned orangutans are rehabilitated or how turtle hatchlings are protected from predators at nature reserves. And there are opportunities to work alongside indigenous communities, reforesting land and monitoring wildlife. This might sound a bit worthy, but family holidays in Borneo are anything but dull.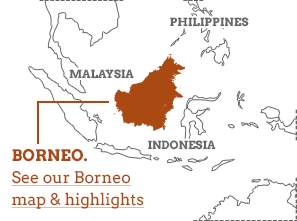 Borneo is heaven for curious kids. Jungle hikes and river cruises are perfect for wildlife spotting. Add in beaches, hot springs and nights spent in a traditional longhouse and you have a true family adventure.

Once the kids have glimpsed an orangutan swinging through the jungle canopy, spent the night in a longhouse community or sampled the delights of smoky city street food stalls, they'll be clamouring for more. Sabah is the easiest region to travel around, while Sarawak has cultural experiences to inspire small minds. Indonesian Borneo is for more courageous families only; those travelling with small children may have a hard time due to its inaccessibility and rustic accommodation.
Keep reading our Borneo family holidays travel guide for more.
What is travelling with children in Borneo like?
Who are these trips suitable for?
This is definitely one for more adventurous families – but having said that, it's easier than you think. Yes, the flight is long and there's jetlag and pre-departure vaccinations to contend with. But once you get there, it's easy and safe to get around, with options for everyone from pre-schoolers to teenagers, so you can enjoy the rainforests and beaches with no worries.
Those with older kids can get stuck into action-packed activities, while those who want to take things a little easier can soak up the atmosphere, scenery and local culture, with time spent relaxing on the beach built in too. Some of our trips will have a suggested minimum age depending on the type of activities involved and how far off the beaten track you're going.
Small group or tailor made?
Our family holidays to Borneo are a mix of both tailor made and small group holidays. A tailor made trip means that you and your family will be going it alone. This means you get greater flexibility with your dates and can choose which activities to do and when, but you'll have the comfort of an organised itinerary and local guides to help you get the most of your trip. On a small group trip, you will typically follow a set itinerary and be accompanied by a tour leader, along with one or two other families with children of similar ages, often sharing activities and mealtimes.
If you'd like to chat about Borneo family or need help finding a holiday to suit you we're very happy to help.

What activities will we be doing?
Holidays to Borneo are all about getting outdoors, getting active and viewing wildlife. Your itinerary will take you to national parks, nature reserves and beaches, and you'll have anything from a week to two weeks to explore, depending on which itinerary you go for. Younger children will love river cruises and spotting monkeys and other animals, while older children and teens can traverse the jungle via ropeways or rush down rivers on a white water rafting or tubing experience.

My daughter's favourite was the sun bear sanctuary – it made such an impression that she wants to return as a volunteer when she's old enough

– Delia MacKechnie on our Borneo family tour
You'll
stay in locally owned and often family-run accommodations
where your hosts are immersed in their communities, meaning they can rely on personal connections built over years to provide you with top tips on what to do, from the best city museums, to where to get a mean
laksa
. A highlight for many is the chance to stay in a traditional longhouse in an Iban community in Sarawak, where you cook and share food with your hosts and bed down in a communal sleeping area under mosquito nets.
On our dedicated
volunteering holidays
, you'll live and work alongside other volunteers and members of the Orang Sungai tribe as you monitor wildlife and plant trees to regenerate the jungle.

Head to Borneo between April and September, when it's dry and warm and there's a better chance of seeing orangutans in the wild.

Borneo hovers between 27-32°C year-round, with frequent rains replenishing its green jungles. If the kids are in school, the best time for a family holiday to Borneo is over the Easter or summer break, both of which fall under the April to September dry season. The dry season is also the best time for viewing orangutans in the wild, while June to September is peak turtle watching time on Lankayan Island. Bear in mind that July and August are the country's busiest periods, so you'll have to plan accordingly and book flights and accommodation well in advance.
More Borneo family articles