British Columbia travel guide
---
2 MINUTE SUMMARY
Canada is experiencing a new liberal love in, with the 2015 appointment of Justin Trudeau as prime minister. Many around the world look on in awe as this super cool, forward thinking Liberal seeks to create positive environmental and social change. BC is a microcosm of this cool sea change and has been for years. Because when you have pretty much everything, you want to protect it – The Rocky Mountains, temperate rainforest, superb wildlife, the Coast Mountains and indeed a Pacific coast. And with the Pacific come mild temperatures. And in those warm waves come whales. And then salmon. And where there are salmon, there are bears. And, as if that isn't enough, there's a nano-cosm off the microcosm: Vancouver Island, which isn't nano at all, of course, because you could lose yourself in mountains and forests here for a week it is so big. Which is why, all in all, we think BC is not just British Columbia. It is Bl**dy Cool. See our British Columbia travel guide for more details.

Hello.
If you'd like to chat about British Columbia or need help finding a holiday to suit you we're very happy to help.
Rosy & team.
01273 823 700
British Columbia map & highlights
---
Make the most of your time
Some of the top wines coming out of the British Columbia's Okanagan Valley include Sauvignon Blanc, Shiraz blends and Merlot. The difference in these grapes represent the diversity of landscape and lifestyles throughout the province, its seven national parks, 900 provincial parks and protected areas. Sauvignon Blanc is crisp, dry and refreshing, just like the Rockies. Shiraz is full bodied and kicks a punch, like Whistler's nonstop love of life in the outdoors. And Merlot is lush, rich and can leave you feeling quite heady. Which sounds like Yoho National Park. Or Vancouver Island. Or indeed Wells Gray. Because, all in all, British Columbia is just intoxicating.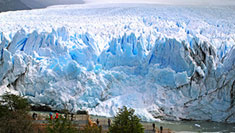 Glacier National Park
It's hard to keep up with the Joneses when your neighbours are the Rockies, but the geological wonders of this park's Columbia Mountains behold glacial gifts. 131 glaciers in fact, pouring down from jagged, white peaks where, with limestone strata, there are prolific cave systems as well. All with hiking trails galore. Camping is a great option so you can see the wildlife at dusk and the glaciers glisten with the sunrise.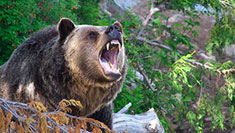 Grizzly bear watching holidays
For something really spectacular, go on a specialist wildlife watching holiday to see grizzly and black bears in the wild. You will see them coming out for springtime feeds in the grasslands of Tweedsmuir Provincial Park , or in Bella Coola's rivers as they pounce upon migratory salmon heading upstream in autumn. The Great Bear Rainforest, part of the Coast Range Mountains also kindly lives up to its name.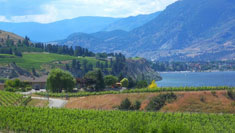 Okanagan Valley
The Okanagan Lake and River make up this valley that is grape growing, great outdoorsy and all round great living. 135km long, the shores are home to chic abodes, cabins and campsites, orchards and wineries, cafes and canoe centres. The proliferation of vineyards is thanks to its sunny disposition, but don't let wine tourism upstage its other glories, such as mountainous hiking trails, or discovering the heritage of its indigenous Syilx people.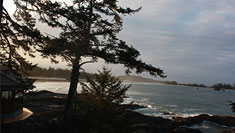 Vancouver Island
The fact that BC's capital, Victoria, is on an island is unusual but not surprising, as this is one insular idyll. With an eclectic demographic of aboriginal, Chinese and British cultures, it's only 1.5 hours from the mainland by ferry, but a whole other wild world. It takes a day to drive from one end to the other, through mountain ranges and giant fir forests, to empty coastlines. Apart from the whales that is.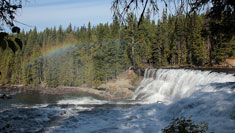 Wells Gray Provincial Park
'Provincial' may sound diminutive but Wells Gray is far from small. Underrated, yes; underwhelming, never. It's waterfall central for a start, with Helmcken Falls one of Canada's highest and mind numbingly beautiful. Wells Gray is full of such 'how can nature do that?' moments: canoeing across tranquil, motor free Murtle Lake, taking in the mountains that envelop you or watching a bear bask on a sandy beach.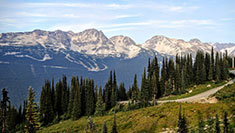 Whistler
You almost want to save Whistler for your holiday's finale, celebrating the province's prolific prettiness by biking, ziplining or even flying across this Pacific Ranges of the Coast Mountains. Everything is possible in Whistler, now the largest ski area in North America. For an encore, take the gondola up Whistler Mountain, hike a trail, then take another across to Blackcomb Mountain. You'll never want the show to end.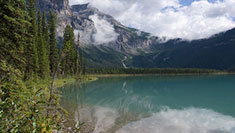 Yoho National Park
Sometimes people skip Yoho en route to Alberta's Banff or Jasper NPs. Don't skip. Jump right in, literally, as white water rafting down its Kicking Horse river, with snow crested peaks glistening all around, is the way to go Yoho. For mellower but equally magical waters, canoe around Emerald Lake, or just keep both feet on dry land hiking myriad trails with rewards such as heart stopping Takakkaw Falls.