Orca & whale watching holidays
in Canada
Canada hit the headlines when its House of Commons passed a
'Free Willy' bill
in 2019, making it illegal to keep cetaceans in captivity. Of course, to the Canadians who run whale watching holidays, it was all a case of putting the bleeding obvious into law. After all, would you rather see a beluga circling its tank in an aquarium or chattering to its pod-mates across the ice pack? Would you rather watch an orca do tricks for tips or see it corner salmon in a dead-end bay?

Free Willy, eat your heart out. Canadians have enshrined in law that whales and orcas are more valuable in the ocean than in tanks.

There are over 10 species of whales to spy and thousands of miles of fjords, bays and ice packs to see them in. With that in mind, you'll get the most out of a whale watching trip if you put yourself in the hands of an expert. An organised small group or tailor made holiday will do just that, matching you up with marine scientists, polar explorers and photography pros who can tell a blue from a humpback from a grey from a single tail flip.
One of the most easily spotted 'whales' in Canada is in fact the largest member of the dolphin family.
Orcas
– the inspiration behind the Free Willy bill – feed and breed along the Canadian Pacific Coast in three distinct groups that have evolved completely different ways of hunting and communicating. Despite being an easy spot, the southern resident orcas are in decline, suffering from malnutrition due to the plummeting salmon stocks they're dependant on. Read more about the
challenges orcas face
in Canada.
Other regulars include grey whales, which cart a coat of hitchhiking barnacles along with them. You'll know a humpback immediately; it announces its presence with a distinctive fountain of spray, huge tail slaps and near operatic whale song.
The list goes on. You might sight endangered fin whales. These lone rangers are the second largest whale in the world. North Pacific right whales have been hunted to near extinction, but can be glimpsed in northern British Columbia. Squid-loving sei whales are zippy swimmers, so you'll be lucky to spy them. Sowerby's beaked whales mooch around Nova Scotia. Blue whales have been seen along both the Pacific and Atlantic coasts. Then there's the Canadian Arctic. Belugas are the stars of Baffin Bay and Hudson Bay; the bright white skin and bulging foreheads make them unmistakeable. Beaked bottlenose whales dive the deep sea up north, too.
Our top trip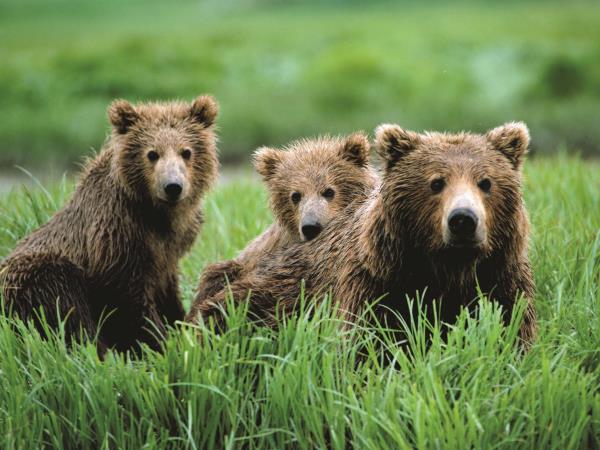 Spectacular viewing of British Columbia's grizzly bears
From
£4350
6 days
inc UK flights
Tailor made:
This 6 day tour departs on various dates from May through to October. Other durations and tours are also available, including combining it with a tailor-made tour of British Columbia, the Rockies and Alberta.
If you'd like to chat about Canada wildlife or need help finding a holiday to suit you we're very happy to help.

Where to watch whales in Canada
1. Vancouver Island
There's a reason why most whale watching trips push off from Vancouver and Vancouver Island – this patch of southwest British Columbia is awash with grey and humpback whales travelling north from Mexico, along with pods of orcas that weather this temperate slice of Canadian coast year-round.

Some Canada wildlife holidays include a crossing from Port Hardy on Vancouver Island to the splintered coastline of the mainland. This voyage across the Queen Charlotte Strait (a snippet of the legendary Inside Passage) is one of the most spectacular ferry crossings in North America. It's also one of the richest marine environments in the world, so you could see Pacific white-sided dolphins, humpbacks and orca over the course of a 17-hour, two-ferry voyage through fjords and forested mountains.
2. Baffin Island
Deep-sliced fjords, sky-scraping mountains, tower block-sized glaciers, guillotine bird cliffs – Baffin Island really does feel like one of the most remote places on the planet. As well as surreal scenery, it's borne some of the strangest creatures in Canada, including the beluga whale and near-mythical narwhal. Don't think it's totally inaccessible, though. You can join a polar expedition kitted out with a strengthened ship, zodiac boats and – most importantly – a marine scientist.
Your guide's expertise will reveal where the bowhead whales – who can smash through ice with their hardy heads – feed in Ninginganiq (Isabella Bay). Prince Leopold Island houses belugas and a cacophonous bird colony. And where there are belugas and birds, there are polar bears. Some of the best trips take you to Iqaluit, where you can learn about natural history from the perspective of the Inuit communities.
3. Newfoundland
Around 10,000 whales chase fish and krill along Canada's Atlantic Coast. Boats head out to meet humpbacks as they belly flop along the shore, while sea kayaking trips take you through iceberg alleys. Not too sure of your sea legs? The cliffs serve as natural lookouts; stay somewhere like Fogo Island and you could see whales fluking from the lounge.
Whales migrate to Canada between May and October, as the waters warm and plankton and fish populations bloom. Resident orcas stick around the Pacific Coast all year round. Your best chance of seeing whales in Canada? Travel with a wildlife holiday company. You'll be matched with an expert guide (a marine biologist, perhaps, or a local kayaker who knows the orcas' secret coves). Accommodation, some meals and transport is usually included. Most whale watching trips are included as part of a wider wildlife holiday. The few that zoom in on whales tend to be kayaking trips that focus on a whale-rich part of Canada like the Johnston Strait. Small group tours offer a set itinerary for eight to 15 fellow adventurers. Tailor made holidays are exactly that – you'll have the freedom to add in as many (or as few) whale watching trips as you wish. Most holidays last 7-10 days. Like all safaris, whale sightings are never guaranteed. Your skipper will give you every chance to see whales without disturbing the environment and animals, but they're migratory and always on the move. Most whale watching trips start from British Columbia. It's usually easiest to fly into Vancouver. Whales share their territories with walruses, polar bears, grizzlies, narwhals and bald eagles, so keep your eyes peeled. The best tour operators are allergic to crowds; after all, Canada has the longest coastline in the world so no need to all cluster in one spot. Beluga boat trips will swap, say, crowded Churchill River with little-known Seal River estuary.
More Canada wildlife articles