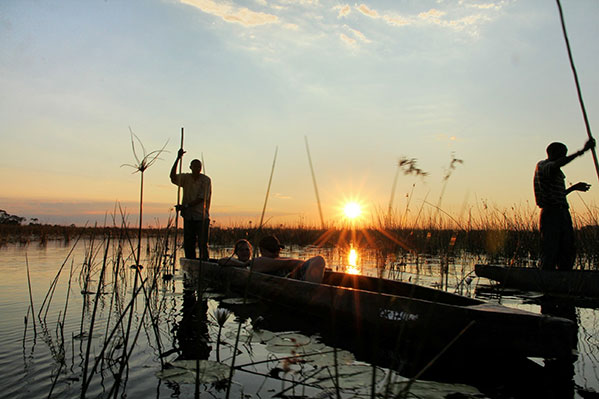 Despite the serious issues with the San, the Botswana Tourism Organisation generally has a good relationship with community-based organisations and tribal authorities. Most land used for tourism in Botswana is leased – either in a national park or reserve, or from local communities. Safari companies bid for the lease – known as a concession – and must demonstrate the financial and environmental benefits they will provide during their lease.
This results in annual royalties for the communities, which are generally reinvested into community and conservation initiatives, as well as empowering local people by giving them a say in the management and use of their land. Laws also ensure that only Batswana staff can be hired by these companies, keeping as much tourism revenue as possible within the country, and boosting employment opportunities for local people.
A thriving community-focused model being rolled out across parts of Africa, conservancies are areas of land over which the local communities take full responsibility for the conservation and general management of both their land and of the wildlife that live on it in order to generate an income independently from sustainable farming and tourism. Namibia flies the African flag for the initial creation of conservancies, something you can read more about
here
, and the model is also now being used for
community-based natural resource management (CBNRM)
policies, which have been developed and implemented across southern Africa in countries including Zimbabwe, Zambia, Mozambique and South Africa.
Emma Gregg, travel writer, says: "Visit a community-owned tourism project in a conservancy. Namibia has a small but growing number of brilliant lodges, campsites, safari experiences and cultural encounters which are wholly owned by rural communities."

Read more on Namibia's Communal Conservancies at
http://www.nacso.org.na/
What can you do

There are an increasing number of tourism projects across Africa that support conservancies and their indigenous tribes and communities who participate in tourism have benefited over the years as they are able to maintain their lands, support themselves and avoid encroachment from farmland.
Badly managed tourism is even more damaging than no tourism, however, so before booking a tour, ask some questions of your operator: How much involvement does the community have in the tours? How are they compensated? Does your guide speak the local language? Does tourism support community projects?
Above all, ensure that your visit is not a one-way experience. Ask your hosts questions - and invite them to ask you questions back. Interact, rather than just standing behind your camera. This is not only respectful to the community; it's also guaranteed to give you a much more memorable trip.