Cape Town to Victoria Falls tour
---
Routes & highlights
Successfully proving the adage: 'if it ain't broke don't fix it', on a Cape Town to Victoria Falls holiday you're either going to go from South Africa to Zimbabwe via Namibia then Botswana - or vice versa, starting in Zimbabwe. Barring a few off-the-beaten-track stopovers, for example the Brandberg if you're camping, or a different part of Damaraland if you're accommodated, the route you follow and the magnificent highlights you see en route will be the same. Travelling by truck between each destination, you'll be on the road for between three-and-a-half and five hours every other day, with two longer days of eight hours' driving over the three or four-week tour.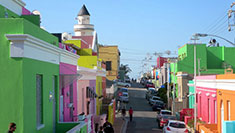 Cape Town
One of the most beautiful cities in the world, with the majestic presence of Table Mountain at its core, Cape Town is a wonderful fusion of urban and natural wrapped up in a thriving culture. You can hike through Cape Point's dramatic rocky landscape, spend an hour or two sunbathing at Hout Bay, get your culture fix in Bo Kaap then head out for some first-class cuisine – all in one Cape Town day.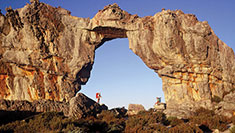 The Cederberg
A powerful rock wilderness characterised by giant sandstone boulders that have been manipulated over time into weird and wonderful sculptures, The Cederberg is an enchanting area of the Western Cape. Some 200km north of Cape Town, it's a captivating outcrop of looming peaks and long, arid valleys meaning you can camp, hike or rock climb across its challenging landscape.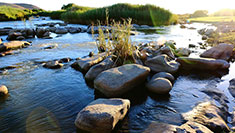 Gariep River
Very much off-the-beaten-track and a hugely underexplored highlight, the Gariep or Orange River forms Namibia's southern border. It flows gently and peacefully – a welcome contrast to the country's arid regions. The riverbed is sandy and the water is clean and clear, so it's spot on for a relaxing dip, or a more adventurous mission downriver in a canoe.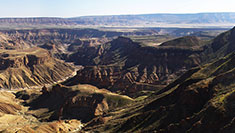 Fish River Canyon
Starting south of Seeheim and tearing a 161km scar through the scorched plains of southern Namibia, Fish River Canyon plummets, at its deepest, to 550m. The world's second largest canyon, intrepid adventurers visit to take on the 85km, five-day trek along its riverbed, while others spend the afternoon watching, agape, as the spectacular sunset slips over the canyon's rim.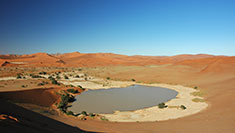 Namib Desert & Sossusvlei
Iconic Sossusvlei is a series of blood-orange coloured dunes shaped into sharp ridges by the sand-shifting wind, which form a gateway into the Namib Desert. Renowned for their towering height, you can hike the crest of Dune 45 or, even taller, Big Daddy for a view over the vast sea of sand before you before descending into Dead Vlei with its surreal, centuries-old camelthorn tree skeletons.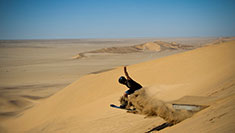 Swakopmund
Swakopmund is Namibia's adventure capital and is a playground for adrenalin activities like dune boarding, skydiving, and camel riding. The town itself is quaint, with German-inspired architecture, sumptuous seafood and a pretty lively nightlife during local holiday periods. A tour of Mondesa, the nearby township, for a lesson in Namibia's history and culture with a local guide is a fascinating way to spend the day.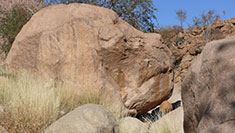 Damaraland
Damaraland is a bleak and hugely atmospheric region of stark plains, petrified forests and ancient valleys that wind their way towards the looming peaks of the Brandberg Massive Mountains. Here you can join a guided tour to the White Lady rock painting, a fascinating example of traditional San rock art.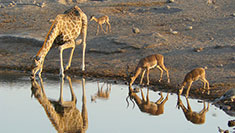 Etosha National Park
'Etosha' translates roughly to 'Great White Place', named after the enormous Etosha Pan, a salt-crusted, dry lakebed that dominates this stunning national park. Over 140 mammal species live here, including lions, elephants, black and white rhinos, and the endemic black-faced impala. During the dry season, they all vie for precious space around the few remaining waterholes – a phenomenal scene to view.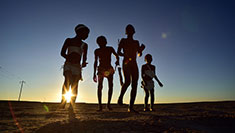 Central Kalahari Game Reserve
Almost impossibly remote, the CKGR is the world's second largest wildlife reserve. A stretch of seemingly infinite grassland and sandy desert, it was originally established as a place for the San to practice their traditional lifestyle without intrusion. Tourism is still developing here, so visitors are encouraged and you can take a riveting walk with local bushmen to learn traditional bush skills.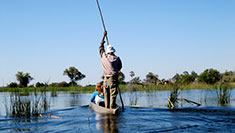 Okavango Delta
The Okavango Delta originates in the highlands of Angola and has been shaped over thousands of years. Winding its way through swamps, sands, and forested islands, it is a waterhole of enormous proportions that floods life into Botswana and is home to huge herds of elephant, 121 other mammal including lions, buffalo, antelope, and over 440 species of bird that flock there to nest and breed.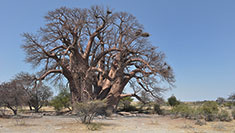 Makgadikgadi Pans
Once part of an immense African super lake, the shimmering saltpans of Makgadikgadi are the size of Switzerland and most of the time appear as a glaringly white, endless plain. With the rain comes a dramatic change as the pans spring to life, with frantically feeding water birds and great herds of zebra, wildebeest and springbok that wander among the ancient baobab trees.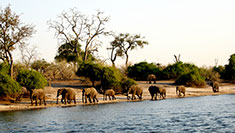 Chobe National Park
Botswana's first national park, Chobe has one of the highest densities of wildlife across Africa, and is renowned for its huge elephant herds – total numbers have been estimated up to 100,000! The Chobe River, Linyanti River and the Savuti Marsh comprise the main areas in the 11,700km2 park, and a sunset game viewing boat cruise is a truly unforgettable experience.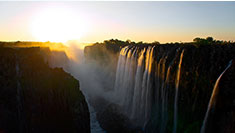 Victoria Falls
The spectacular Victoria Falls is known locally as 'Mosi-oa-Tunya', which means 'the smoke that thunders', and just one look at it confirms why. Twice the height of Canada's Niagara Falls, the raging waterfall is a mile-long sheet of gushing water and truly one of the Earth's greatest spectacles. To see it from either Zimbabwe or Zambia is to really feel the full force of its power.
Travel times by road on a Cape Town to Victoria Falls holiday
---
The following times give you a rough idea of the travel times on a Cape Town to Victoria Falls tour..
Full day Cape Peninsula tour: 6-8hrs including stops
Gariep River – Fish River Canyon: 4hrs
Fish River Canyon – Sossusvlei: 7.5hrs
Brandberg – Etosha National Park: 5.5hrs
Etosha National Park – Windhoek: 7hrs
Kalahari – Okavango: 4.5hrs
Okavango – Makgadikgadi: 4hrs
Makgadikgadi – Victoria Falls: 5hrs

Hello.
If you'd like to chat about Cape Town to Victoria Falls or need help finding a holiday to suit you we're very happy to help.
Rosy & team.
01273 823 700