This relatively unknown archipelagic nation, made up of ten volcanic islands lying 500km off the West African coast, is fortunate in so many ways. Geologically it's part of what is known as Macaronesia, along with The Canaries and the Azores. This word translates from the Greek, rather aptly, as 'islands of the fortunate'. They are also fortunate in that they have a rich Creole cultural heritage with superb food, music and sense of fun. They are fortunate with their climate, with year round sunshine and glorious temperatures.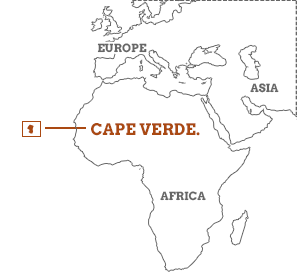 Here I saw the glory of tropical vegetation... It has been for me a glorious day, like giving to a blind man eyes, he is overwhelmed with what he sees and cannot justly comprehend it

- Charles Darwin in Cape Verde, 1832
And last but not least, they have the fortune of not having been totally ravaged by mass tourism, because hiking up through these dramatic volcanic landscapes, down to long, empty sandy beaches and back up again through vertiginous valleys is where fortune definitely favours the brave. And that fortune is found in unique and very much untouched Cape Verdean beauty.
See our Cape Verde travel guide for more details
Cape Verde is...
just six hours from the UK, with beaches, hiking and sun all year round. And it is still a very well kept secret
Cape Verde isn't...
Cape Verde anymore. Its official name is Republic of Cabo Verde, going back to its Portuguese roots.
CAPE VERDE MAP & HIGHLIGHTS
Apart from the fact that this glorious archipelago is still pretty untouched by mass tourism, one of the most wonderful things about Cape Verde is that each island proffers its own unique natural but also very specific cultural heritage. Fogo still has a simmering volcano but also produces wonderful coffee and wine out of the ashes. São Vicente has mountains, coasts and two carnivals. Santiago has some of the most handsome views from Serra da Malagueta National Park, as well as the first ever colonial town at UNESCO World Heritage Site Cidade Velha. And Santo Antão has so many ancient mule trails, you could hike to a different place of beauty every day for a week and still feel like you have only just begun.
1. Fogo
Fogo is sort of fearsome but also fascinating, and definitely fantastic for hiking, if vertiginous and volcanic aren't words that freak you out. The most recent volcano is still simmering from the 2014 eruption at Mount Pico (2,829m). Take a guided hike up to the top, or to adjacent Pico Pequeno. You will need a glass of local vinho to toast that achievement, miraculously cultivated within the caldera.
2. Island culture
Uninhabited before the Portuguese arrived in 1500s, Cape Verde has since witnessed slavery, mining, famine and volcanoes. Today it is peaceful and pristine with a very cool Creole culture, a mix of European and African heritage. Each island has its own identity through music, food or dialect, with six forms of music alone. So, although the official language is Portuguese, Creole is where you'll hear the real music.
3. Sal
Just 35km long and 12km wide, this is one of Cape Verde's three sandy, eastern islands, popular for recent resort tourism with all year sunshine. Also home to one of Cape Verde's international airports so what it lacks in culture is made up for in tourist activities. Dive here to see lava tubes, or wind surfing is superb Jan-Feb. And explore Pedra de Lume crater, which is below sea level creating vast salt flats.
4. Santiago
The largest island has the first colonial city in the tropics, Cidade Velha, constructed for slave trading, and is now home to the contemporary capital, Praia. Santiago's hiking is totally gorgeous; walk up the island's highest mountain, Pico d'Antonio (1,394m) and stay in Rui Vaz for some of the finest views of the archipelago. There are impressive views too from the mountains of Serra da Malagueta National Park.
5. Santo Antao
This is Cape Verde's second largest island with spectacular hiking. Walk up to the volcanic crater, through farmed terraces in the Paul Valley and along ancient mule trails that bring you from bays to clifftops along this dramatic Atlantic coastline. Stay in small, locally owned accommodation in mountain or fishing villages and gain a real sense of Cape Verdean life. Spend a week hiking here and never tire of it.
6. Sao Vincente
With harsh, mountainous volcanic terrain, the white beaches proffer cooling breezes and soothing waters on this island which is deserted in some parts, but life and soul in others. The main town is Mindelo, considered Cape Verde's cultural capital and famous for its carnival in February, when local music plays a big part. Hike up to its highest point Monte Verde (725m) or follow coastal routes from beach bliss to more bliss.
If you'd like to chat about Cape Verde or need help finding a holiday to suit you we're very happy to help.