Cross country skiing holiday guide
Cross country skiing is all about freedom. First, the long, narrow ski has a free moving heel and much lighter boot than downhill skis, giving you more freedom of movement. Second, you are free from crowds, chalet scenes, cable car queues and congestion, skiing far from traditional downhill resorts. Third, you are free to explore tranquil landscapes without having to be alpinism aficionados. The cross country ski also gives you the freedom to move up gentle hills, gripping snow in a way that stops you from slipping backwards. Which is why, depending on your experience, you can cover all sorts of landscapes and cover great distances. Although, in contrast, you often ski on a set track, or 'loipe', created along routes used for hiking when the snows melt.

Cross country skiing isn't all Nordic and niceties. It can involve some downhills with none of your parallel stops and fancy skids. It's all about letting the landscape lead the way.

Also known as Nordic skiing and langlauf, the French name 'ski de fond', meaning 'skiing in the depths' sums it up well. Deep into nature, and deep in your thoughts. That's where cross country skiing holidays will take you.
Read our cross country skiing holiday guide for more details.
Our Cross country skiing Holidays
Go on a cross country skiing holiday if…
You are new to skiing but don't want to go to ski school with the young ones. Or if sore knees have stopped you doing downhill.
You love hiking or running in wild places. It's the same buzz. In the snow.
Nordic countries have always been on your wishlist. Finland and Norway are the experts.
You are fed up with the environmental destruction caused by downhill skiing. But love the freedom of skiing.
Don't go on a cross country skiing holiday if...
You are unfit. Although many trails are on the flat, or gently undulating, this is a serious aerobic workout, as you use both arms and legs. Chalet chic or piste parties are what you are after. Cross country skiing takes you into remote spots with huts, cabins or small lodges, and star filled nights of tranquillity. You have young children. Most cross country skiing holidays insist on a minimum age of at least 12, and many even specify 16. Although there are family winter holidays available with a mix of winter activities, with plenty of cross country skiing thrown in. Guided group holidays don't appeal. Most cross country skiing holidays are guided by experts.
Our top Cross country skiing Holiday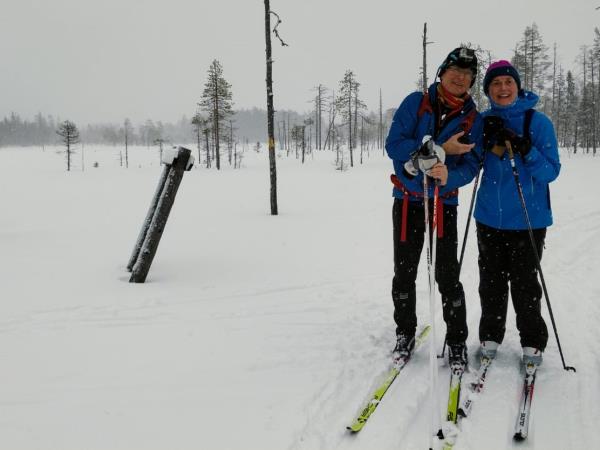 Guided hut-to-hut cross-country skiing holiday in Finland
From
€1040
7 days
ex flights
Small group travel:
2022: 20 Feb, 27 Feb, 20 Mar, 27 Mar
If you'd like to chat about Cross country skiing or need help finding a holiday to suit you we're very happy to help.

What does a cross country skiing holiday entail?
How long?
Most cross country skiing holidays are about a week long, giving you time to traverse different landscapes, learn new techniques and have plenty of downtime too. As daytime hours are limited in many cross country skiing destinations during the winter season, you need more time than you might on a summer hiking or cycling holiday in order to get from A to B, so a week is perfect for most places. A good level of fitness is required, with cross country skiing holidays usually suited to people who are regular hikers throughout the year and happy to be active for several hours during the day.
How experienced?
Guided holidays in small groups are the norm with cross country skiing, as having an expert guide is very important when skiing in remote spots. The type of holiday often depends on the level that you decide to go for although you will usually spend at least five hours a day out in the snow. A beginner's holiday will involve daily tuition in the classic style, learning the snowplough technique, and often sticking to pre-cut loipes. As you up the levels, you usually up the elevation, tackling more ups and downs and, therefore, a greater variety of landscapes. You can also up your skills by learning the 'skate' technique, which requires shorter skis and more ankle support, and enables you to cover longer distances at a faster (ergo fitter) speed, using a style that is a little bit closer to ice skating or roller blading. Expert skaters can even consider taking on one of the cross country ski races that happen around the world, such as the Engadin ski marathon in Switzerland, with companies offering holiday opportunities around the race, similar to running marathon holidays.
How comfortable?
You can choose between a holiday that is based in one mountain hotel or chalet and one that involves skiing from one bed to the next. The latter is usually for those with a bit more experience, and a bit more sense of adventure, staying in wilderness cabins or mountain huts, wearing a backpack to carry your luggage or having it transported by sledge. At the end of the day, unless you are an expert, cross country skiing holidays will entail a fair amount of falling and feistiness, so do leave your pride at home. Once you have learned to fall, and get yourself up smoothly, still smiling and pride intact, you know that you have definitely moved up a level! Leave your modesty at home too by the way, as mixed, naked saunas are often a feature too. All part of the adventure.
More about Cross country skiing