Winter activity holiday travel guide

I used to hate it when I lived in France and people asked me 'Where do you ski?' not 'do you ski?' Like it was the law to do so. I'd love to see their faces now if I told him, 'The Carpathians, actually'.

Winter has all this romance attached to it. Logs burning on an open fire, hearty food, crisp brisk walks in the cold air, Robert Frost poems. When the reality is that we hate the short days, get cabin fever, overeat and sink into the comfort of box sets. Except for those who religiously book a ski trip, their annual antidote to our seasonal stuck to the sofa status. People have known it for generations and, thankfully, for those of us who don't want to join the piste posse, the traditional ways of enjoying winter mountain air are becoming hugely popular again: cross country skiing and snowshoeing off the tourist trail, husky sledding, taking in the Northern Lights or mountain winter walking with crampons to get a grip. Because in winter, we don't all have to do the downhill thing to get a grip. Sometimes we just want the simple joys of 'Stopping by woods on a snowy evening'.
Our Winter activity holiday travel guide has more details.
Is a winter activity holiday for you?
Go on a winter holiday if...
… you love to hike in summer and don't want to restrict yourself in winter.
… you want to enjoy the snow but resort skiing isn't for you.
… the environmental impacts of downhill skiing are downright depressing you.
… winter wildlife appeals. From polar bears to Arctic hares, you'll fawn over fauna in the snow.
DON'T GO ON A WINTER ACTIVITY HOLIDAY IF…
… you don't want to get cold or wet. Winter is winter. … flexible itineraries bother you. Winter conditions are unpredictable, so sometimes plans have to be altered at the last minute. … you are more into Michelin Stars than star gazing on a remote mountainside. … you are unfit. Cross country skiing, showshoeing or just winter walking – they take up energy. But they're worth it.
Our top trip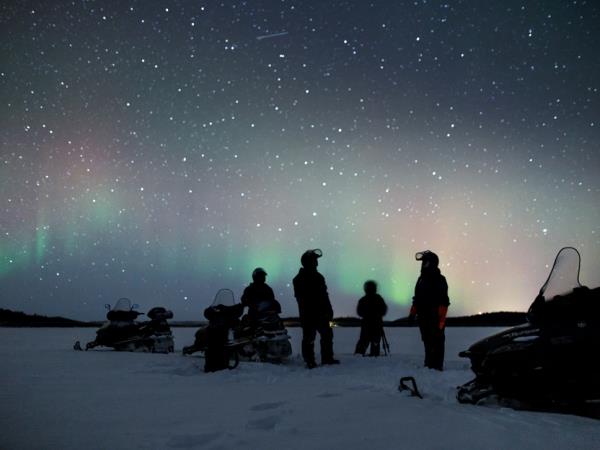 Winter activities & Aurora hunting in Finland
From
£1997

to

£2444
5 days
inc UK flights
Small group travel:
2023: 19 Dec, 26 Dec
2024: 2 Jan, 9 Jan, 16 Jan, 23 Jan, 6 Feb, 13 Feb, 20 Feb, 27 Feb, 5 Mar, 12 Mar, 19 Mar, 26 Mar
If you'd like to chat about Winter or need help finding a holiday to suit you we're very happy to help.

What we rate & what we don't
Mercantour National Park
Bienvenue aux Alpes Maritimes. Further south than the Trois Vallees resort hysteria, and just an hour north of Nice, these ancient shepherds' trails and waymarked hiking trails become sublime snowshoeing and cross country skiing terrain in winter. Wander through remote villages otherwise cut off in winter, conquer cols, track wolves, and explore lakes such as Lacs de Prals, a collection of five frozen fantasias.
Écrins National Park
One of France's lesser known parks, let expert mountain guides help you snowshoe up to heights of Plateau of La Coche, around frozen lakes and through the St Leger Les Melezes larch forest. It is in fact, the largest national park in France with over 100 summits towering over the 3000m mark, so you can also go on mountaineering holidays here. But snowshoeing is still guaranteed to feed any Alpine addiction.
Carpathian Mountains
Slovakia and Romania are developing Carpathian winter holidays that protect the mountainous magnificence of, for example, the Tatras and Apuseni ranges, but also the ancient cultures of people still living in these remote regions. Go cross country skiing in Slovak Paradise NP, where snow wrapped forests and hills befit the name, or through Romania's Tara Motilor villages, where Moti people lead traditional mountain lives.
Dog sledding in the Yukon
Just read Jack London's famous novel 'The Call of the Wild' to get a feel for it, and before long you will be rushing toward 'mushing' or husky sledding holidays in Canada's mostly aboriginal Yukon Territory. Choose anything from a few days to a few weeks on these serious mushing expeditions staying in lodges or winter tents and discovering snow covered space like you've never imagined. Feeling the call yet?
Northern Lights
How is it that they've been around forever, but suddenly we all want to see them now? Although very zeitgeist, these ethereal delights live up to their name. Or names, to be precise. See the Fire Fox, Temperamental Lady or Aurora Borealis in Finland, Norway and Sweden, all top places for spotting them, adding snowshoeing, Sámi culture and sledding into the already magical mix.
Swap boots for snowshoes
If hiking is your seasonal solace for spring, summer and autumn, don't think you have to hang up your boots for winter. Snowshoeing is perfect for hikers, allowing you to avoid the posing piste posse and head off into remote Alpine arcadia, or discover countries such as Albania, Romania and Bosnia for a whole new cultural experience. Snowshoes aren't like old tennis rackets anymore, but lightweight aluminium and very easy to use.
Family holidays off piste
You don't have to join the overheated chalets and overcrowded cable car queues to enjoy a family holiday in the snow. Head to the likes of Slovakia for snowshoeing and dog sledding adventures, or the wild Spanish Pyrenees for a bit more space on the slopes. And of course Swedish and Finnish Lapland, for a magical mix of Northern Lights and Narnia-like nirvana.
Cross country ski, Dolomites
This dramatic landscape is shared between both Italy and Austria and, in particular the autonomous region of the Tyrol. The jagged rose-tinted Dolomites against a winter blue sky are simply dazzling. Cross country ski around Alta Pusteria where the Three Peaks Nature Park is a well deserved UNESCO site. The trails are endless and the views are too. As is the food. It's Austro-Italian culture on a plate.
Artificial snow
Artificial snow spurted from cannons may seem like a nifty solution to patchy natural snowfall, but it's environmentally disastrous. It takes huge amounts of money, water and energy to make, causes water shortages, degrades the land and disrupts wildlife. It's also hard as concrete and more likely to cause injury if fallen on. Find the real white stuff by travelling later in the season or to places where snowfall is more dependable.
Fly-in Father Christmas tours
Christmas might only be for Christmas, but Lapland is for life. So by flying in and out in one day is going to do no one and nothing any favours, with no immersion in indigenous, traditional Sámi activities for example, no learning to snowshoe, cross country ski, or sleeping in wilderness camps. And no Northern Lights. And where's the magic in creating a horrendously high carbon footprint, just for a day trip?
Snowmobiles
Imagine wild swimming across a quiet bay and suddenly the loud whirrs of a jet ski invade the peace. That's the same effect snowmobiles have. Swap it for snow shoeing, cross country skiing or a reindeer or husky led safari. You will see more of the landscape and wildlife that thrive on it. That's not to say snowmobiling doesn't have its place in some regions - but on responsible winter holidays it should only be a small part of the fun.
Going without a guide
Mountain safety should always be a priority and when you go cross country skiing or snowshoeing, for example, and head off the blanched, beaten path, you are best to do so with qualified experts. Such as an International Mountain Leader (IML) or one recognised by the International Federation of Mountain Guides Association (IFMGA). A responsible holiday company will have the details of their guides/leaders on their site.