Winter holidays in Austria
The hills are alive with the sound of swooshing, with winter holidays in Austria offering the chance to escape the busy resorts and gondolas, and get off-piste with
snowshoeing and cross country skiing
led by expert guides. Never tried them before? Don't be put off, because all levels of experience are catered for and you're free to do as much or as little as you feel. This is a holiday, after all.
In East Tyrol you're encouraged to take advantage of nature at its most pristine, rather than landscapes shaped by mechanical lifts, pylons and piste bashers. You can ski or board if you want, of course. But once you're aware of the potential alternative activities here, you're likely to find them – and the fact that you can enjoy them in remote and beautiful areas without needing to depend on crowded lifts – a lot more appealing.
"Up in the Austrian Alps, we're very in tune with the weather and choose our activities around it," says Xania, from our Austria winter holidays experts WearActive. "A lot of people associate ski resorts only with skiing and snowboarding downhill. But others want space away from the crowds and to avoid long queues for gondolas. There is definitely a drive towards more environmentally friendly options than the traditional ski resorts."
Most Austria winter holidays are small group tours, but because of the landscapes and the weather, they cannot be bound to fixed, predictable itineraries. Instead, they rely on forecasts for snow conditions the night before, and the preferences of everyone in the group – if you fancy cosying up in the lounge with hot chocolate all day instead of going out snowshoeing, no-one's going to try and pull you off the couch. And these are typically holidays aimed at adults. For family winter holidays, look elsewhere, such as to Lapland, Spain or France.
When to take a winter holiday in Austria
Since our winter holidays in Austria are off-piste, they depend on real snow on the ground, so the best time to go is between January and mid-March when the white stuff should be plentiful. You'll be staying in communities at altitudes of 1,000m and above, with average daytime temperatures ranging from -5°C to -15°C. It can get nice and warm in the sun; it can also get grey and stormy, so pack accordingly and layer up. Our
Austria winter holidays travel guide
goes into more detail on what you can expect from the weather.
Where to go on a winter holiday in Austria
The 'relaxingly active' programmes that Xania and her WearActive team create take place at a mountain retreat on the edge of the vast Hohe Tauern National Park, beneath the mighty Grossglockner, Austria's tallest peak. Already part of a tight-knit community, the Covid pandemic showed the value of pulling together.
"I think we're able to bring a different type of visitor to the area," says Xania. "Not downhill skiers or extreme mountaineers, but an international crowd interested in a wider range of activities. We don't provide lunches, so local restaurants benefit, and of course we also hire local guides and help our guests to use local public transport, so there are definitely economic benefits from this kind of holiday."
Our top Winter Holiday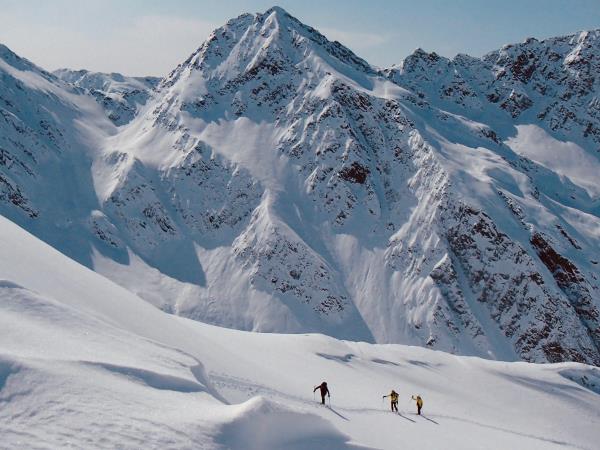 Take your skiing/snowboarding to the next level!
From
€1490
8 days
ex flights
Small group travel:
2024: 9 Mar
If you'd like to chat about Winter or need help finding a holiday to suit you we're very happy to help.

Winter holiday activities in Austria
The locals might act like they were born in snowshoes, but you don't need to be intimidated. All you need to have a fun winter holiday in Austria is a love of the outdoors and fresh air. Xania agrees: "If you can hike, you can showshoe. Obviously, the length of the hike and the ascents involved matter, but do some cardio in the gym before you come, get on a stair-climber or anything that takes you uphill, and you'll be fine. Because we can tailor our walks to groups' abilities, we can either take you on a four-hour 1,000m ascent trek, or a flat riverbed trek that would be just a little more strenuous than a short walk at home."

Snowshoeing and backcountry skiing, where your heel is loose in the bindings, can take you into areas well apart from the downhill crowd; the only tracks you'll find ahead of you have been left by animals. They're a really enjoyable way to explore valleys and forests on relatively flat trails.
And what better way to start the day's activities than with a good stretch as the sun rises over the mountains? Xania from WearActive describes as close to a typical day as they have: "We offer yoga in the morning. Lots of our guests have never done it before, but that's no barrier. After breakfast we organise a guided outdoor activity, so if we have eight people we might have a half-day snowshoe hike. We relax in the pm, then we have an afternoon yoga session. And at dinner we'll make plans for the next day, depending on the forecasts and what each member of the group fancies doing – maybe some more snowshoeing, cross country skiing, or people can go to the main ski resort."
Oh, and by the way, if you're making New Year diet plans, save them until you get home. You won't want to miss the hearty mountain cuisine. Staying in a small community, you'll embrace Tyrolean hospitality at its finest, perhaps dining on delicious and healthy plant-based meals in the evenings, but free to explore local restaurants in the daytimes.
"And if I could recommend one dish everyone should try here, it's Kaiserschmarrn," says Xania. "It's a pancake dish people eat for breakfast, lunch or dinner. They're fluffy and sugary, and our vegan versions are a big hit."