Husky safari travel guide
Picture the scene: slicing through cold, fresh air underneath crisp blue skies with only the sound of your sled runners cutting cleanly through deep snow at a powerful pace determined by your very own pack of eager huskies. Of those rare life experiences that make you feel truly alive, dog sledding is undeniably one.

A husky safari is all about anticipation and exuberance: the creaking of your wooden sled under foot and then 'whoosh', you're off, to the rapid rhythm of excitable paws padding before you.

Contrary to what many may think, especially us Brits for whom a dog having its own place at the dinner table isn't actually that bonkers of a notion, the dogs LOVE it. Huskies are working dogs, but they are exceptionally happy too and it is widely known throughout the sport how much their owners adore them. Your husky safari can cover a few miles, or hundreds travelled over the course of a week and you'll be taught how to harness your own team, care for them, and snuggle them down at night – the only sad bit about dog sledding will be leaving your loyal pack, but then that's a perfect excuse to return.
Our Husky safari Holidays
A husky safari is...
hugely exhilarating way to explore some of the world's last true wildernesses.
A husky safari isn't…
particularly easy. You'll get the hang of it quickly, but you'll probably take a tumble or two first.
Our top Husky safari Holiday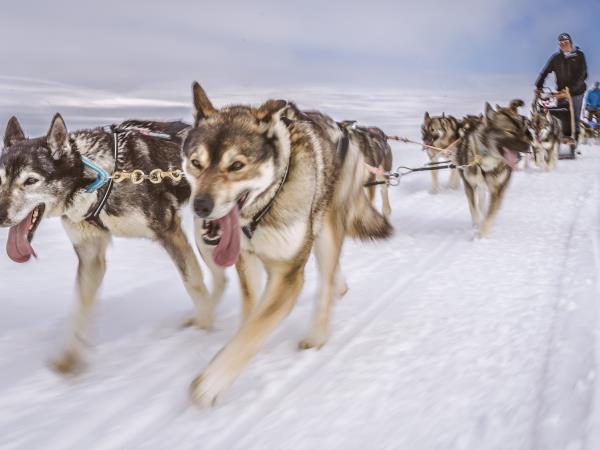 Sled with huskies through spectacular Finnish scenery
From
£2923

to

£3488
8 days
inc UK flights
Small group travel:
2023: 16 Dec, 23 Dec, 30 Dec
2024: 7 Jan, 14 Jan, 21 Jan, 28 Jan, 4 Feb, 11 Feb, 18 Feb, 25 Feb, 3 Mar, 10 Mar, 17 Mar, 24 Mar
If you'd like to chat about Husky safari or need help finding a holiday to suit you we're very happy to help.

Is a dog sledding holiday for you?
Go on a husky safari holiday if…
… you're interested in the historical and cultural significance of the sport. There's a lot more to it than cute dogs and adrenaline and your local guide will have stories to tell, myths to share and secrets paths to reveal.
… you're not afraid to embrace entirely new environments.
… you're a complete beginner. Other than an existing love of dogs no prior experience is needed and you'll be trained and guided wherever necessary.
… you want to try something completely different. Dog sledding isn't all about a cosy holiday; you'll be learning to do something amazing, but that will likely take you out of your comfort zone.
… you love nature. You'll be outside a lot, making fires, cooking on them using local ingredients and generally making the most of the great outdoors.
Don't go on a husky safari holiday if…
… you freak out if the elements take over. Expect deep snow, bright light, the odd bit of melting snow being thrown back in your face and biting wind on your cheeks.
… you don't like the cold. Temperatures can easily drop to between -20 and -30-degrees and the coldest temperature ever recorded at Yukon in Canada was a knee-knocking -63-degrees. Brrrr.
… you're actually a bit of a scaredy cat. It isn't a case of 'if' you fall, but more a case of 'when' - the odd struggle with balance is to be expected as you learn, but you'll only tumble into a blanket of snow, which isn't that bad, is it…
… you can't manage your expectations. Winter can be a cruel mistress with her own set of rules, so you can never guarantee which dog sledding trails will be open to you, or how long your dogs will be able to run for.
Best time to go dog sledding

It is the life of the crystal, the architect of the flake, the fire of the frost, the soul of the sunbeam. This crisp winter air is full of it.

It's likely you've deduced that the best time to go on a husky safari is when the ground is covered in a thick, fresh layer of soft snow and snow is very much a winter thing. Winters in Northern Europe are beautiful, but bitterly cold (we're talking -30°C) and December is definitely an acquired taste too because day and night are dark, although for some this does add an even more atmospheric air. On the whole, winter in Alaska and Canada is warmer than winter in Northern Europe, and Canadian winter is wonderfully dramatic – a very snowy season that extends right through to July along its Arctic borders.