Where to go on a husky safari
---
MAKE THE MOST OF YOUR TIME
Lapland, a region of almost mythical quality that covers parts of Sweden, Finland and Norway too, is a brilliant shout for a husky safari holiday and, serviced by six airports, is actually very easy to reach – fly into far northern Ivalo and you'll be plonked straight into the wilderness. You're not restricted to Northern Europe if you want to learn to mush, though. Alaska – a huge US state obsessed with dog sledding brings whopping glaciers and masses of sub-Arctic tundra to the table and Canada's another husky safari hotspot that springs to life during its very snowy winter months.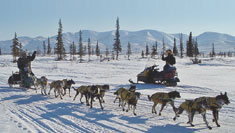 Alaska
Alaskans are obsessed with dog sledding, so much so that every March they hold the infamous 1,800km Iditarod Trail Sled Dog Race from Anchorage to Nome – the most popular sporting event in the entire state. If you want to see what all the fuss is about, you can book husky experiences that combine safaris with kennel tours, so you can learn what it takes to breed a champion.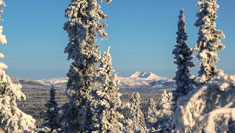 Canada
'Mushing' is an exhilarating way to reach Canada's most untamed nooks and crannies. While the cities remain lively during winter, just a few hours out of town at Algonquin protected park you'll find a wild wonderland ripe for one or two-day safaris. The Yukon region is way up north and an enormous wilderness – once you're there, you stay there for expeditions from 4-15 days long.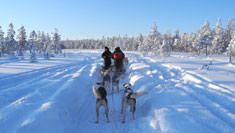 Finland
Straddling the Arctic Circle, Finland is all about lakes, forest and raw nature as far as the eye can see. Winter is a clear, bright and beautiful time to explore the country and gliding through its Christmas card scenery with only the excitable padding of paws and the continuous swish of your sled runners to break the perfect peace is nothing short of magical.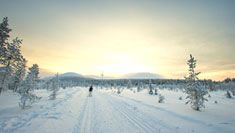 Finnish Lapland
Thanks to an overwhelming association with Father Christmas, Finnish Lapland get overlooked as a destination in its own right, but if you genuinely want to get away from it all, there is nowhere more vast and pristine. During the height of winter it's a paradise for winter sports - one giant sweep of heavenly wilderness where space is plentiful and people are not.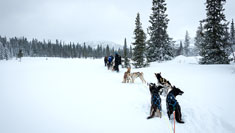 Norway
Norway's natural pull is so much more than fjords. Jagged peaks and enormous glaciers create eerie blue ice mountain kingdoms and the long Arctic night casts a mysterious light over the entire landscape which, to lead a team of huskies across, is nothing short of dreamlike. Be a passenger on a one-day dog sledding tour, or steer your pack for several days led only by the bright stars above your head.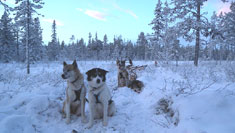 Sweden
The Swedes themselves are not a dramatic people, but their landscape – a heady mix of forested wilderness and sweeping shoreline – is untamed and wonderfully surreal. Winter coats this natural playground in thick ice and dense snow, a husky's paradise and one that you can whip through to the quick pace of your pack following nothing but the tracks of Arctic wolves.
Husky safari travel advice
---
TIPS FROM OUR HUSKY LOVING FRIENDS
Animal welfare
---
Suvi Tauriainen, husky guide and wildlife expert with our supplier, Routa Travel: "Guests need to understand that we love our dogs very much. They are not chained up or in kennels to be cruel. If we didn't do this, they would run away, as they love to do just that. Run. And if they did run, they would kill local wildlife, something that we do not want either. Our aim is also to protect wild animals, and keep them wild."
Hold on!
---

Ali McLean, from our supplier, The Aurora Zone, shares his husky safari experiences:
"The very first time I went dog sledding, my team took off like hounds from hell and it was all I could do to hold on to the sled. I remember wondering how the hell I was going to control this lot for the next few hours. I wouldn't say I was frightened, but it certainly got the adrenaline flowing. Fortunately, they very quickly slowed down and the experience was indescribably wonderful. Another absolutely unforgettable experience for me was driving my own team of six willing trail companions on a long dog sled safari into the snowy forest. We made lunch over an open fire and returned to the kennels just as darkness was descending, it was one of the very best days of my life."
Packing tips
---
Mikael Kangas, from our supplier, Aurora Retreat, shares his packing advice: "The temperatures in and around Lapland can drop to -30°C and though most companies will provide a very warm set of overalls and some suitable shoes for the snow, it's important that you pack synthetic or wool layers to keep you warm. Your clothes don't need to be waterproof though because at those temperatures you won't get wet, which is a real advantage – you can jump into deep snow and you won't feel wet at all, plus the snow just brushes off."
Dog sledding travel advice
---
TIPS FROM OUR TRAVELLERS
At Responsible Travel, we think the best people to advise our travellers are often... other travellers. They always return from our tours with packing tips, weather reports, ideas about what to do - and opinions about what not to.

We have selected some of the most useful husky safari travel tips that our guests have provided over the years to help you make the very most of your holiday - and the space inside your suitcase.
"The most memorable part of our holiday was sitting on a frozen lake, watching our daughters disappearing off into the distance each driving a small team of huskies - and seeing their excited faces when they returned!" – Liz Booth, Wild Taiga, Finland

"Husky sledding across a frozen lake just before sunset was an unforgettable experience." - James Hamand, Wild Taiga, Finland

"Get involved and take the opportunity to have a sauna at your log cabin, it's a real experience and nothing like the leisure centre saunas in the UK." – Katharine Stuart

"Working with the dogs was my favourite part of the trip. I loved meeting all the different dogs and getting to know their different personalities. They are such great workers and I miss them now I am back home." – Ali Barned, sledding in Yukon

"The dogs are just incredible... athletic, fascinating to watch, and beautiful. Our guide was fantastic as were all the other people at the ranch. This was a 'working' adventure and we did work." – Helen Weir, sledding in Yukon

"The most memorable part of the holiday was how beautiful and peaceful Finland was where we were staying and how peaceful and quiet the sled dogs were once they were working." – Tina Donavan

"Expect a bit of hard work if you want to do the higher trails, but you will reap the rewards! If you are new to dog sledding try to anticipate the hills to help the dogs a little before they grind to a halt - you will keep them moving rather than leaving it until they have pulled as far as they can." – Lee Unsworth, sledding in Yukon

"If you go in early February or before then take lots of layers - it went down to -47 at night and can be quite chilly on any outhouse visits too. If it's too cold then the dogs can only run for a few hours or they literally freeze so you may experience some shorter days at these temps, but even so just a few hours with these amazing dogs is enough." – John Baker, sledding in Yukon