Winter holidays in Lapland
"I remember when it was little more than a couple of gas stations there. Now it's so commercialised, it's pretty awful." Riitta Kiukas, founder of our specialist Lapland partner Skafur Tour, knows exactly where she stands on Rovaniemi, which is basecamp for the in-and-out holidays to meet Santa in Lapland. "Occasionally our groups will spend a day there, but for the most part it's very inauthentic. We get them elsewhere as soon as we can. Experiences like that are not what winter in Lapland is about."
For tour operators like Riitta, who is a fount of knowledge on where to go in Lapland and what to do while you're there, there is plenty of 'elsewhere' to choose from. The Lapland region, known as Sápmi by the Sámi people, lies mostly within the Arctic Circle, encompassing parts of Northern Finland, Sweden, Norway and Russia. Outside the cities and the ski resorts, it is a vast, untamed wilderness, almost entirely unpopulated and full of ethereal beauty. And the great thing is that when you holiday in Lapland that wilderness is always right on the doorstep. Between husky sledding, snowmobile safaris and ice fishing, any time you feel like it you can strap on a pair of skis or snowshoes and get out there.
Whether you're travelling on an adventurous small group tour, as a couple, or as a family, experts such as Riita Kiukas will help you navigate these landscapes and see 'the real Lapland'. If you think Lapland is just Santa, snow and the notoriously unreliable Northern Lights, think again.
What do Lapland winter holidays involve?
When you book a winter holiday in Lapland, your travel company will issue you with a list of suggested clothing to bring. Layering your clothes is important for warmth, of course, and you'll need thermals. But bulky outerwear such as thick overalls, gloves and boots is provided for you on arrival from a well-maintained stock to save you the need of bringing it yourself.
This arrangement is testament not only to Lapland's enduring popularity for winter activity holidays, but how conscientious your hosts are. Even in a region where much of the landscape must be travelled by snowmobile most of the year, and which in January receives only a few hours of sunlight every day, trips run like clockwork. Forget the fly-in fly-out Santa visits. Come here for exceptionally well-organised
activity holidays
that plunge you enthusiastically into the wilderness and culture of the Sámi people that inhabit it with a smorgasbord of memorable experiences.
Activities such as cross country skiing, snowshoeing and snowmobiling are ingrained in the culture which – outside commercial ski resorts – is genuine and welcoming. Responsible tour operators have forged strong relationships with Sámi who will introduce you to their lifestyle, showing you around working reindeer farms and leading singing lessons, art gallery tours and cooking traditional Lapland cuisine.

"One of my favourite dishes is fish soup," says Riita. "The salmon and white fish from Lake Inari is excellent. 'Blazing salmon', where it's smoked around the campfire, is also really popular around the region. There's a lot of elk meat and game. And king crabs, which are common now in the Arctic Sea after being introduced there by Soviet soldiers. Many people consider them a delicacy, and of course you're helping get rid of an invasive species."
When to take a winter holiday in Lapland
"We have eight seasons in Lapland," continues Riitta. "And what's wonderful about that is that we have a constant sense of change: nature, light, colours and animal behaviours." Winter holidays in Lapland run from November to April, but the best time to go is between January and March. You'll miss the overcrowded and overpriced Santa-seeking period, and the scenery should be fully snowbound by then, allowing for a full range of activities. Clear skies around this time are ideal for observing the Northern Lights, and from early February onwards you'll have six-plus hours of daylight. Our
Lapland travel guide
goes into more detail on what to expect at different times of year.
Where to go on winter holidays in Lapland 
Our Lapland holidays take place for the most part in the northern regions of Finland or Sweden, and there is a huge range of destinations available. In Swedish Lapland you might head for the frozen Lulea archipelago, far from the tourist throngs and reachable by overnight train from Stockholm as well as by air. It's an ideal location for classic Lapland activities, from dog sledding to snowshoeing, as well as exploring traditional Sámi communities.

Kiruna is Sweden's northernmost town and the gateway to Abisko National Park, which you can enter via the Arctic Circle train. The park is reckoned to be one of the best places in the world from which to view the aurora borealis. Jokkmokk, a tiny outpost just north of the Arctic Circle, is the Sámi capital, where small group tours take in wildlife photography, tented camps and thundering rapids. Visit in early February for the famous winter market, when you can pick up a variety of authentic Sámi handicrafts, including knives, wooden cups and baskets woven from birch.
In Finnish Lapland, many people fly into Rovaniemi, which is Santa central in December, and responsible operators will usually suggest you don't stick around long. Much further north, Inari has several immense wilderness areas as well as magnificent national parks such as Urho-Kekkonnen. Sámi heritage can be explored through activities around communities in Lake Inari, Ivalo and Saariselka. Oulanka National Park, east of Rovaniemi, is one of Finland's most popular destinations for hiking, and in winter it becomes a playground for ice climbing, snowshoeing and learning wilderness skills. It's as appealing for intrepid families as it is for small groups, with reindeer sausage on the menu in the evenings, and saunas and hot tubs for parents to relax in after the kids are tucked up in bed.
Pallas-Yllästunturi National Park in north-west Lapland is a sprawling, pristine landscape of high fells and boreal forest, a Narnia-like place where you could quite easily snowshoe all day long without bumping into another living soul. You can husky sled out to an aurora cabin to try and catch the Northern Lights, or even join an ambitious sledding expedition, getting to know your pack and caring for their needs over five days travelling from cabin to cabin.
Our top Winter Holiday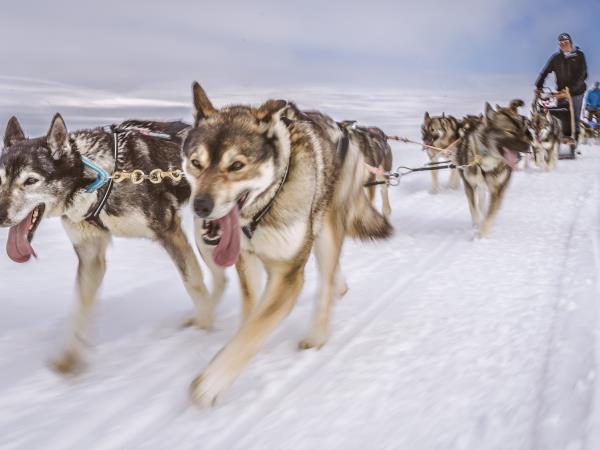 Sled with huskies through spectacular Finnish scenery
From
£2923

to

£3488
8 days
inc UK flights
Small group travel:
2023: 16 Dec, 23 Dec, 30 Dec
2024: 7 Jan, 14 Jan, 21 Jan, 28 Jan, 4 Feb, 11 Feb, 18 Feb, 25 Feb, 3 Mar, 10 Mar, 17 Mar, 24 Mar
If you'd like to chat about Winter or need help finding a holiday to suit you we're very happy to help.

Winter holiday activities in Lapland 
There's not a great deal of difference between Finnish and Swedish Lapland in the type of activities that you'll be doing. One thing you can be sure of: however many hours of daylight you get, you'll be spending much of your time outdoors, roaming snowbound scenery in the company of expert guides.

It's natural to wonder whether you'll see the Northern Lights when in Lapland, but don't let the thought consume you – they're as unpredictable as they are beautiful. Your chances grow, however, the further north and the deeper into winter you get. You might spot them from just outside your hotel, but many Lapland winter holidays will also include an evening in a remote cabin, a snow igloo or even a dome specially designed for aurora watching.

Snowshoeing – no more difficult than hiking on the flat – is very popular, as is cross country skiing. You'll have equipment at your disposal throughout your stay. While you might head out on a guided group walk, in many places there will be trails leading from your accommodation so that you can go for a wander on your own as well.
Many Sámi people herd reindeer for a living, and in remote areas often covered in thick snow, a snowmobile is the only realistic way to look after the herd. If you're over 18 you'll be free to take control, while kids can ride on the back. Similar thrills can be had from husky sledding, where an enthusiastic team of dogs will pull your sledge along snowy trails. You just need to remember to mush in the right places and rein them in on the curves.
Out in the harsh wilderness, knowing some basic survival skills can save your life. Back home, they can impress your friends. Guides can teach you how to identify the tracks of different animals (reindeer, moose, grouse, foxes and even wolves), how to cut a hole in an icy lake to fish, and how to construct a shelter or whip up a small fire.
When travelling with responsible tour operators, you'll be introduced to authentic Sámi culture throughout your stay. The obvious example is a visit to a reindeer farm. Though only a small number of Sámi people herd reindeer it's a staple of cuisine here. Other opportunities to delve into Sámi lifestyles and customs might come through learning how to sing in the joik style, or taking a tour of a local artist's studio.